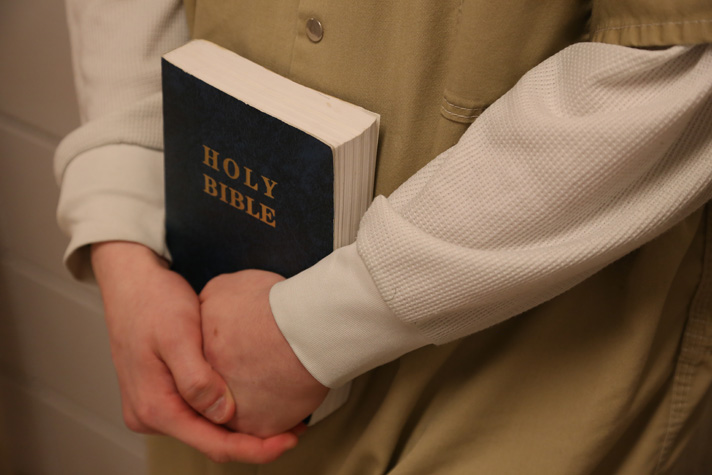 "When they come in for the first time, they're like, 'What's this? Who's that little fat guy up there?'"
Chaplain Jim Bzoskie knows that familiar look in inmates' eyes when they come to his Bible study at the jail for the first time. But over time, and as he uses BGEA resources to communicate the message of Christ at Dakota County Jail, he sees the change — physically, emotionally and spiritually. Most recently, he has used BGEA's My Hope programs to show them peace is possible even in their trials.
Read part 1 of this story here. See pictures here.
Guards and other staff at the Minnesota jail see the difference God makes.
"God is an integral part here," Operations Lt. Lawrence Hart said, stopping in the hall to chat with an inmate. The jail hasn't had any serious assaults on staff, he said, and it's clean, quiet and safe.
Bzoskie chalks it up to Sheriff Dave Bellows. "Without the sheriff, this jail could be completely different," he said. "He knows the power of God."
Inmates shared their stories in a small group last week, one getting up to hand his friend a paper towel when he started to cry. The My Hope programs, they said, give them hope for a future beyond jail walls.
Kevin
Kevin grew up going to church, but was embarrassed about it. He played sports and lied to his teammates about where he went on Sundays. He later served in the military, but was kicked out for his drinking. His wife left with his son.
Kevin has been in jail for a year and is involved in faith-based programs. "I have come a long way," he said. "I'm not afraid to say, … 'Yeah, I read the Bible.'"
Kevin recently watched a My Hope program called "Defining Moments." He was touched by the stories of a suicidal young woman, a cancer-stricken illusionist and a NFL player living life in the fast lane. If God can help them with their problems, he said, He can help him.
"It just kind of gives me inspiration and hope," he said. "It lets me know that there is hope outside these walls. … My favorite verse is Hebrews 13:5: 'I will never leave you or forsake you.'" Hearing others' testimonies takes the focus off of himself and encourages him to help others.
Kevin's 20-year-old niece visited him in jail and said he inspires her to make better choices in life.
"My mom tells me on the phone that Dad and her are proud," he said.
Roger
Roger also grew up in church and fell away from his faith in the military. He returned home last October and was in jail by March. That's where he started reading the Bible.
"I read it cover to cover a couple times and had a million questions," he said. An officer told him about a Bible study, so Roger went. He said it gives him "strength and peace," as well as a support group. He related to the people in the My Hope videos.
"You can see their struggles and you can hear in their voices the turning points when they've gone from just giving up to having all the hope in the world."
He remembers one young woman in "Lose to Gain" who talks about wearing a mask and hiding her true identity. Roger lost track of his identity, too, but said God hasn't given up on him and loves him for who he is.
Jeff
Jeff is originally from Ohio. He was arrested this year for a probation violation and driving under the influence. His drinking has cost his home, his employment, and his relationship with his wife and kids.
As a kid, Jeff watched Billy Graham on TV. He was a Christian before viewing the My Hope programs, but said they show him how God can take negative situations and use them for good.
"[God] may not fix my problems," he said, "but He gives me a peace in my heart." That peace helps him move forward.
Rich
Rich has been in and out of jail since 2009 and says he's "a work in progress." He went to Bzoskie's Bible study in early 2010.
"It was like he was talking right to me. … He said, 'How many people need a miracle?' And that was me."
Rich has worked on his relationship with God since then. After watching "Defining Moments," he rededicated his life to Christ and told his daughter about the video. He just got a new cellmate who he is sharing his faith with.
Ryan
Ryan tried to find happiness in gambling, drugs and women, but nothing worked. In February, he got into an altercation with his fiancée and was arrested for assault, domestic abuse, a probation violation and child endangerment.
"I was fed up with how my life was going," he said.
With prodding from other inmates, he got into Bible study. Now he's happy and always looks for ways to help others. He saw from the My Hope videos that he can always rely on God.
"No matter what problem you're going through, if you talk to God and ask Him to help you through it, He will always be there to help," he said. "The closer I get to Him, the happier I get."