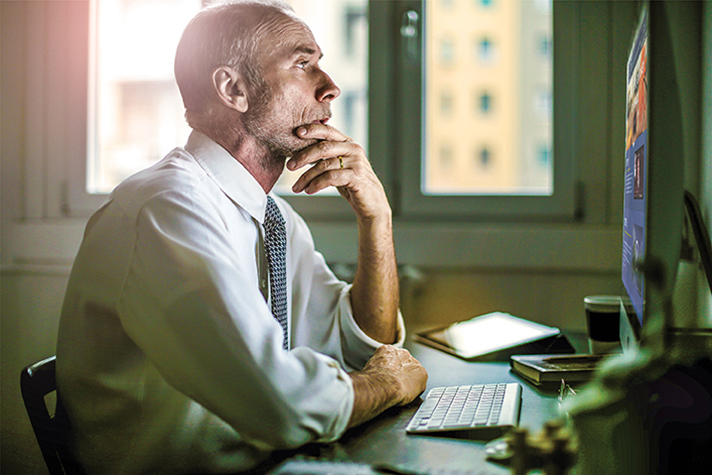 During a recent trip to Ukraine, Franklin Graham saw firsthand the desperation millions of families are facing as they glance into an unknown future.
In times like this, only one thing is constant: the incomparable, almighty God who loves His children and wants to walk alongside them in their questioning and pain.
Since 2011, the Billy Graham Evangelistic Association's (BGEA's) internet evangelism ministry, Search for Jesus, has reached people from every walk of life with the unchanging, always relevant Gospel. That includes ministry in multiple languages—most recently, Russian.
>>Reach Russian speakers with the Gospel online
Franklin Graham asked for prayer over all those who may be touched by this new ministry: "Will you pray that many suffering men and women in Ukraine and Russia will come to salvation in [God's] Son?"
After a decade of around-the-clock outreach to people online, trained Search for Jesus volunteers—who guide others in their faith—have seen the power of God at work through the web.
>>100 million visitors: How BGEA's internet evangelism ministry, Search for Jesus, began and how it's changed over a decade
In an update letter about the multi-language ministry, Franklin Graham shared the story of a man named Steve* who was experiencing crisis in a different way. Steve's daughter died when she was young, and he was crushed with grief. In the midst of his agony, he started taking a free online Search for Jesus course called Christianity Explored.
"The more Steve learned about Jesus Christ, the more he wanted to be changed by Him," Graham shared.
Steve put his life into Christ's hands and said he feels "full" and complete, having experienced "the peace of God, which surpasses all understanding" (Philippians 4:7, ESV).
Here are 3 more stories of people who brought their faith questions to a trained Search for Jesus volunteer online and found freedom through Jesus Christ.

'My Life Is Hanging in the Balance'
Hank* knew his drinking problem was affecting every area of his life when a Christian friend told him about PeaceWithGod.net, an interactive Search for Jesus website that explains the Gospel in four simple steps. He visited the site and clicked a chat bubble to talk to a Search for Jesus chat coach.
He was grateful for someone to talk to and the freedom to honestly share his struggles.
"My life is hanging in the balance," he said.
Once Hank started to understand the concept of sin and forgiveness, he felt even more convicted about his drinking and typed, "I don't want to burn in hell."
He paid close attention as the Gospel was explained and immediately embraced the Good News with a grateful heart. He prayed to receive Jesus Christ as Lord and Savior—and to trust Him for help in his battle against addiction.
>>Struggling with addiction? Break free.
Before their chat ended, Hank said he was going to call his wife right away to tell her about his life-changing decision. He also promised to get in touch with his friend who had referred him to the site and ask for help growing closer to Christ.

'My Friends Keep Saying … the Bible Got Distorted'
Stacy* practiced Buddhism for years—and struggled for much of that time with the religion's teachings. She signed up for one of BGEA's free online discipleship courses, but continued to wrestle with the Buddhist teaching her friends followed.
She even left the course for a while, but was drawn back again and again.
"I'm sorry I've been absent," Stacy told her trained discipleship coach. "My friends keep saying Jesus was an enlightened teacher and that the Bible got distorted."
By the power of the Holy Spirit, she stuck with the course—and reached a turning point when she watched a video testimony about Balinder, a former Sikh.
"I now know that peace can only be found through following Jesus Christ," she typed. "I believe He wants me and all of us to follow Him, regardless of the cost. In my case, it means giving up a false religion and also being brave enough to stand out amongst my family and be different."

'I Burned Down My Grandma's House'
Jaxon* was just 12 years old when he accidentally set fire to his grandmother's house. Now 14, he was looking for forgiveness when he found PeaceWithGod.net.
"I burned down my grandma's house," he said. "I'm here for forgiveness … and to be loved by Jesus," he told an online Search for Jesus volunteer.
He made it clear that he had never experienced that peace before, but he wanted to learn more. After a brief exchange with the volunteer, Jaxon said a heartfelt prayer of repentance and faith.
Before their conversation ended, he typed, "Thank you for taking time to introduce me to the Name of Jesus."
*Names changed to protect privacy