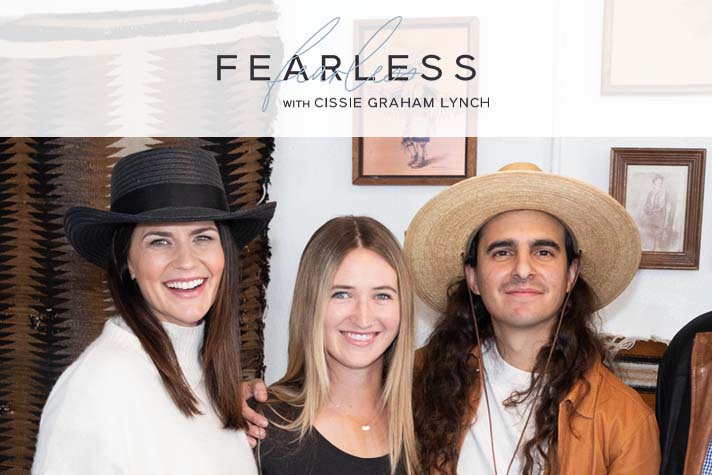 Are you ever worried that speaking out online about your religious convictions or political leanings could result in the cancel culture mob coming after you and your family?
That's what happened to Chad and Bree Barela, who share their story on Fearless with Cissie Graham Lynch.
>>Listen to the full podcast episode.
The young couple, who own a Southwest-inspired jewelry business and a hair salon in Albuquerque, New Mexico, refused to participate in a local social media campaign slated to support Black Lives Matter (BLM), an organization that the couple disagreed with because of its Marxist, anti-family and anti-God ideology.
"You know we're going to get in trouble if we don't post this," Chad recalled telling Bree before mutually agreeing not to post on social media. 
They made this incredibly challenging decision in the hospital after the birth of their daughter Scout, who joined big brother Arlo. It should have been a joyous and celebratory moment, but at the time, protests surrounding the death of George Floyd were reaching a fevered pitch and the pressure to support BLM was at an all-time high.
"I remember it was the most bittersweet moment of my life," Chad shared. "I was bitter. I was angry. I was frightened. It was a really hard, hard period."
The couple stood firm on their convictions and their faith, and both of their businesses quickly became the target of the online outrage mob.
There were vile social media posts directed at them and a couple of incidents of vandalism at Bree's salon, Towns Hair Service. They also lost business, including one order worth over $25,000 of Chad's jewelry to a store out of state.
It was a challenging time, and both Bree and Chad found that living a life of faith is sometimes not without sacrifice.
"I think, for me, there wasn't a time where I said, 'Maybe we shouldn't do this.' I felt strongly enough about that," Bree said. "But I did not stand fearless. I just want to make that really clear. I was in the fetal position on the floor at times.
"People were telling me, 'You need to talk some sense into your husband if you care about the future of your children.' They would say that the cancel culture mob were going to find him and break his hands."
Despite the intense pressure, Chad and Bree decided that clinging to their convictions was more important than bending to appease the culture.
"There is a Bible verse that made me think of you two, and it was Isaiah 43:2," Lynch said. "And it says, 'When you pass through the waters (Chad and Bree), I will be with you. And when you pass through the rivers, they will not sweep over you. And when you walk through the fire, you will not be burned. The flames will not set you ablaze.'
"And that we are going to go through fire, but there's another one in the fire with us. He promises to go with us."
In a culture that seems increasingly divisive and anti-God, that's a precious promise that can sustain us all in times of trial.
You can also have a personal relationship with Christ. Pray now.