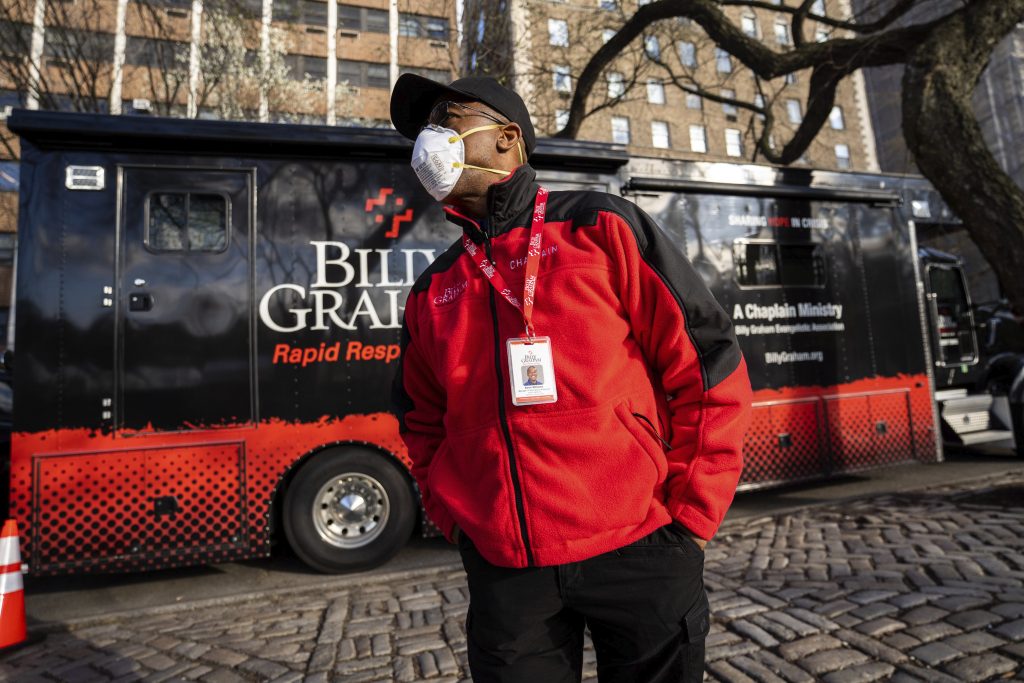 The persistent wail of sirens fading in and out at all hours of the day and night has become a grim reminder that the coronavirus is on the loose in New York City.
The news seems to get a little worse each day: More people dying, hospitals filling up, critical protective gear in short supply. In a matter of two weeks, a city that's usually brimming with tourists has become the least-appealing travel destination in the United States. But Kevin Williams and five other crisis-trained Billy Graham Rapid Response Team chaplains are convinced it's exactly where they're supposed to be.
"I knew that I was supposed to go," Williams said. As manager of emergency logistics and special ministry for the Charlotte-based Rapid Response Team, Williams had watched his calendar wiped clean by coronavirus cancellations. When the decision was made to send a small team of chaplains to New York City, the former New Jersey corrections officer, who spent six months serving the people of NYC after 9/11, didn't hesitate to return.
Williams is leading a team of six chaplains—three from North Carolina, two from New York and one from Maryland. They're serving in the area of an emergency field hospital set up by Samaritan's Purse in Central Park's East Meadow.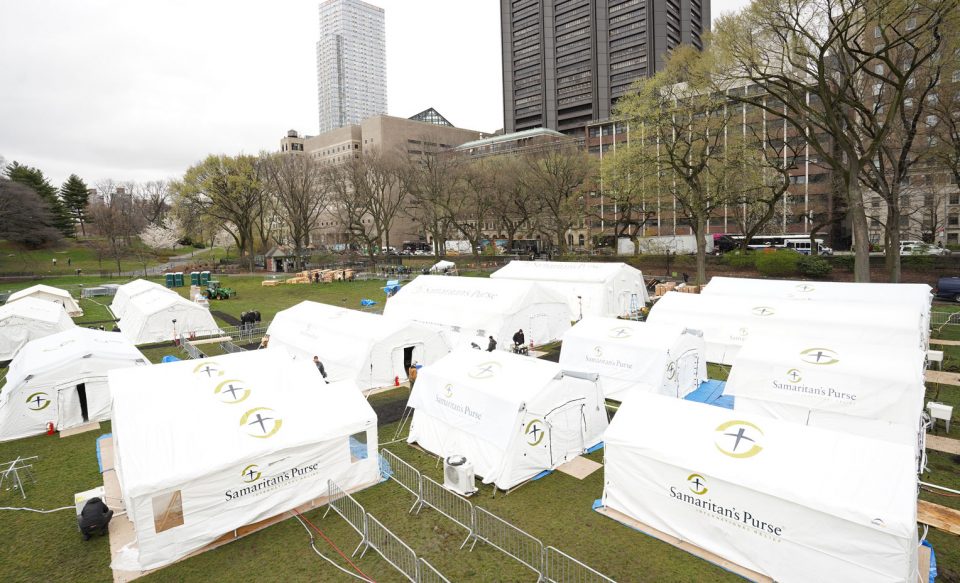 Each chaplain has been trained in crisis response and in the use of PPE, or personal protective equipment. The chaplains practice social distancing mandates and wear protective masks at all times while outside the hospital. Inside, they'll wear head-to-toe protective gear including caps, goggles, gowns and gloves. Despite all the measures to protect themselves and others, ministering to people at the epicenter of the COVID-19 outbreak is a daunting task.
"I can understand why somebody wouldn't want to come here," Williams said. "For me, I'm just going back home. Just going back home in a time of crisis to help meet people right where they are in their time of suffering."
From Ground Zero to Central Park
The last time Williams arrived in NYC to serve during crisis was 9/11/2001. He was working as a state correctional officer in New Jersey and was sent across the river within hours of the attacks. One of his assignments was accompanying victims' family members to Ground Zero via ferry boat.
"You talk about grief to the maximum," he said. "It was just heavy. Heavy."
Despite the stark difference in circumstances, Williams says his assignment right now with the Rapid Response Team bears similarities to what he experienced nearly two decades ago.
"There was so much death and carnage at Ground Zero, and there's so much death here now," Williams said.
Just a few days ago, the U.S. death toll from the coronavirus surpassed that of the 9/11 attacks. And once again, New Yorkers appear to be taking the heaviest hit.
As doctors, nurses and EMTs work overtime to treat thousands of people infected by COVID-19, the goal of the Rapid Response Team chaplains is to meet the emotional and spiritual needs of people who are struggling. That will include hospital patients, people whose loved ones are sick, and law enforcement officers and first responders serving in the area.
With most of Central Park's 840 acres still open for cooped-up New Yorkers to get some exercise and fresh air, the chaplains are also encountering plenty of curious onlookers, undoubtedly processing the fact that a popular sunbathing spot now holds a field hospital that looks like it belongs in a war zone.
"You still see people walking in the park, riding bikes, moving around," Williams said. "And 95 percent of them will stop on the outskirts and look down at this hospital. At nighttime around 7 o'clock, there are people that come up on the hilltops up there, and they clap and they cheer about what's going on every day with the progress of the hospital."
Fighting Two Battles
Williams and the other chaplains will serve for a month, after which additional teams may be brought in. The outgoing chaplains will undergo a two-week quarantine once they get home.
Until then, they want to be an example of love and compassion, just as Jesus taught. With the virus spreading through the city, bringing death, fear, and financial hardship, Williams knows the spiritual forces of evil threaten to overwhelm people with despair.
"It's a battle," he said. "We're in the middle of a spiritual battle, while at the same time a virus is plaguing the land."
"My prayer is that the light and the hope of the Lord Jesus Christ would shine brightly," Williams said. "And it would shine so strong through Central Park that it would radiate through the rest of the borough and New York City."
Support the Billy Graham chaplains, who are responding to the coronavirus crisis in New York City.
Feeling overwhelmed? Call our 24-hour prayer line: 888-388-2683
You can have peace in the midst of the pandemic. Start here.