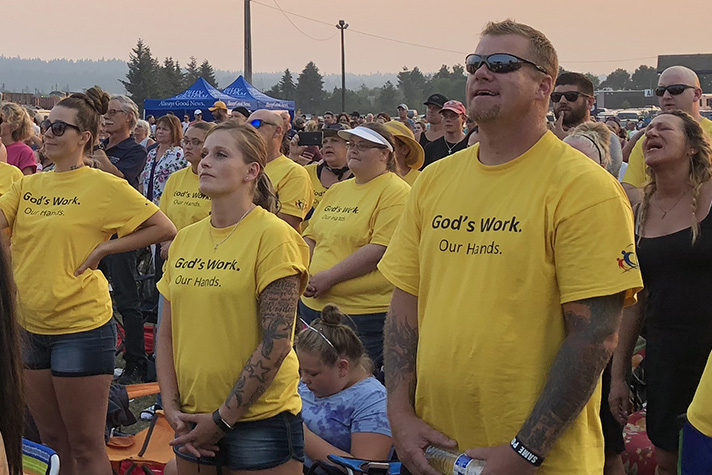 "And I will give you a new heart, and a new spirit I will put within you."
—Ezekiel 36:26
Have you ever wished you could start over?
At the Decision America Pacific Northwest Tour in Spokane Thursday night, a cluster of nearly 100 people wore yellow T-shirts to signify their own fresh start.
"We're a bunch of recovering addicts," Pastor Danny Green said. He stood next to his wife, Sherry, at the Spokane County Fair and Expo Center—the fifth stop on the Pacific Northwest Tour with Franklin Graham.
Nine years ago, Pastor Danny started a church that helps house people who struggle with substance abuse. His congregation is growing, along with others in the area.
"We're on the frontline of all God's doing," Sherry said.
With a mountainous backdrop behind her, she explained why she believes more people are coming to church: "People are stepping inside because they're trying to fill the God-shaped hole in their heart."
On a day with 100-plus degree temperatures, more than 14,000 people were ready to fill their hearts, too. A sea of open umbrellas dotted the fairgrounds, providing shade for some while Franklin Graham spoke.
>> See photos from the Pacific Northwest Tour in Spokane.
"Whatever is wrong, whatever mountain is in front of you, I'm here tonight to tell you Jesus is the answer," Franklin said. "Whatever your problems, He'll fix them."
Derald and Jennifer Cape sat in lawn chairs, knowing from experience the truth behind that statement.
"We lost our kids and our house and everything to drugs," Jennifer said. For a while, the couple and their dog even lived in a car.
She and Derald began going to Pastor Danny's church for free dinners, and eventually they both accepted Christ. Through God's grace alone, they've been clean for five years now.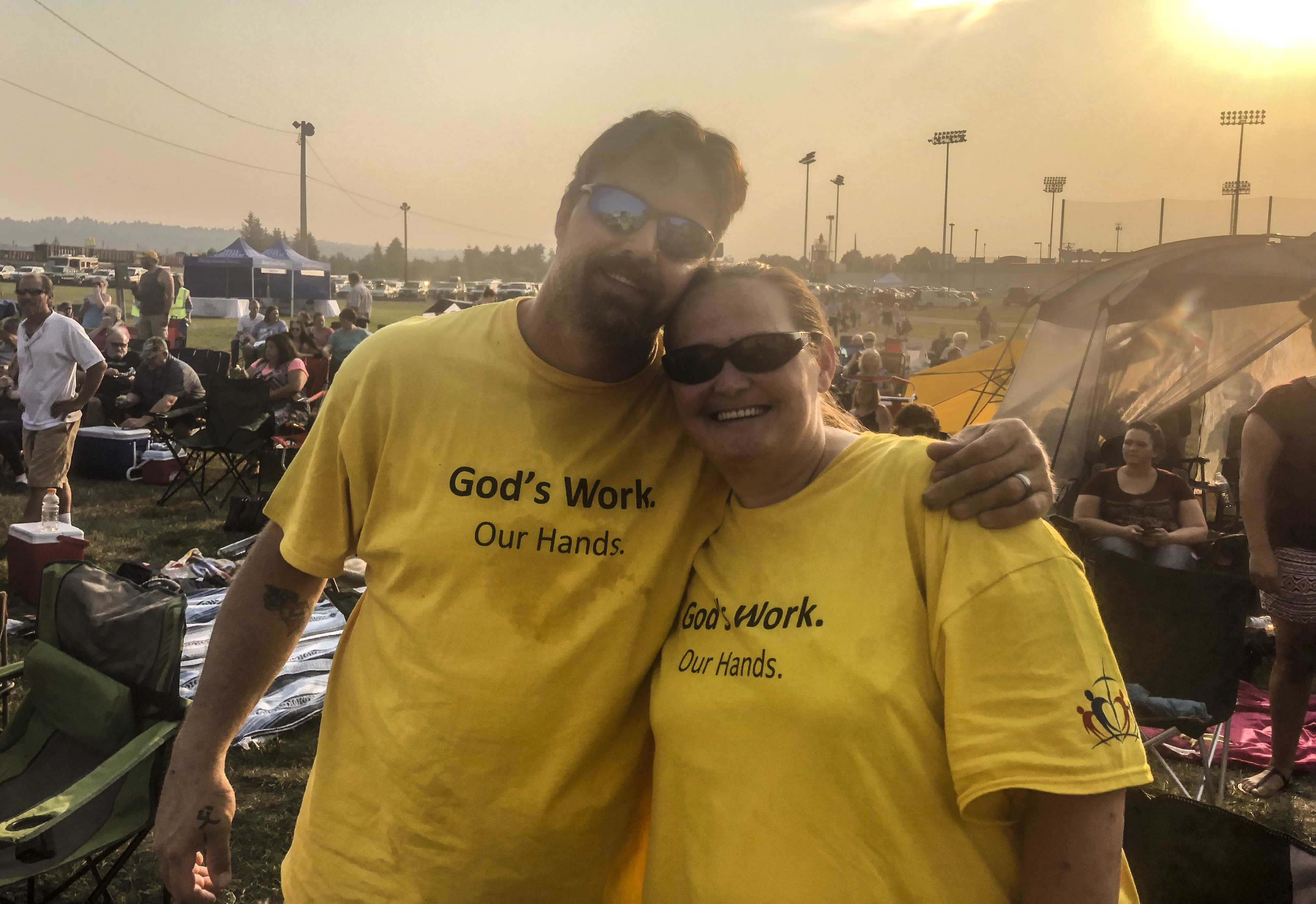 That message of grace is what Franklin Graham wanted to make clear Thursday night. Under the setting sun, he told the crowd, "You cannot save yourself. Religion can't save you. Only the blood of Jesus Christ can save you."
Speaking from John 3, the evangelist went on to explain the story of a Jewish ruler named Nicodemus who came to know Christ. Franklin shared that salvation is for anyone who recognizes their desperate need for God.
"He's here for you tonight," Franklin said.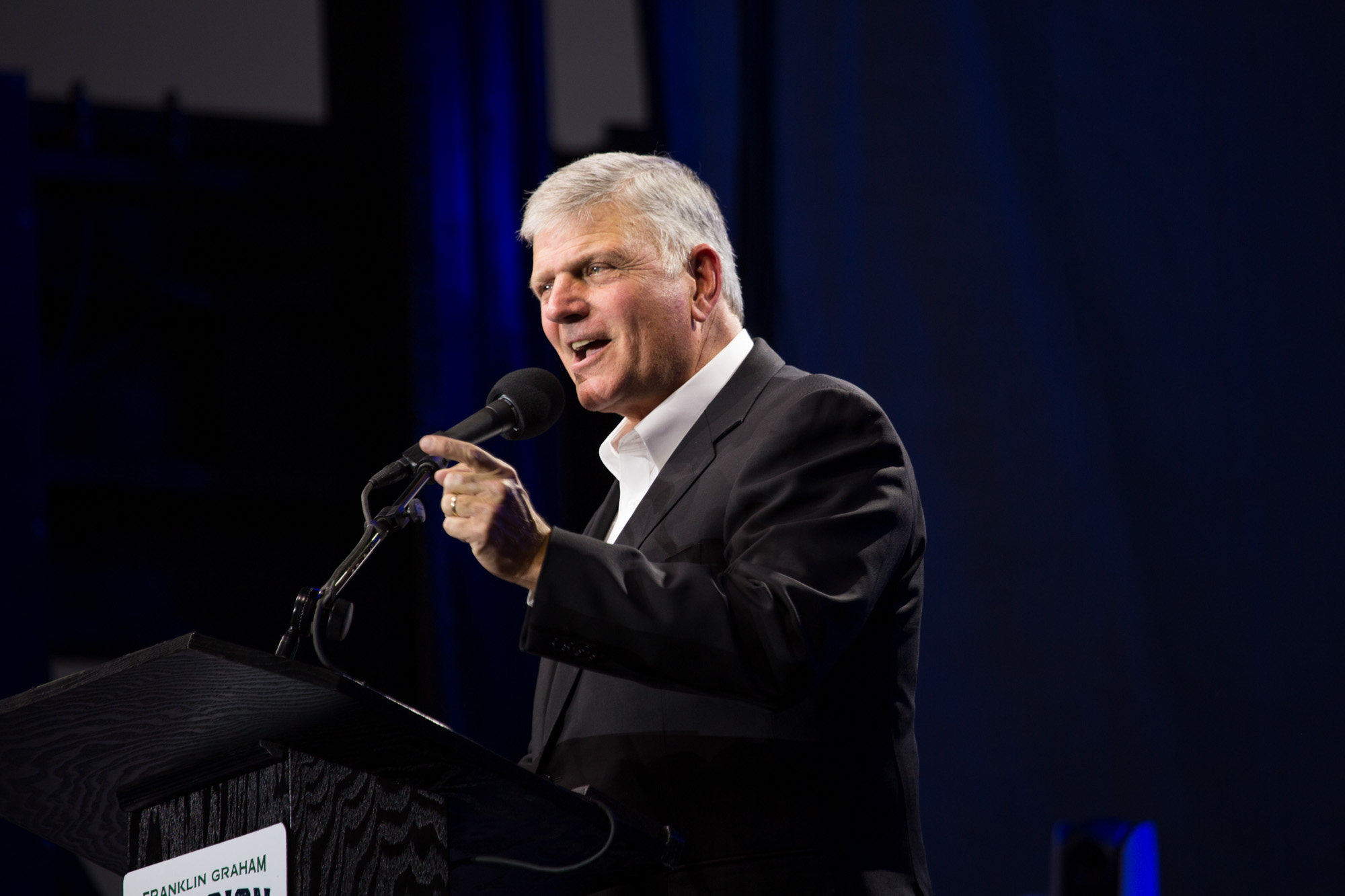 In the crowd, Jenna Dau knew God was with her.
Sober for nearly five months and facing a recent loss in her life, she said God's love is sustaining her.
"God gave me tonight," Jenna said, adding that she was excited to attend a Christian event for the first time.
"I'm going to remember this in the morning. Praise the Lord."