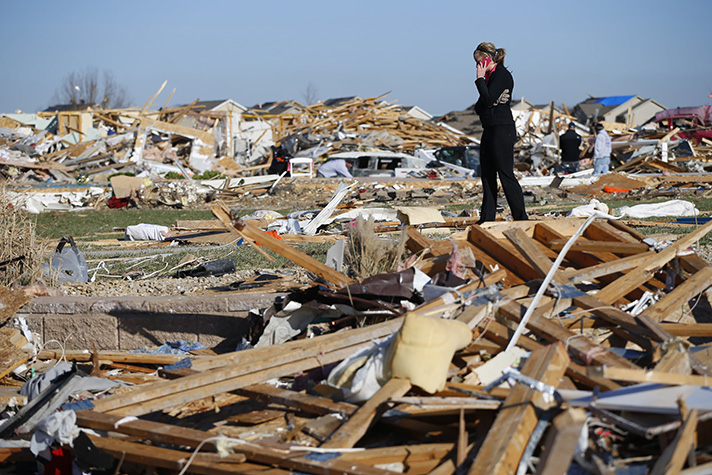 They've seen things that many people never will. They've stood in the rubble of Haiti and the twisted wreckage of Moore, Oklahoma.
They've cried with survivors of floods and tornadoes across the country. They've gone to many disasters, but they never thought that the disaster would come to them.
"I keep forgetting where I am," said chaplain Frieda Roulds of Peoria, Ill. In recent years she's left the comfort of home to immerse herself into disasters in Oklahoma or Indiana, but this time it's different. "I know this could happen anywhere, but you just don't think about right at home."
This past Sunday, a fierce storm moved across the Midwest, spawning 80 tornadoes and destroying thousands of homes. News reports indicated that six people were killed in Illinois, with up to 200 more injured. Seven counties in the state were declared disaster areas.
One of the hardest hit areas was the community of Washington, Ill., and the first Billy Graham Rapid Response Team chaplains to show up to offer emotional and spiritual support were from Peoria, just 10 miles away.
Frieda and her husband, Robert, were joined by Christopher Nebergall, and the three chaplains were not just responders, but survivors themselves.
"I was on an airplane on the runway," said Christopher. "The storm just started to come up and they were going to wait out the storm, and then it just turned into a white-out outside the window."
The passengers were hurriedly rushed back into the safety of the terminal when the tornado warnings sounded. In another part of town, Robert had left for church while Frieda – who wasn't feeling well – stayed home.
"The pastor mentioned that there were storms that were coming through, and we would head to the basement if there were any warnings," said Robert. "Through the service there were no warnings, but I could see what I call the 'white rain,' not coming down but moving sideways."
After the service the pastor did announce that Washington had been hit." As for Frieda, she gathered her strength to venture out to Wal-Mart for medicine, and had no idea that the five minute trip would spread to an hour as doors were closed to the elements.
"I had my eyes on the door the whole time, trying to make a plan," she said. "You couldn't see anything [outside the door], so I'm standing there trying to make a plan in my head on which direction I'm going when it blows the walls in."
And when the dust settled, the chaplains — who had witnessed first-hand the devastation of storms in other states — realized that this time it was their own community who had been inflicted by tragedy.
"I've caught myself a few times today saying, 'Where am I?' There are areas that look just like Joplin and areas that look just like Oklahoma," Frieda said, referencing the deadly 2011 and 2012 tornadoes. "Especially when we got right up in Washington where it's devastation all around, it's like, 'Is this really the Washington that I know, right across the bridge?'"
But, whether they're a thousand miles away or 10 miles from home, the chaplains are seeing the same faith, responsiveness, cooperation and sense of community that they've been blessed to witness following other disasters.
"There are so many people in the community coming together," said Frieda. "You look over in someone's yard and you see eight to 10 people there working together. One site that we went past we came to the conclusion that it had to be their church family, because there were so many of them."
The Billy Graham Rapid Response Team will continue to work in the community in the coming days, with chaplains from outside the local area arriving on Sunday.
How you can help? Please pray for all of those affected by the tornado, especially for those who lost a loved one or their home. Pray also for the chaplains who will be ministering to the emotional and spiritual needs of the survivors.