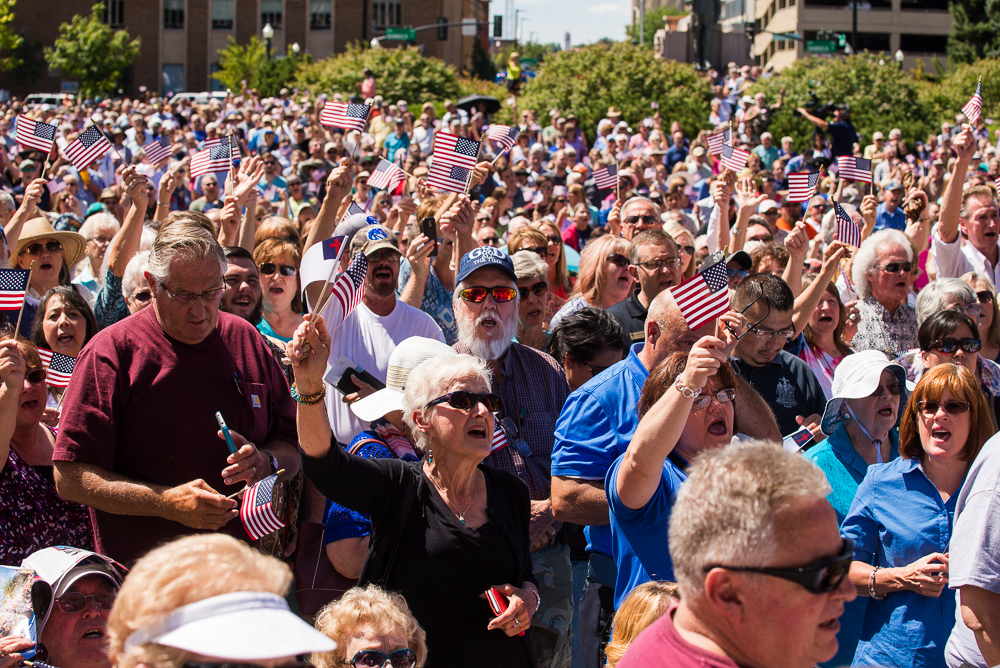 A cool breeze swept over the crowd, bringing relief from the hot Idaho sun. And just like the breeze, Wednesday's Decision America stop in Boise was a breath of fresh air for many who have grown tired of America's godlessness.
"I would like to see what's right be right again and what's wrong be wrong again," said Jan Austin. "I think the country is miserable because of the lack of God in it."
Austin came with five other women from her summer Bible study group, which wrapped up Wednesday morning just before Franklin Graham's prayer rally at the Capitol. Her friend, Judy Spalding, saw a poster for the rally weeks ago in the window of a Korean market and knew she had to be there.
"God gave us this land, and we need to give it back to Him," Spalding said emphatically.
Hours earlier, the six women were going over their last Bible lesson which focused on God's strength—and how it's available to His people.
"You have to know what you stand for and have the courage to follow through," said Judy Fossgreen, a spirited, no-nonsense woman in a white hat.
Fossgreen said she's had a burden for America since getting involved with an intercessory prayer organization in 1976. It was through that group she learned how to pray for the nation and realized the responsibility each believer has to take ownership of the nation's sins and intercede to ask God's mercy.
A retired teacher, Fossgreen said she's asking God to forgive the nation for its abortions, sexual sins and attempts to remove every trace of Him from its schools. She also prays for new local and national leaders who "aren't embarrassed by the name of Jesus."
A sign in her car window urges others to "Pray and Vote," and that's exactly the message Franklin Graham had for Wednesday's crowd.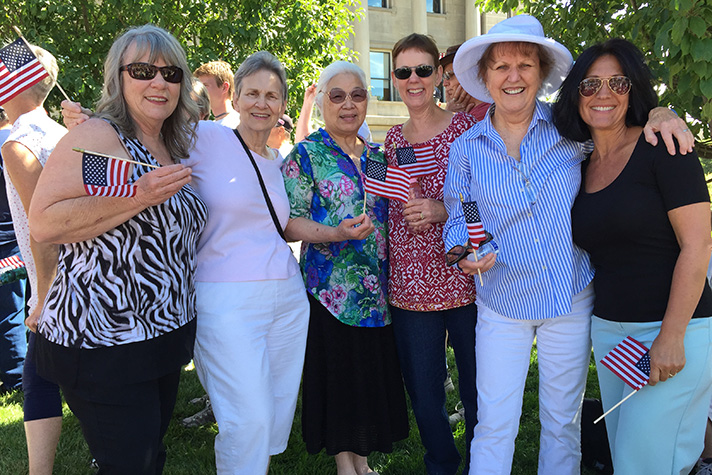 Franklin Graham began by talking at length about the moral issues facing America.
"I think people get frustrated and think, 'I can't do anything.' Wrong," he said. "Vote."
He challenged Idaho believers not to just sit back and let America slip through their fingers, but to stand up and be heard.
"We've got to be active. We've got to be involved," he said.
He encouraged pastors to look for people in their congregations who could run for office. He encouraged the crowd as a whole to help godly candidates organize their campaigns.
And not just this election year, Franklin Graham said, but for any race.
Andrea Mayberry, one of the women who came straight from Bible study, said she's been feeling a nudge to get more politically involved now that her youngest child is older and she has more time.
Others may not be in a position to run for office or even vote, but there's still something they can do.
Ismael Trinidad stood on the Capitol steps after the rally, capturing a few final pictures as the crowd dispersed. He and his wife are local church planters from Mexico, and Ismael said as a pastor, he appreciates Franklin Graham's leadership in getting Christians involved in politics.
As Idaho residents working toward citizenship, the Trinidads can't yet vote, but said they can still pray for the country and its leaders.