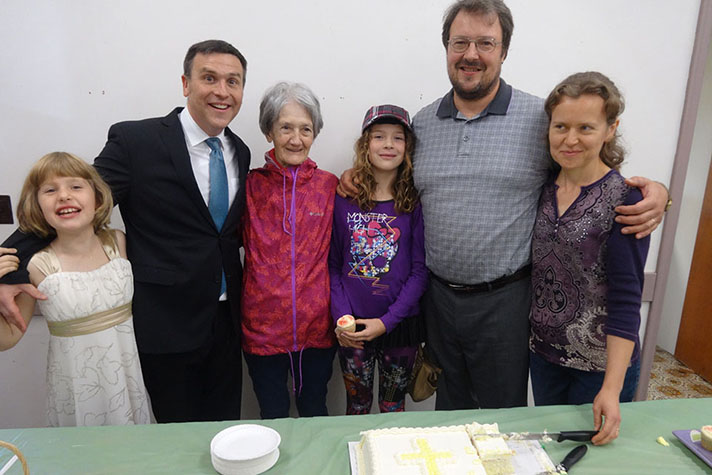 BGEA's internet evangelism ministry, Search for Jesus (SFJ), has hundreds of trained volunteers serving in multiple languages. These volunteers draw from their own life experiences in helping others online understand the Gospel. Here's the story of how SFJ volunteer Luca Lambruschini, a former atheist, came to love Jesus and now shares his faith with people he's never met.
On paper, Luca Lambruschini was a success. He was happily married with two daughters and a profitable company he built from scratch. There wasn't a thing left on his list to accomplish—well, a 1953 Buick Skylark Convertible would have been nice—but in terms of real achievements, he had hit all the marks he set for himself.
Still, late one night in October 2013, he was restless. He descended the stairs in his Victorian home, sat on the couch and turned on Netflix.
The Gospel Road: A Story of Jesus was one of the featured films, so he hit play. Ninety minutes later, Luca realized his achievements and possessions paled in comparison to the love of Jesus.
"I saw that was the only way to live life in full," said Luca, a native Italian. "I decided from then on, that's what I was going to do. I'm going to be exactly like Him."
Relying entirely on himself had always seemed to work in the past as he checked off all the boxes on his to-do list. But in this moment, Luca couldn't budge.
"I remember myself screaming [internally] with all my heart, 'Jesus, I know You did it. I want to know how You did it. I really want to be like You. I want to be able to love like You. You've got to help me. You're the only One who can do it.'
"Immediately, as soon as I really screamed that within my heart, boom. It was like somebody changed the software in my brain. I started seeing things differently."
>> Luca volunteers with BGEA's Search for Jesus ministry where he shares the Gospel online. Learn more.
Luca took a walk that night. He saw the street he had lived on for seven years with fresh eyes; his neighbors with a softened heart. He began reading the Bible and living the Gospel in front of his family.
His Italian mother worried about his mental well-being; his wife figured this newfound faith was just another fleeting passion in a life full of ambition. His daughters paid close attention. One even asked to start attending youth Sunday school at Dad's church. That meant Dad had to start attending the adult class before Sunday service.
Luca said he never preached to his family. Instead, this once self-reliant overachiever began prioritizing his family as the Bible instructs. Within the last two years, his wife and two daughters made decisions for Jesus Christ. His daughters were baptized.
But the biggest surprise for Luca was his mother—the same one who questioned his mental well-being.
"I invited her to the baptism of my older daughter, and she doesn't understand a word of English," Luca said. "She saw the preacher preaching with all of his heart, and saw the baptism, and I saw in her a special something happened. When she went back home, she started asking me questions [like], 'What does it mean when the Bible says this?' She was calling every hour."
Luca knows firsthand that God is personal, and as a personal God, He knows the best strategy for reaching the people He created.
Take Luca for example. The once self-professed atheist never wondered about his purpose as he moved from Italy to Canada in 2004 and built a new company. He thought he had it all—until he met God. Now instead of starting every day wondering what he'll do, Luca leans on Galatians 6:14 as he puts this question to the Lord: What do You want me to do today?
The question has led Luca down a variety of paths. He began "Gospel-oke" in his church as a way for "people to sing their hearts out to Jesus." The monthly karaoke event is building popularity and spreading in the Ontario area.
Asking God that simple question also prompted Luca to learn more about Billy Graham and volunteer with BGEA's internet evangelism ministry, Search for Jesus, where he serves as a discipleship coach. In that role, he guides others through a free, online discipleship course that teaches about who Jesus is. Volunteering has been a blessing for the electrical engineer who particularly likes helping people make sense of God's Word.
"I enjoy every minute of it," Luca said. "It gives me the opportunity to bring the message of the Gospel. I love especially answering questions, as many people have similar questions about how can this be?
"The 'now I see it' moment in the person [is] on the other side. That's what gives me joy."