Two chaplains from the Billy Graham Rapid Response Team (BG-RRT) reached a dead-end in Breathitt County, Kentucky, when the remaining pieces of a cabin blocked the street. Getting ready to turn around, they noticed a woman getting out of a car in the midst of the flood damage.
In town specifically to minister to residents after the natural disaster, lead chaplains Carolyn Bass and Liz Jakway hopped out to speak with her.
Kind but heavy-hearted, Sarah* recounted how her twin sons' homes were swept away by fast-moving floodwaters on July 28. Although her family woke up to her phone call and scrambled to safety, at least 37 people lost their lives in the eastern Kentucky floods, including two people in their county.
The two young families are now staying in one trailer together with their pregnant wives, children and pets, and traveling to Sarah's home over an hour away to shower.
It's difficult to watch your children and grandchildren go through that, Sarah said. Since the flood, she's been helping them collect trinkets and go through muddied items to see what's salvageable.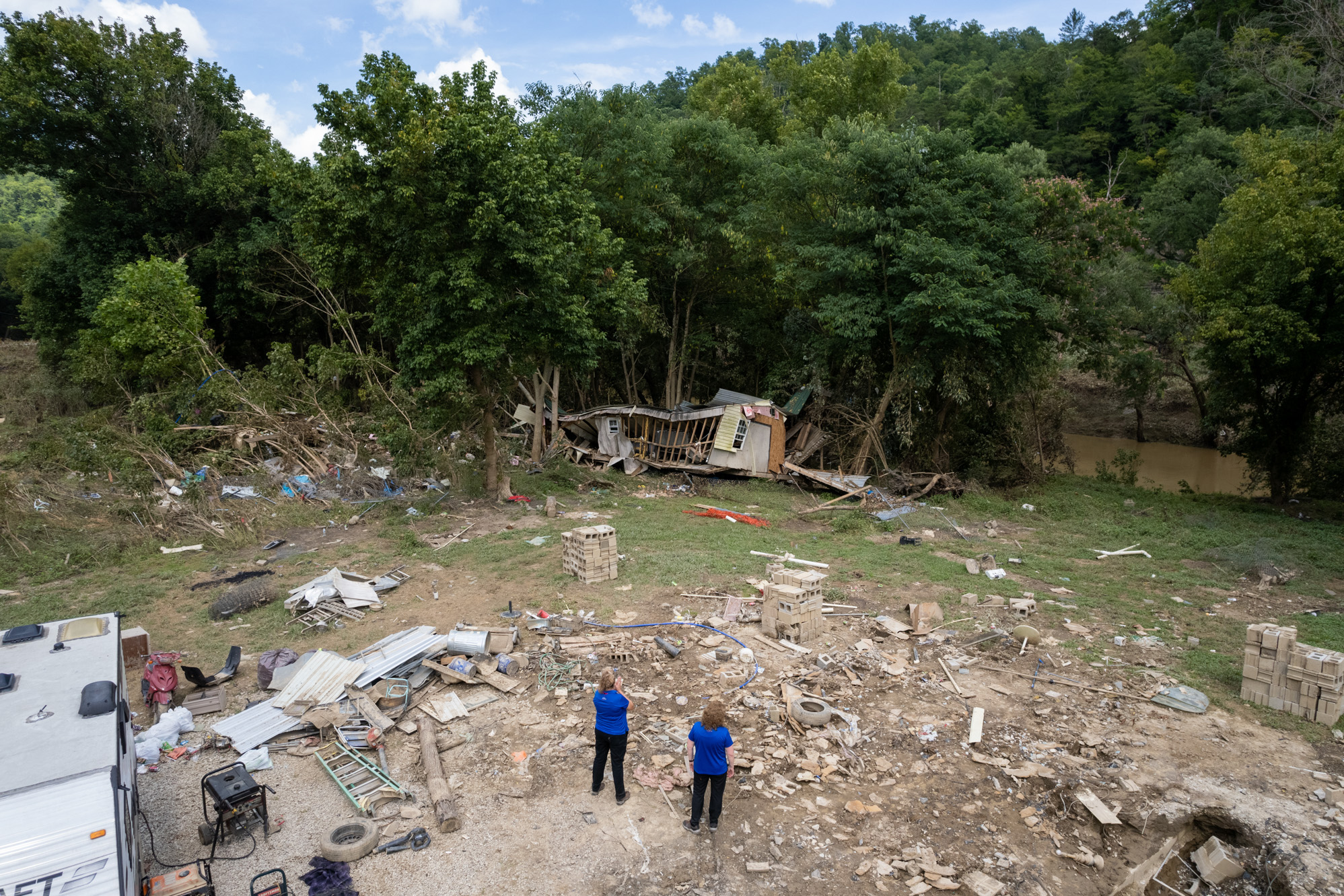 "She shared her story—a very hard life [of] drugs and rehab," Bass said. Substance abuse, including prescription drugs, heroin, methamphetamine and illicit fentanyl, is one of the top public safety and health issues in the state.
But, "she is on the right path and wants that for her family as well," Bass said.
"My husband told me just recently maybe we should go to church one day," Sarah said.
That comment opened the door for spiritual conversation. Although Sarah knew about God, she didn't have a personal relationship with Him.
"[She] longed to have the peace that He offers," Bass said. Nearby, chickens ran through the mud and a four-wheeler hung from a tree. Everything of material significance was gone.
As Bass shared the Gospel with her, Sarah repeatedly said, "Yes, yes. That's what I want. I want God."
"Let's walk through the Steps to Peace With God," Bass said. "I'd like you to understand more of this commitment."
Pulling out a small booklet every Billy Graham chaplain carries, Bass and Sarah flipped through its pages containing several Scriptures about the hope and forgiveness Jesus offers.
Full of joy, Sarah's eyes sparkled in the scorching sunlight. Although her past could've easily kept her stuck in old habits, Sarah was determined to move forward with the Gospel. She wouldn't let this be a dead-end road.
"She prayed [to receive Jesus]. It was absolutely precious," Bass said.
In a mix of muddied clothes and sweat, the chaplains hugged Sarah and made plans to return and give her a Bible.
Surely, God was paving a new way for her life.
"How sweet that mom was brought from an hour and a half away to hear the Gospel!" Bass said.
*Name changed for privacy.