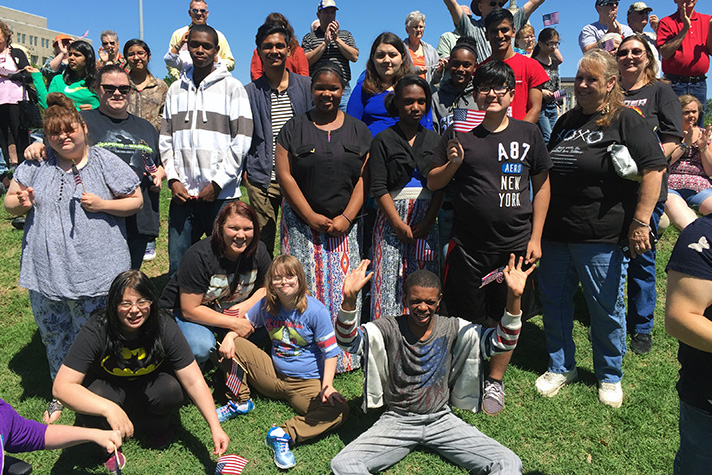 Last Wednesday, 18 students boarded a bus for a field trip. Six returned to school with changed hearts.
It started months earlier when Elizabeth Bley, a special education teacher at Western Heights High, first heard about Franklin Graham's 50-state Decision America Tour on Facebook. Once the tour date for Oklahoma was announced, she gathered a group from the Fellowship of Christian Athletes to go hear Franklin speak.
The tour would stop at the State Capitol in Oklahoma City, just a half-hour from the school.
Moments before the rally began, the students bunched together on the Capitol lawn, just behind the stage where Franklin Graham would speak. Several talked about America's need for prayer and the need to stand strong in their faith.
But for some students, the hour-long rally was even more personal, especially as Franklin Graham began explaining the Gospel as he does at each stop.
Bley talked about one of her special needs students who functions on a second-grade level:
"When [Franklin Graham] was talking to the crowd about accepting Christ, she ran over to our teacher assistant and said, 'I want that. I need Jesus.'"
The girl prayed along with Franklin Graham, as did five other students in the group—some who have special needs and some who don't.
Bley was thrilled, not only with their decision to make Jesus part of their lives, but with what she's seeing in her school.
"There have always been Christians at the school, but they're afraid to speak up," she said. That is, until recently. "We're seeing them become more bold."
Last year, there were about 10 students in FCA. This year, about 25. That's out of around 1,000 students in the school.
And the impact of Christ keeps spreading.
One teacher at the school briefly mentioned in class last week that his wife was going to go hear Franklin Graham speak, and a student came up to him shortly after, saying he used to follow Jesus and wondered how he could do it again.
"When all the students went to lunch," Bley said, "[the teacher] stayed in the room and prayed with him to commit his life to Christ."
For Bley, the challenge now is following up with students who committed their lives to Christ at the Decision America rally. She's gathering ideas to help them grow in their faith—especially those whose families don't go to church—and hopes to make resources available outside of class time.
Whatever happens next, she doesn't seem to be working alone.
"I believe God is on the move," she said.