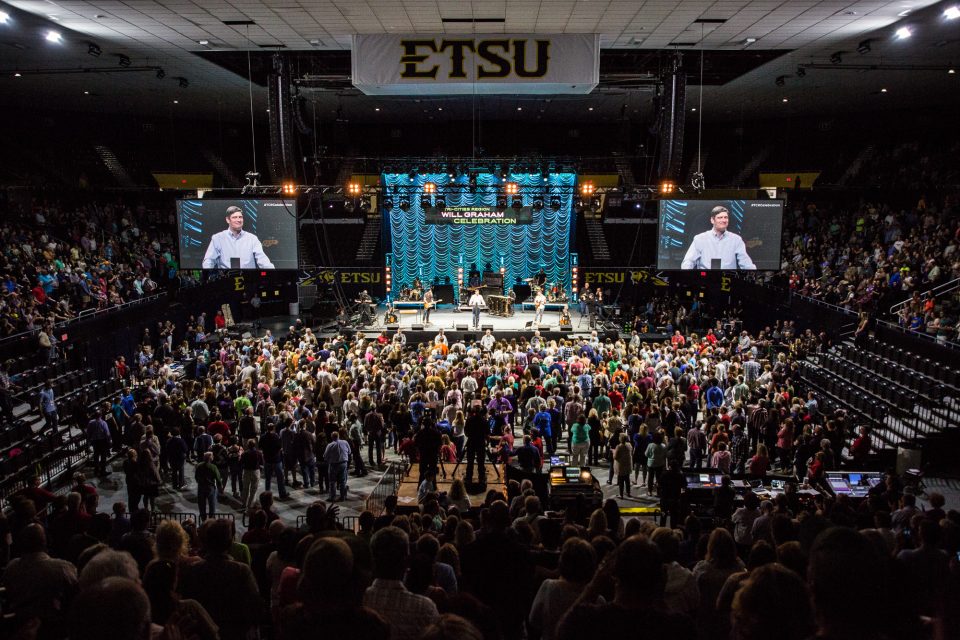 "I want to talk to you about time," Will Graham told a crowd in Johnson City, Tennessee, on Friday night, April 27. Preaching for the first time since Billy Graham's homegoing, Will spoke on a topic his grandfather had often focused on in the past.
"The Bible says your life is like a vapor," Will said. "We need to make good use of every minute, every second of our lives."
Somewhere in the crowd of thousands, a 49-year-old woman was captivated by what she heard. Brenda* had been raised in the church and was even serving as an usher at the Tri-Cities Celebration with Will Graham that night.
"I thought I'd surrendered my life to God until Friday night, and Will's message blew my socks off," she said. "I stood up at the very top of the stadium, tears streaming, feeling Jesus call me, and I was frozen in place. I felt because I was an usher I couldn't go down."
But Friday night was only the beginning of an unforgettable weekend for Brenda. On Saturday morning, she took her young grandsons to another Celebration event, KidzFest. Will, a father of three, shared the Gospel with the children, and one of Brenda's grandsons accepted Christ as his Savior.
On Saturday night, Brenda found herself back at the Freedom Hall Civic Center as Will preached about the Prodigal Son.
>>Watch a recap of Saturday night's event, featuring music from Crowder and a Gospel message from Will Graham.
"My friends, you can come back. God is waiting for you," he said. "It's time to come home."
This time, Brenda didn't stay up in the stands.
"The message about the Prodigal Son blew my socks off again, and again I heard myself called from word one," she said. "Then when Will gave the invitation, he said, 'God wants you to come back home, and you come now!' I practically ran."
Watch this short clip from the message that stirred Brenda's heart:
Even though Brenda went forward at the Celebration, it was through the Billy Graham Evangelistic Association's online ministry, Search for Jesus (SFJ), that she shared her story.
Three nights after she went down to the stadium floor, she decided to visit SFJ's site, PeaceWithGod.net, to tell someone about the decision she had made. It was there that she clicked a button to chat live with a trained volunteer chat coach.
"I just want to share my life-changing story," she told the online coach.
During their conversation, Brenda shared that she is a recovering drug addict. Until last year, she had used drugs every day since she was a teenager. The addiction started after she was sexually abused by an uncle she once adored and trusted.
At the time of the Celebration, Brenda had been clean for a little over a year and was working on a 12-step plan through Narcotics Anonymous. She shared that she considered herself to be a fully surrendered follower of Christ, but Will's message made her realize she was holding back.
On Saturday night, "I totally surrendered my entire life to Christ with all my heart," Brenda shared.
After the event, she went home and prayed, turning everything over to God, including her past abuse, which had been haunting her most of her life. She asked God to take her painful past "and use it for the glory of His kingdom." Then she typed a short letter of forgiveness to her uncle and "let it go to God."
"I mailed it yesterday and wrote forgiveness on the outside," she said. "Since I wrote it I've received something I've heard about all my life but never really got it! The peace that surpasses ALL understanding. Praise God and thank you Jesus! I am a new person. Covered by Jesus' blood. Tell Will thanks so, so much and please share."
*Name has been changed for privacy.
Do you want peace that surpasses all understanding? Start here.