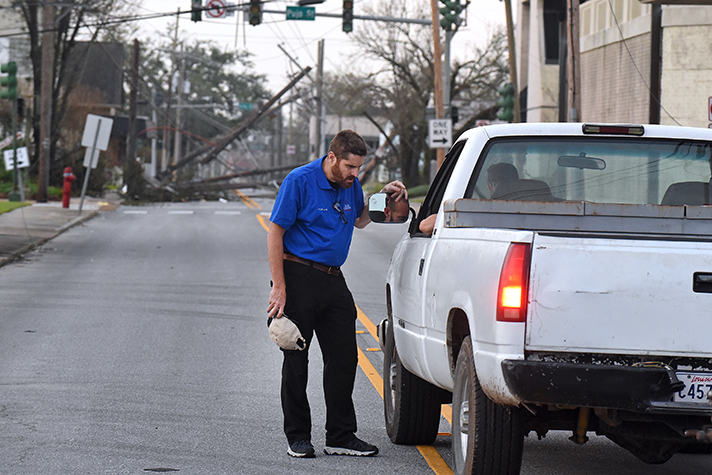 The Billy Graham Rapid Response Team and Samaritan's Purse are ministering in three Louisiana cities: Lake Charles, DeRidder and Jennings. The cities were hit hard by Hurricane Laura, a deadly Category 4 storm. Mobile Ministry Centers will be available at all three sites as chaplains offer emotional and spiritual care in these communities.
During the early hours of Thursday morning, Hurricane Laura slammed into the Texas-Louisiana coastline as a Category 4 hurricane with maximum winds of 150 mph. At least 16 people lost their lives due to Laura, one of the strongest storms to ever hit the United States.
The Billy Graham Rapid Response Team, a network of thousands of crisis-trained chaplains nationwide, deployed members from its headquarters in Charlotte, North Carolina, to just outside Dallas. There, along with Samaritan's Purse counterparts, they monitored the catastrophic storm from the Samaritan's Purse Southwest Ministry Center in Coppell, Texas, before heading to hard-hit Lake Charles, Louisiana.
The following is a timeline of the Rapid Response Team's journey to serve devastated communities. Walk through the shoes of retired law enforcement officer and crisis-trained chaplain Richard Brown, who drove the team's Mobile Ministry Center (MMC), a vehicle that will serve as a small sanctuary for the communities in the coming weeks.
Thursday, 8:15 a.m.
Both the Rapid Response Team (RRT) and Samaritan's Purse volunteers snap into action as the deployment to Lake Charles, Louisiana, is announced. The MMC is loaded up, and the pre-trip checklist is completed.
9 a.m.
The MMC pulls out of Coppell, Texas, and begins the 360-mile journey southeast to Lake Charles. Brown is clear-eyed and ready for all that God has in store.
"Getting boots on ground as quickly as possible gives us opportunity to share the hope of Christ," he said. "It allows us to have a ministry of presence."
10:30 a.m.
Brown stops to refuel just outside Dallas, Texas, before continuing south on I-45 to the Louisiana border. It's impossible to miss the MMC's commanding presence, even at a truck stop.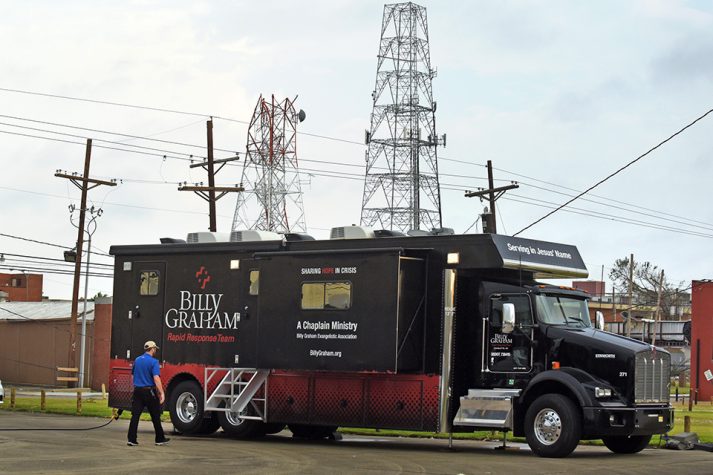 "The truck is a billboard and wherever we stop, people want to know what it's here for, and you get to share the Gospel," Brown said. "Driving the MMC is an important part of the disaster response."
1 p.m.
Stopping for lunch at a Wal-Mart parking lot, the MMC attracted some attention. Several people came up to trucks asking for help. Some were very appreciative upon learning of the Rapid Response Team's plans.
One gentleman was 82 years old, a long-time supporter of BGEA, and he mentioned his mother knew Billy Graham's mother. He talked about the power of prayer and that he nearly died twice. It invited an obvious question: "Do you know if you were to die today would you spend eternity with Lord?"
Without hesitation: "Oh, yeah." The man said he listened to Billy Graham as a child and surrendered his life to Christ. They talked briefly with the man, before pulling out and back onto I-45.
6 p.m.
Power lines and trees were down everywhere, starting around Jasper, Texas, about 85 miles from Lake Charles.
7:30 p.m.
Brown pulls the MMC into town to find damage everywhere.
Friday, 6:45 a.m.
An early start to survey damage and meet locals. Aaron, a Lake Charles resident and gym owner, rolled down his window somewhat eager to talk. Aaron said his family is safe and his home was mostly spared damage, other than the carport which was destroyed. A lot of residents rode it out, he said, grateful for the presence of the Rapid Response Team and Samaritan's Purse. "There's no power. No water. No gas. No food," Aaron said. "We're going to need a lot of help."
The chaplains talked with, encouraged and prayed with Aaron.
7 a.m.
The RRT spoke to a sheriff's deputy, who was trying to get to his office building only a block away, but three downed power lines were blocking it. His family evacuated to DeRidder, an hour north, during the storm. Their home suffered water damage, but it was relatively minor, he said. The house across the street was totally destroyed.
The sheriff talked about how much the devastation will affect his town and how long it will take to recover. He readily welcomed prayer.
7:15 a.m.
Brown led devotionals for the chaplains already in Lake Charles, including Samaritan's Purse staff. Additional chaplains are anticipated to join the group in the coming days.
He read a passage from Philippians 4:19: "And my God, our God will supply every need according to His riches."
"Each of us have family or responsibilities back where we come from, and God's going to supply our needs so we can supply others' needs. And He's going to give us the strength to do that."
Please continue to pray for these communities and the first responders affected by this catastrophic storm.