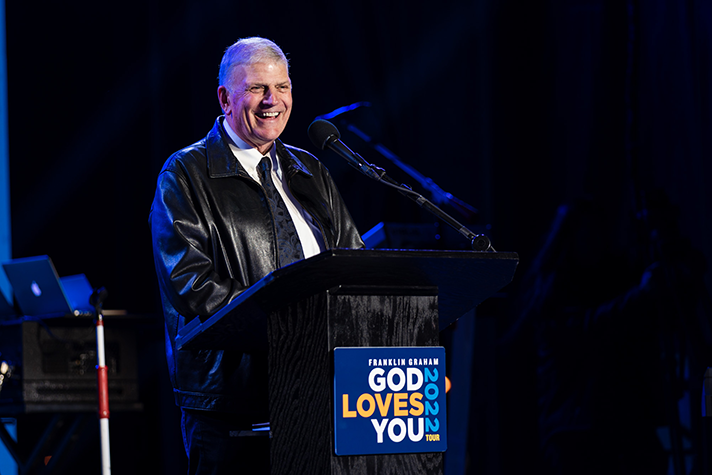 If you died today and stood before God, would you be welcomed into eternity?
During the first night of Franklin Graham's God Loves You Tour in Allentown, Pennsylvania, that was the question many pondered in their hearts as they listened to the evangelist's message.
The fall Pennsylvania day brought people from around the region to the Allentown Fairgrounds. Home of the Great Allentown Fair and other local events, this Saturday night the grandstand was filled with the sound of thousands worshiping God.
>>Photos from the Allentown Fairgrounds
"We have to stand before God someday and give an account of how we've lived our lives, how we've used what He's given us," Franklin Graham shared in his message. "Have we honored Him? Have we put our faith and trust in His Son? Have we received Christ into our hearts? Have we trusted Him as our Savior?"
Hundreds answered those questions as they surrendered their lives to Jesus Christ.
Choosing 'A Better Life'
A Pennsylvania native and Bethlehem resident, Lauren's smile and joy was contagious as she prepared to serve as a volunteer at Saturday night's event. The 30-something had participated in the Billy Graham Evangelistic Association's (BGEA's) Christian Life and Witness Course earlier this year where she learned how to effectively share the Gospel.
"I'm very open about Jesus 24/7," she said. "I care so much for people to know who Jesus is because I know what it's like living without Him. … Who I was without Christ is completely different than who I am now."
Even though she grew up in a Christian household, Lauren walked away from Jesus as a high schooler. After nearly committing suicide and filling up her life with unhealthy relationships, God transformed her heart. She now finds herself living on the south side of Bethlehem surrounded by many who battle drug and alcohol abuse, gun violence, and poverty—and she's committed to sharing Jesus with them whenever and however she can.
"I was polluted by the worldly way of doing things, unhealthy relationships, unhealthy addictions, and I didn't realize that Jesus was the answer to healing me in those areas," she shared. "Now that I know how holy and clean I can be with Him, I want others to know, too."
A Greater Purpose
Saturday night, many others did come to know Christ, including Antonio.* His wife Rebeca* has been following Christ for several years and insisted that Antonio attend the event with her. He agreed to go, not knowing he would hear a message that would transform his life.
When Franklin Graham extended the invitation to respond to Christ, Antonio understood he was there for more than to accompany his wife.
Antonio asked Jesus to be his Savior and received a Bible to grow in his faith. His wife was by his side.
Josué, the prayer volunteer who prayed with Antonio, shared the couple's joy.
"This was what Jesus called us to do, to go into all the world to preach the Gospel. I am happy and excited to be part of this team with Franklin Graham," said Josué. "We are ready for the next event."
Burdens Lifted
Before the night ended, Jonathan* sat with a small group of friends on the far right of the grandstand.
Even though he chose to follow Jesus as his Lord and Savior years ago, Jonathan had been walking far from God and was struggling with sexual sins and addictions. Franklin Graham's message seemed to speak directly to him.
"Sin is breaking God's standards, His laws," the evangelist shared, diving into the story of Belshazzar, the last king of Babylon. Belshazzar was deep in sin, Franklin Graham explained, when God sent a hand that wrote a message of doom on the wall. The Babylonian king had a chance to repent, to turn away from his sin, but he didn't and lost his kingdom to the Medes.
"The Bible says, be sure your sins will find you out," Franklin Graham said. "But when you receive Christ, He blots out those sins."
When the evangelist asked the crowd if they were willing to tell Jesus "I'm sorry" and turn to Him, Jonathan immediately stood up and bowed his head. Prayer volunteer Ray came up to Jonathan following the sermon, listened to his story, and walked him through a prayer of confession.
"So many Christians carry burdens and loads in their hearts that they are afraid to confess and they are afraid to bring forward," Ray shared, "but the fact that it was brought up in [Franklin Graham's] message the way it was, it relieved that pressure and that stress."
That opened the door for people like Jonathan to confess their sins and turn toward Christ who forgives them and offers a fresh start.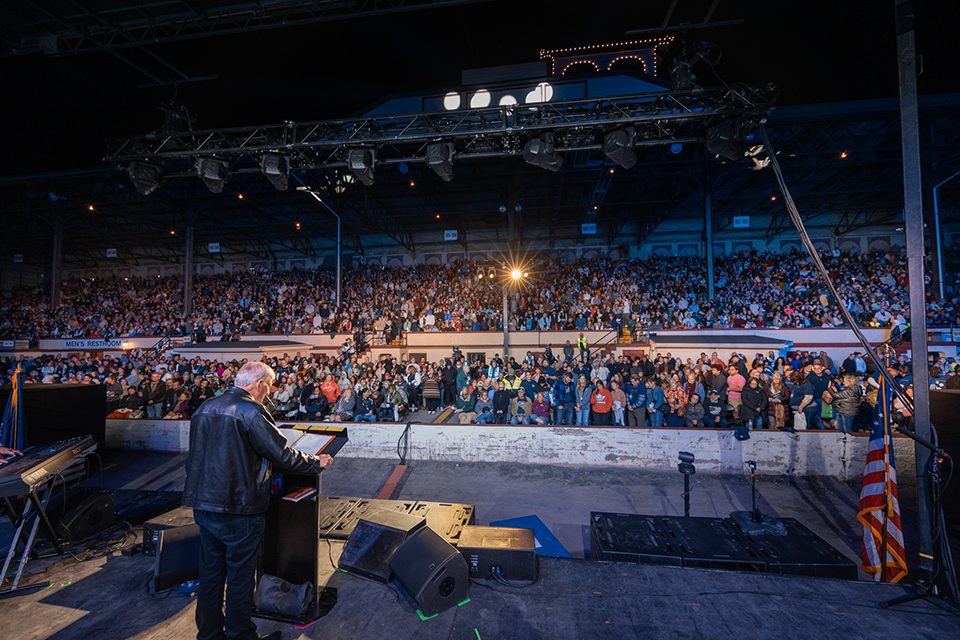 When Anthony arrived at the event Saturday night, he too had been wrestling with following God. On his first military deployment in 2008, his friend showed him that, "Jesus is the light and that everyone needs to see His light."
"I've been wrestling with following God's path right and being more like Jesus instead of me," Anthony explained.
After hearing the Gospel, Anthony was one of those who stood up to ask God's forgiveness and recommit his life to Jesus.
"Everything was just leading [me] to refollow God and follow His steps again," he said.
That second chance is something anyone can have when they decide to follow Christ.
The God Loves You Tour will continue in York, Pennsylvania (Sept. 25); Youngstown, Ohio (Sept. 27); Flint, Michigan (Sept. 29); Waukesha, Wisconsin (Oct. 1); and Rochester, Minnesota (Oct. 2). Live in the area? Learn more at GodLovesYouTour.com.
*Names changed for privacy.