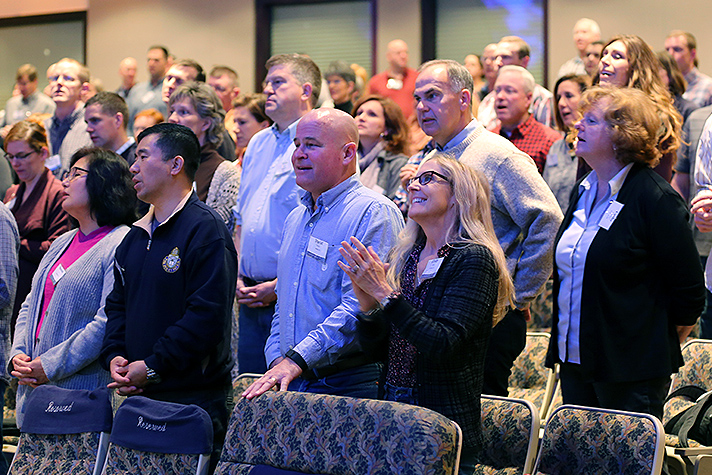 "We've been waiting on you."
With tears in her eyes, Melinda Morton recalled the welcome she received upon arriving at the Billy Graham Training Center at The Cove for this week's Military Chaplain Retreat. The journey there had been anything but easy. Twice on Monday, Melinda and her husband Scott attempted the half-hour flight from Atlanta, and twice a fog-shrouded runway in Asheville prompted the pilots to retreat from the North Carolina destination.
Melinda was overcome with emotion. It was getting late. Her husband, a Navy chaplain of 22 years, suggested they head home to Pensacola, Florida. Melinda refused.
"I know God's got something for me at The Cove so I've got to get there," Melinda told her husband. "I need Him."
All the flights were canceled, so the Mortons joined up with five others—two other Cove-bound couples they had just met and a woman just wanting to get home. The party of seven relative strangers rented a minivan and hit the road. Almost four hours later, Melinda's spirit leaped at the sound of that sweet welcome. They'd made it.
"That's the whole thing about this week, is to be rejuvenated, to be blessed," said Melinda, who's been to the event four times with her husband. "The people here are amazing. Everybody's always smiling, acting like they've known you their whole life, acting like you're family."
The Mortons joined their chaplain family—roughly 250 strong—at The Cove on Tuesday for the first full day of the retreat. Hosted by the Billy Graham Rapid Response Team, the retreat is designed for chaplains and their spouses to seek a fresh encounter with God, their families and their calling.
Almost immediately, Melinda felt God speaking to her through the music of worship leader Danny Byram, and the messages of speaker Richard Blackaby and other various leaders.
Spiritual renewal also couldn't have come at a better time for Christopher Morgan, a first-timer at The Cove and an 18-month-old chaplain. Morgan just completed his fourth deployment as a chaplain—this time a six-week mission aboard destroyer James E. Williams—and it was rough. Several incidents, including severe personnel matters and an on-board suicide, made for a challenging atmosphere in the Atlantic.
At The Cove, Morgan felt renewed.
"It's been great to be loved on and see familiar faces," said Morgan, who spent a decade serving deployments in the Navy as a post-anesthesia care nurse.
It was during a 2005 deployment to Kuwait that he accepted Christ. On that same trip, Morgan was invited by an Army chaplain to an Army chaplain workshop. Morgan resisted at first but ultimately gave in. His life was changed.
Chaplain newcomers like Morgan were joined alongside retreat veterans like David Trogdon, a longtime Army chaplain who attended the retreat with his wife Connie.
This will be the last retreat for Trogdon, who is retiring after 16 years of Army service. He spent the first nine years in a combat position and was a lieutenant colonel when he moved into full-time chaplaincy.
Trogdon has seen God move in the midst of battle—literally—and he's been exposed to what the armed forces see during combat. In 2008, he was talking on the phone with Connie during an Iraq deployment when a rocket landed nearby. Connie heard the blast, but it was three days before she learned her husband and father of their two children was alive.
Serving as a military chaplain isn't easy, but Trogdon insists it's much tougher on the spouse who isn't there to verify his or her loved one is alive.
Even though Trogdon survived that blast, he sustained a traumatic brain injury—his third during service. To this day, he struggles with headaches and memory issues, but he finds solace at The Cove among his fellow chaplains.
Finding refreshment was especially critical in 2013 after Trogdon completed a bloody and heart-wrenching deployment to Afghanistan. Many died and many more were injured. As a chaplain, he said, you're going 200 miles an hour, pouring out to those around you, but you don't take much time for yourself.
"I've done a lot of retreats for soldiers, but to actually have a retreat for us has been a real blessing," Trogdon said. "A lot of healing happens here."
Take a personal spiritual retreat at The Cove.