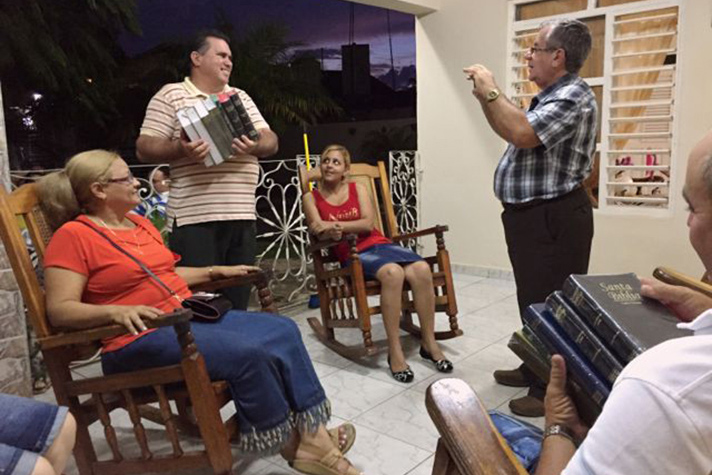 In early December, generous donors partnered with the Billy Graham Evangelistic Association through #GivingTuesday to help send Bibles to Cuba, a communist country that only recently lifted its ban on the importation of God's Word.
If you contributed to the Bibles for Cuba effort, thank you. You have played a vital role in building God's Kingdom.
To date, the BGEA has purchased and sent more than 28,000 Bibles from the United Bible Society. The next shipment, planned for July, will contain copies specifically tailored for pastors.
The Rev. Juan Carlos remembers walking the streets of communist Cuba as a child with his Bible hidden. If he wasn't careful, the government would take away the banned book, a perceived threat to the established order.
He remembers standing in line as an adult, watching the butcher shop worker spit on the floor in front of him; a clear signal that his kind—Christians—were not welcome there.
>>SOS Cuba: Finding peace in the midst of crisis (en Español)
But Juan Carlos said that was before God brought revival in such a powerful way that it sent Cubans to the churches in droves. When he remembers this turning point in the 1980s, his eyes shine; the corners of his mouth turn up.
That hunger for God and His Word is still palpable across the Caribbean island, Juan Carlos said, even almost 40 years later. The ban on Bibles was lifted recently, but with a population of 11 million, the supply is limited in this country.
Generous donors have made it possible for the Billy Graham Evangelistic Association to purchase and send its first shipment of Spanish language Bibles. The next load—approximately 14,000 Bibles—will include reference Bibles intended for pastors.
Those Bibles are thin enough to carry, but packed with information. There is a suggested order of service for new pastors and a few suggested sermons for key dates, such as Easter. This is especially critical given the number of new pastors and the lack of affordable seminary training available.
"The look on their face is like they just won the lottery," Juan Carlos said of handing a pastor a new Bible.
"There's weddings, there's baptisms—the life of a Christian community," Juan Carlos said through a translator during a recent visit with his son to the Billy Graham Evangelistic Association. "Everyone needs a guide. The functioning church has to go through all these, and many times they don't have a clue where to begin, how to do these services correctly."
Beyond logistics, providing these Bibles to pastors is a blessing simply because of the cost. In Cuba, your average state employee makes $15/month, which is close to the estimated cost of the pastor Bible. A pastor is fortunate to make $10/month, but even if he scrimped and saved, the bookstores don't stock Bibles. Churches and seminaries are the only places a Cuban can get a Bible.
Distributing the Bibles brings a special joy to Juan Carlos, who works with the Cuban Bible Commission to get copies of God's Word. He has distributed several pastor Bibles so far.
"The look on their face is like they just won the lottery," Juan Carlos said of handing a pastor a new Bible.
Juan Carlos is one of many pastors who obtains the imported Bibles through the Cuban Bible Commission, but he struggles to keep enough on hand. His dream is to see every person island-wide, even in the remote areas, have his or her own copy of God's Word.
Nowadays, Juan Carlos doesn't worry about hiding his Bible, although getting stopped by the police still isn't uncommon for Cubans. But Juan Carlos happily recalled a recent encounter he had on the highway.
"Three policemen stopped us, and this kind of a stop can and often does carry serious implications," Juan Carlos said. "One of the policeman came running up to the car. He said, 'I know you already. You're the ones who are carrying Bibles all over Cuba now.'"
The policeman then said, ""The reason I stopped you is that I know you are pastors and I'm hoping you can give me a Bible."
Juan Carlos has seen God provide time after time; he knows it was no coincidence he had one Bible left.