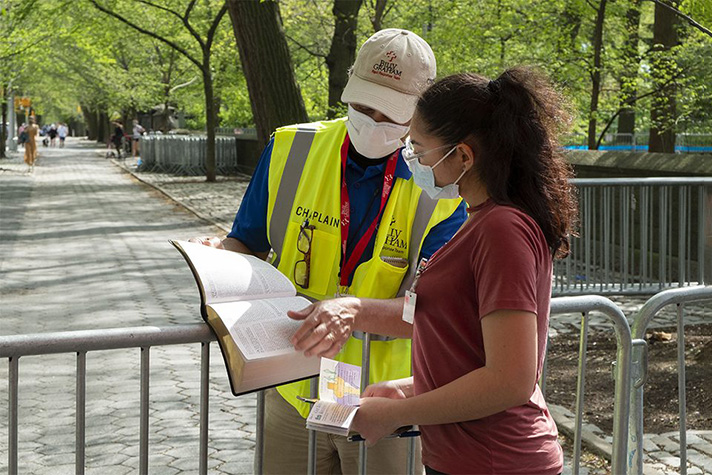 On the 20th anniversary of the September 11 terrorist attacks, many are deep in thought of where they were that fateful day when the Twin Towers came crashing down.
For Jack Munday, who now serves as the international director of the Billy Graham Rapid Response Team (BG-RRT), he remembers feeling "shackled" while watching television replays of the horrific attacks that caused the deaths of 2,996 people.
With his home 10 hours from Ground Zero, Munday said, "I didn't know what to do."
Like Munday, many other Christians weren't sure of the best action to take, either. In just one morning, national security was infringed upon and the American Dream invaded.
"I don't believe the church was ready to effectively minister to people where they were at the time. There was that grief; there was that fear," Munday said. "There was the sense of feeling vulnerable, that our nation will never be the same. But we didn't know what that looked like."
Often in life's darkest moments, God is still present, shining His light to those who feel overcome by the evil in this world.
Born Out of National Tragedy
Just three days after the attacks, Billy Graham addressed the nation at the Washington National Cathedral:
"But how do we understand something like this? Why does God allow evil like this to take place? Perhaps that is what you are asking. You may even be angry at God. I want to assure you that God understands these feelings that you may have."
Afterward, several churches reached out to the Billy Graham Evangelistic Association (BGEA) for help with their congregations. They didn't know what to say to those stricken with shock and grief, and suddenly their pews were packed with people looking for answers.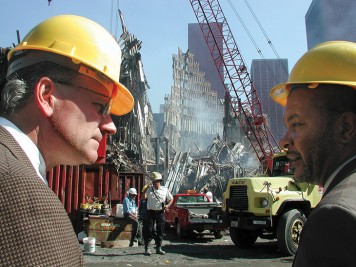 When Franklin Graham visited Ground Zero a few days later, he noticed there was a need for more chaplains. That's how the Billy Graham Rapid Response Team was born.
"The vision [of BG-RRT] … really centers around the Scripture of Matthew 9, verses 35–38 … which says when Jesus saw the multitudes, He was moved with compassion because they were weary and scattered like sheep without a shepherd," explained Munday. "That was what Franklin saw at 9/11 was thousands of people, the multitudes. And there weren't enough chaplains or pastors or counselors to talk with everyone."
In a quick response to the crisis, a Billy Graham Prayer Center was set up just a few blocks from where the towers once stood, becoming a place of respite for months in the aching city.
Back home in Charlotte, North Carolina, Munday felt God calling him to be a place of refuge for those struggling with the attacks in his own community. Since 1980, he and his wife had opened their home to people in dire situations, which unknowingly would help him serve others during the national crisis.
"I think 9/11 had a rippling effect throughout our country that affected a lot of people's lives," he said. "Several had relationships in New York City and hadn't heard from them. So, there was that fear and that worry."
As Munday provided a ministry of presence—offering encouragement, prayer and a listening ear—he heard many people question God. This experience would sow seeds into Munday's life, preparing him for his future with the Rapid Response Team.
In February 2002, Munday began working at BGEA with the Rapid Response Team, which at the time was a ministry centered around training churches or individuals how to respond with emotional and spiritual care amid crisis, and meeting with those directly affected by disaster.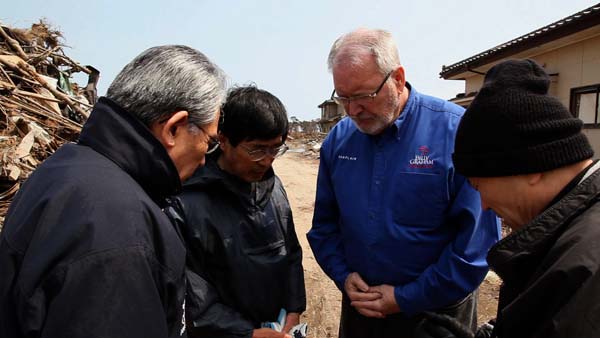 Two years later, the ministry further developed as God provided Munday with direction.
While Munday was meeting with pastors and locals affected by a hurricane in Florida, he received a phone call requesting chaplains.
"I didn't know what a chaplain looked like at that time," Munday said honestly. "But I knew that there were people from the Billy Graham Training Center at The Cove and some other people that went up to the Billy Graham Prayer Center after 9/11. And so, I called them."
Six individuals showed up in two days to become the first official Billy Graham chaplain team serving at a natural disaster.
Munday began praying, "Lord, what are we going to do with them? How does this work?"
Sitting on the nose of a Samaritan's Purse tractor trailer, Munday thought of the sister ministry's database of work orders, which includes addresses of homes they would repair.
"It was just as clear, it wasn't audible, but the Lord spoke to me and said, 'Follow up two-by-two [with chaplains],'" Munday explained.
And the rest is history. Chaplains began going through orientation and were supplied with Bibles and tracts to hand out at given addresses. They would knock on homeowners' doors, explain they were chaplains with the BG-RRT and ask, "How can we pray for you?"
"People would just weep at the door," Munday shared about residents' responses. "They'd see [the name] Billy Graham on their shirt. They were so grateful there was that follow-up. That first day, there were four first-time decisions for Christ. And we basically do the same thing today."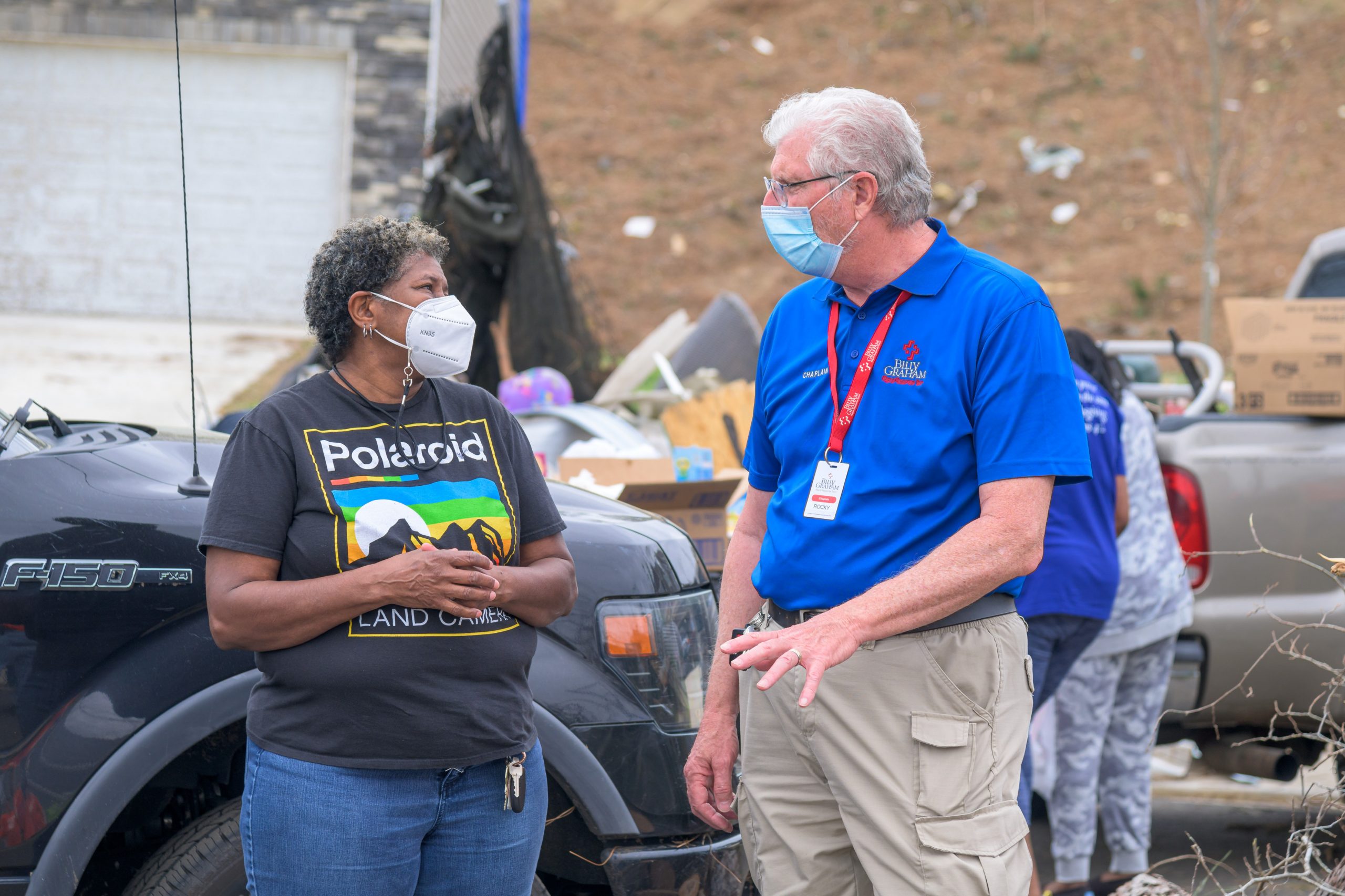 More Spiritual Preparation Ahead
Two decades later, the Billy Graham Rapid Response Team has deployed to 23 countries and prayed with more than 570,000 people one-on-one.
With offices in the U.S., Canada, the U.K. and Australia, the team now consists of 2,500-plus crisis-trained chaplains. In addition, the team started a law enforcement ministry in 2014, addressing the unique emotional and spiritual needs officers face during officer-involved shootings and other stressful events. The team specifically deploys one of its 400 chaplains with law enforcement backgrounds in times such as these to help relate to fellow officers.
Munday estimates the BG-RRT, which has deployed almost 600 times, has ministered to more than 2 million people, talking with those affected by crisis and listening to their stories. More than 28,000 decisions have been made for Christ.
As international director, Munday believes there's still work to do. Just as one prepares food and water before a natural disaster, he wants people to be ready for whatever comes their way.
"What can we do not only for our family, but what can we do for our neighbors and those maybe even in our church?" Munday challenged. "What does spiritual preparation look like in days of uncertainty?
"I think a lesson learned long-term is our hope is in Christ. It's not in people."
For Munday, that keeps him going.
"It's an underlying motivation for what we do here at the Billy Graham Rapid Response Team in the area of training and equipping God's people for ministry every day," he said.
Have you found your hope in Christ? Start a relationship with Him today.