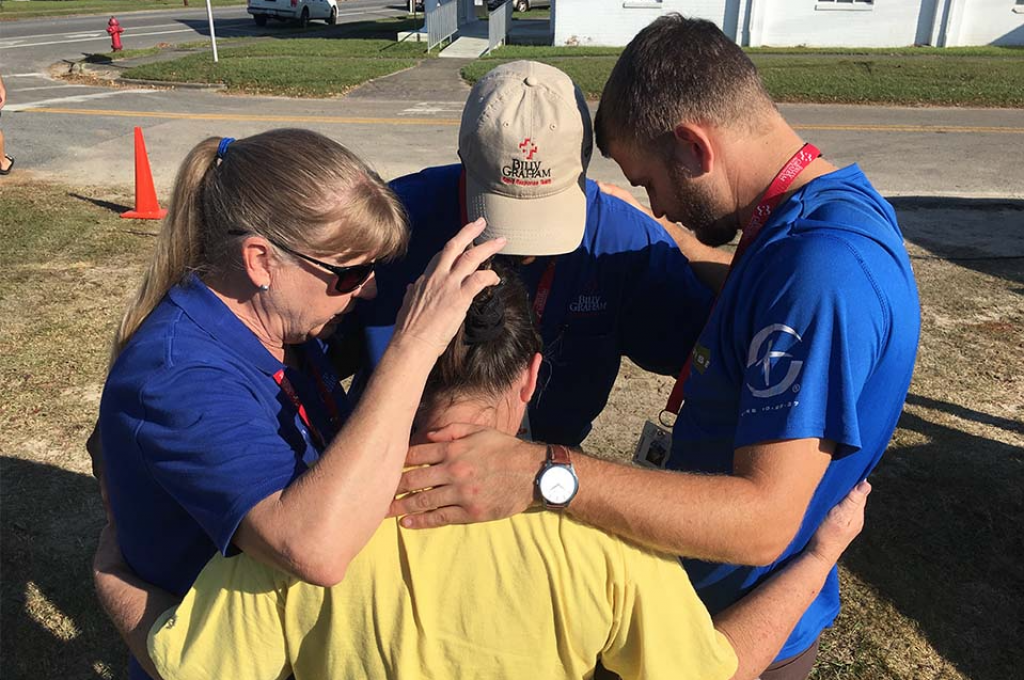 Some are calling it a "lighthouse."
Not just because it's a church, but because after dusk it's the only light for miles on the darkened FL-71 Highway in Wewahitchka, Florida, following Hurricane Michael.
Running on generators, First Baptist Church of Wewahitchka is hosting Billy Graham chaplains and Samaritan's Purse volunteers, who are helping the community after a Category 4 hurricane ripped through the area last Wednesday.
"We watched things come apart … roofs, trees, the awning out front," Pastor Mike Stroud said. While trees snapped like pencils, he and his wife, Robin, along with another family, hunkered down in the church's family life center.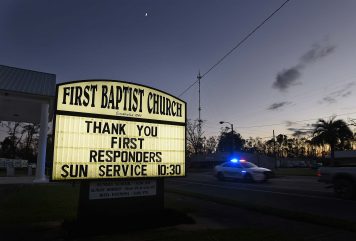 "We've been through a hurricane before, but not like 'a hurricane,'" said Pastor Mike, who moved to this small town 22 years ago for his first pastorate.
Usually during a storm, he and Robin head 30 miles northwest to his mother-in-law's home in Bayou George to have a hurricane party—eating and playing games while riding out the weather.
But this time was different.
"I felt like I needed to be here," Pastor Mike explained, even though he usually downplays warnings of hurricanes because they always seem to pass their town.
"This was a different level," Pastor Mike said. "It was probably one of the most intense weather phenomenons I've experienced in my life."
"People realize they could all be dead," Robin added.
But, "the Lord protected us. There's no doubt about that," Pastor Mike continued, sitting in a church office with his wife.
>> See photos from Hurricane Michael's destruction.
His church is nestled beside another white-paneled church and is also directly across from another one. Despite being in a tight-knit community inside the Bible Belt, there are still some in the area who don't know the Lord—and many of them have been walking up to churches seeking help after the hurricane.
Including 34-year-old Andrew* and his mom, Karen*.
After the two filled out a work order for Samaritan's Purse to remove fallen trees from their home, crisis-trained chaplain Anika Magwood asked them, "How are you holding up?"
Karen said they were all right but needed help. She'd worked in Mexico Beach, where the storm made landfall with 155 mph winds, completely wiped homes from their foundations and tore many businesses to pieces—including her workplace.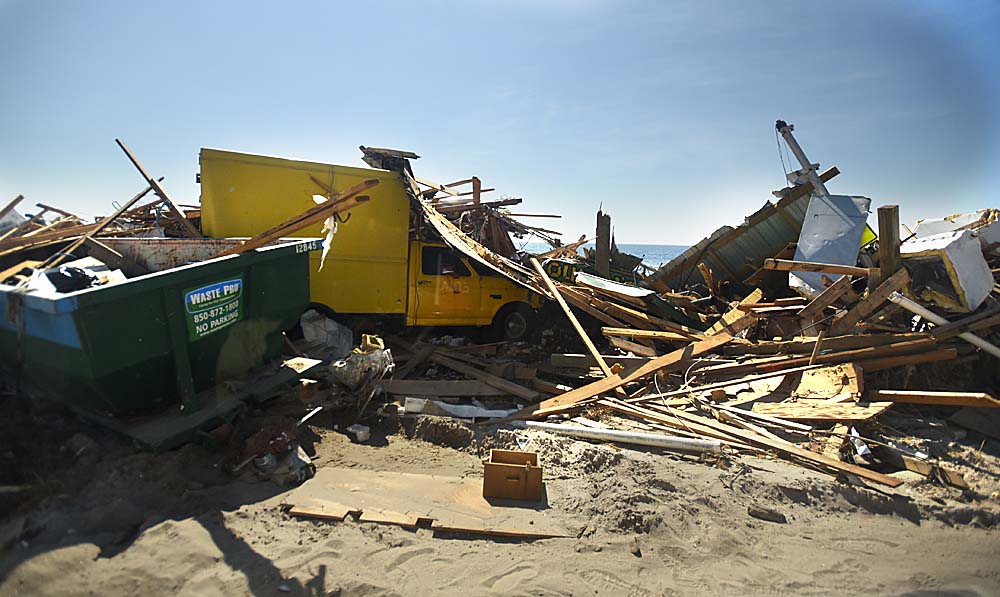 In the midst of such devastation, she's relying on her Alcohol Anonymous group, which she claims to be "her religion."
"We need more than that," Anika said before sharing what God has done in her life.
All the while, Andrew stood pensively in the afternoon heat, taking in the conversation.
"I've never regretted it," Anika said, referring to her decision to give her life to God. "Even though I've still had hard times, as far as peace is concerned I've never been let down.
"Do you have that peace?" she asked Andrew.
"No," he answered. His mom stood to the side, now quiet in the conversation.
"This is what I did 45 years ago, and it changed my life," Anika said, showing him the Steps to Peace with God booklet while trying to fight off several ants biting at her.
As they went through the booklet, page by page, Anika was able to share how sin separates man from God.
"I'm right in that separation," Andrew said.
"Would you like to make Jesus Lord of your life?" Anika asked.
"I would like to, but there's so much going on. I'd like to think about it," Andrew said.
He and his mom were familiar with Billy Graham, and knowing we are never promised another day, Anika added, "I can hear Billy Graham's voice at the end of a Crusade saying, 'Do not delay; do not wait.'"
"I know, I know," Andrew said.
Recognizing this decision needed to be his own, Anika didn't push. Instead, she offered him and his mom prayer.
Although Andrew wasn't ready to give his life to God, he said that if he did attend church, it would be this one because his grandma had attended there.
Like a lighthouse in the midst of a powerful storm, this church will continue to be a beacon of light offering the salvation of an even more powerful God.
As Pastor Mike said, "When there's no hope, we have hope. Christ is the hope to the hopeless, so as a church we are to be a hope to our community."
*Names changed for privacy.
As Billy Graham said, "Do not delay; do not wait." You don't have to be in darkness any longer. Find hope in the light of Christ today.