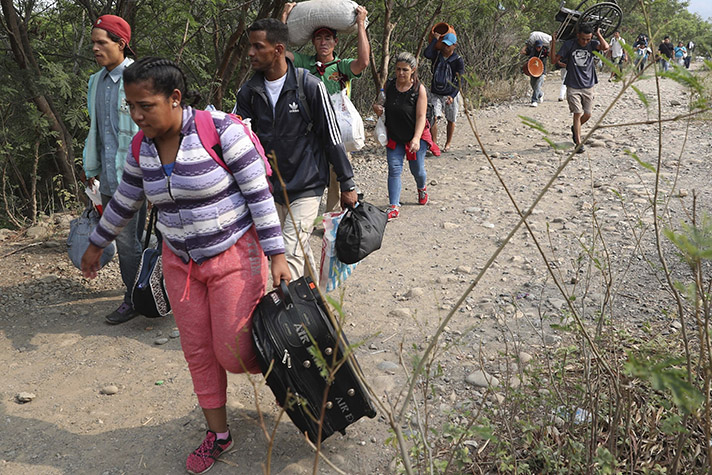 Images of desperate Venezuelans have flooded the internet. Pictures of children and the elderly crossing rivers on sandbags. Families walking from their home country into neighboring Colombia to rebuild their lives, carrying only a suitcase each.
This Easter, many are hoping to make another trek—this time to a soccer stadium in Cúcuta, Colombia, for an evangelistic event everyone is talking about, the upcoming Festival de Esperanza (or Festival of Hope) with Franklin Graham.
You can help cover the cost of a bus ride to get them there.
>> Help bring hope to Venezuelans this Easter weekend.
With thousands of refugees around metro Cúcuta, transportation to and from the Festival is an urgent need, said Chris Swanson of the Billy Graham Evangelistic Association (BGEA).
Hope at the Border
For $50, you can help share the Gospel with 40 people at the Colombia/Venezuela border.
Swanson, BGEA's director of Latin American affairs, is hoping for hundreds of buses to help transport people to and from four Festival events spread over three days, April 18-20. There's a kids' event that Thursday morning, a prayer service that night, and Franklin Graham will preach Friday and Saturday leading up to Easter. The Gospel will be shared at all four events.
"There is no one [bus] company that can handle the whole city," Swanson said. BGEA is helping local churches secure buses in about a 150-kilometer range.
>> Read more: Hundreds of churches in Colombia and Venezuela are coming together for the Festival of Hope.
Most buses will come from Cúcuta, but some will come from Venezuela, providing transportation for those coming to the border.
The average round trip will cost $50 for a busload of people. That's $50 to get about 40 people to the Festival where the Good News will be shared with those in desperate need.
"In Cúcuta, everybody knows about the Festival of Hope," Swanson said. "That word hope is hung onto by everybody."
As economic crisis in Venezuela continues stretching families thin, many are finding themselves starting over in border cities like Cúcuta.
"Many of them are in despair," Swanson said, and "hoping for another life."
Please keep the Festival of Hope in your prayers as Franklin Graham and local churches tell them about the best kind of life—eternal life with Christ.