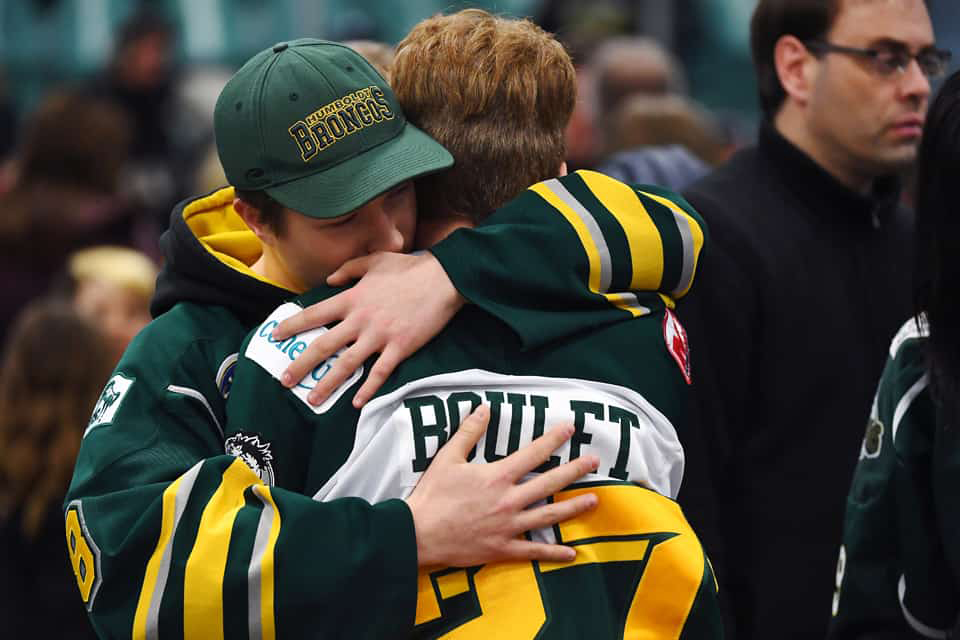 As Humboldt, Saskatchewan, residents struggled with shock and grief after the Humboldt Broncos junior hockey team bus crash on April 6 that killed 16 people, chaplains with the Billy Graham Rapid Response Team (RRT) arrived in the community to assist churches and others in providing emotional and spiritual support.
The Lord blessed the six crisis-trained chaplains with opportunities to pray with more than 150 residents, team officials, municipal employees and emergency first responders during the weeklong deployment.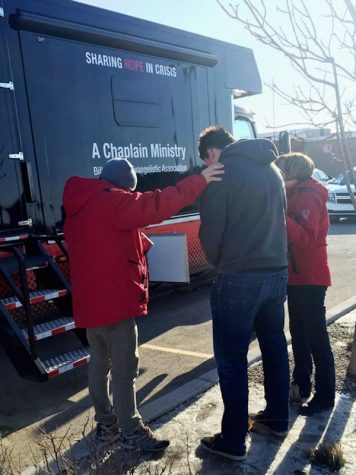 Many of those prayer opportunities, which led to four people dedicating their lives to Jesus Christ, took place at the Mobile Ministry Center (MMC). The RRT was given permission to park the large black-and-red truck at the Humboldt Uniplex, a high-profile location where the Broncos play their home games and where many hurting residents felt compelled to visit.
"For the most part, a heavy blanket of grief overshadowed the community," said one of the chaplains. "There was a collective sense of the need to comfort, support and care for each other."
The chaplains attended vigils and funerals (when invited) and ministered to first responders at a luncheon in Tisdale, near the site of the collision between the Broncos team bus and a tractor trailer.
An important part of their work was coming alongside Pastor Sean Brandow, the Broncos team chaplain. The chaplains were honored to pray with Sean—who lost one of his best friends in the bus accident—and help him through his own grief so he could offer Christ's love and compassion to others.
"Just to sit down and have a little bowl of soup with somebody, and … let them tell their story and vent and process, that's exactly what we're doing here," said chaplain Holly Lafont. "Being that person to care enough to sit down and say 'hey, let's talk.'"
While having dinner at a Humboldt restaurant, some of the RRT had the opportunity to minister to their waitress. She told them about her struggle with mental health issues and was open to hearing about "the faithful God who keeps covenant and steadfast love with those who love him and keep his commandments" (Deuteronomy 7:9, ESV).
The chaplains shared BGEA of Canada's Steps to Peace with God booklet with the waitress and rejoiced as she prayed a prayer of salvation. They gave her many Scripture verses to help her deal with her issues and prayed for her to be set free of them.
Please continue to pray for the people of Humboldt and for the families of those who lost their lives in the collision. "[The Lord] will wipe away every tear from their eyes, and death shall be no more, neither shall there be mourning, nor crying, nor pain anymore, for the former things have passed away" (Revelation 21:4).