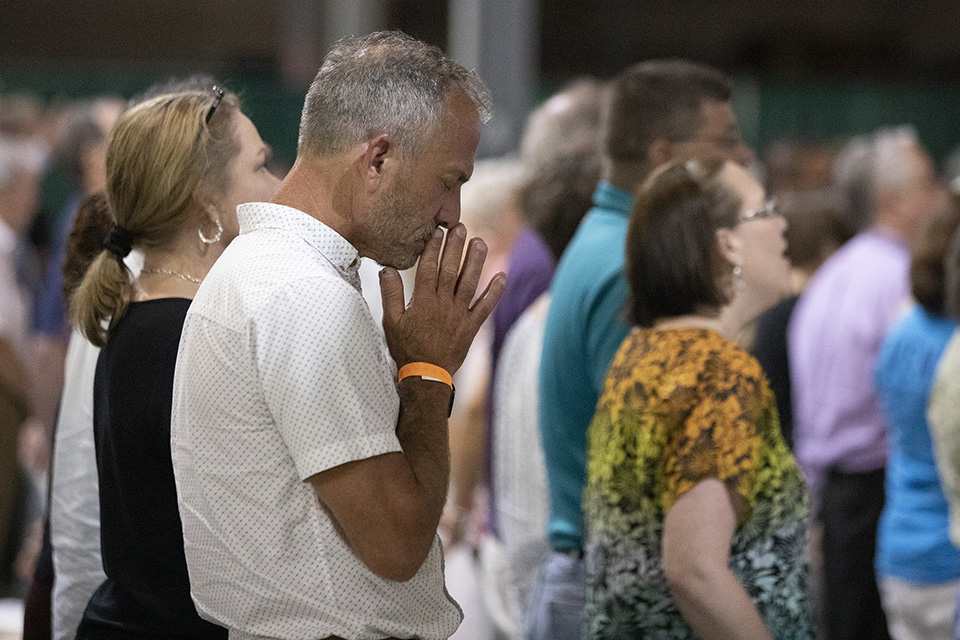 Just around the corner in October, Franklin Graham will take his Decision America Tar Heel State Tour across his home state of North Carolina. Kickoff events for each city took place this summer, and excitement was high at the July 25 event in Billy Graham's hometown of Charlotte.
Local pastors and lay people alike gathered just miles down the road from the Billy Graham Evangelistic Association (BGEA) headquarters at the Operation Christmas Child Processing Center to learn more about volunteering for the upcoming tour.
>> Do you live in North Carolina? Learn how you can get involved in the Tar Heel State Tour.
"We've got a lot of work to do," Steve Rhoads, BGEA's vice president of church ministry, shared from the stage. The tour begins October 1 with its first stop in Fayetteville and concludes October 13 in Asheville.
Decision America North Carolina Tour Stops
Fayetteville
Tuesday, October 1
7 p.m. – Festival Park
Greenville
Wednesday, October 2
7 p.m. – Pitt County American Legion Agricultural Fairgrounds
Wilmington
Saturday, October 5
4 p.m. – Legion Stadium
Raleigh
Sunday, October 6
4 p.m. – Coastal Credit Union Music Park at Walnut Creek
Greensboro
Wednesday, October 9
7 p.m. – White Oak Amphitheater at the Greensboro Coliseum Complex
Hickory
Thursday, October 10
7 p.m. – L.P. Frans Stadium
Charlotte
Saturday, October 12
4 p.m. – PNC Music Pavilion
Asheville
Sunday, October 13
4 p.m. – U.S. Cellular Center
Some of the tasks include spreading the word, training counselors who can talk to attendees about Jesus and ultimately pray without ceasing—not just for the tour itself, but that hearts would be softened to respond to Christ.
"The most critical thing you can do is pray, pray, pray," Franklin Graham has said before. "The intercession of God's people is critical if we are to see a return to the Biblical faith of our fathers, the faith that has guided and sustained our country for so long."
A Movement of Hope
Lee Ann Giglio echoes that prayer. She recently moved from Los Angeles to the Charlotte area, and while her first calling is caring for her grandkids, she also volunteers at the Billy Graham Library. She loves the Bible verse Philippians 4:6 and wishes all people could know the peace Jesus brings, especially in the midst of anxiety.
"I want that for people because I see that they're anxious, they're depressed, they have thoughts of suicide and it just breaks my heart," Giglio said. "It breaks my heart. And I know that this ministry, this particular movement can bring hope."
Hope and truth are critical, Landon Surratte pointed out. Surratte is a 23-year-old from a rural community outside Charlotte. He credits his church for helping build the backbone of his faith and wishes his generation would realize just how short life is.
"One of my classmates that I went to high school with just died this week, just unexpectedly," said Surratte. "You need to be sure about where your soul rests, your spiritual life. Events like this [tour] are crucial for reaching the youth because my age bracket, my generation, is just going through life like, 'If I show up for church at Christmas with my family or if I do some good things, do some charity work, then I'll be all right. God will let me into heaven.'
"I hate that my generation is so misinformed, and they're missing the big fact that it's all about the relationship with Jesus."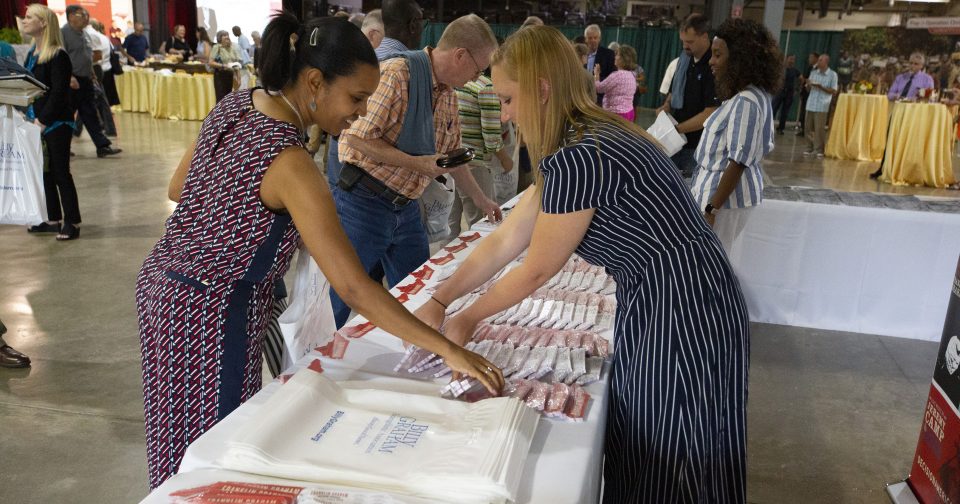 'You Are Plan A'
God never stops looking for the people He created, Rhoads stressed. The son of a late Charlotte preacher, Rhoads discussed the three parables in Luke 15 that address the lost sheep, the lost coin and finally the wayward son. All three are found. All three recovered. That's God's heart for all humanity.
"The plan of God has always been to redeem people," Rhoads said. "To buy them back, to cleanse them, purify them, and then to swap your unrighteousness and mine, to exchange it for the righteousness of Jesus. … Now He looks at you, He sees Jesus, He sees purity. He sees His Son.
"How can He reach the lost? He does not send angels. He doesn't write it on the sky. He sends you. God's plan for Charlotte is right here. You are Plan A. There is no Plan B. And if we don't open our mouths, it won't be said."
This area used to be the Bible belt, Joel Smelley said, but the Vertical Church pastor believes, "It's more like a new South where there's a lot of people who have been transplanted from all over the place."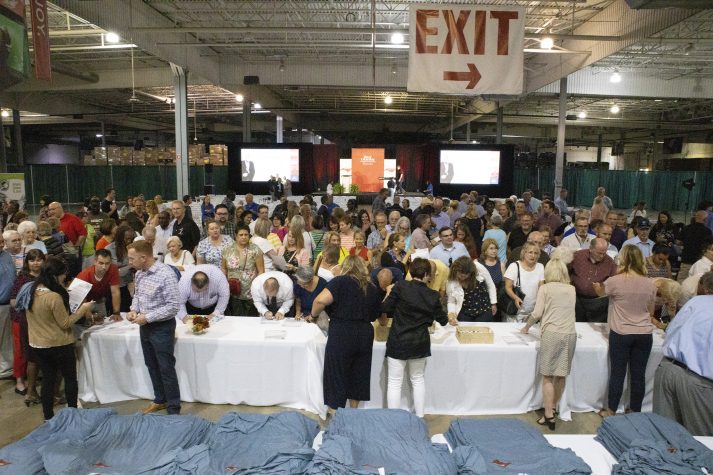 He continued, "Psalm 67 says, 'Let the nations be glad and sing for joy'—they can only do that if they hear the Gospel. So this [tour stop] is a great tool for our people to at least share the Gospel."
"God's been bringing the nations here to Charlotte," his wife Kim added with a smile. "Yes, we can go to the nations, but He's also so faithful to bring the nations here. We have a huge platform here. It's amazing."
Christians should urgently share their faith every day, Rhoads reminded those in attendance. Every day, we get closer to the return of Jesus Christ.
"Humanity's never been closer to the return of Jesus Christ than it is right now," Rhoads said. "Until that time, we're going to work."