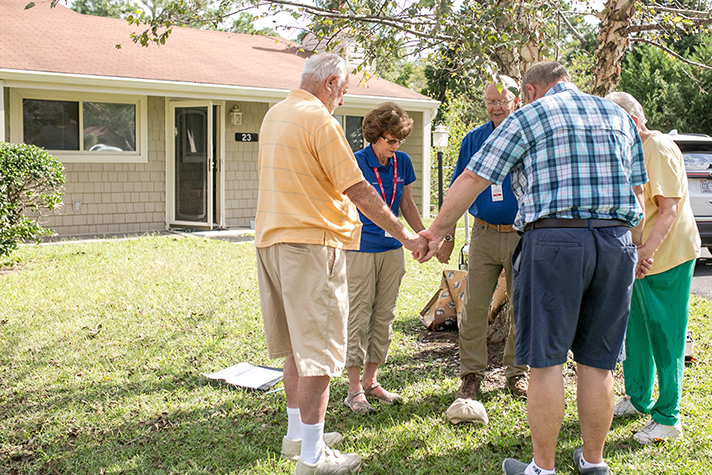 The town is in survival mode.
After navigating around numerous roads closed from flooding, 11 Billy Graham Rapid Response Team (RRT) chaplains made it to New Bern. It didn't take long, though, to see what the eastern North Carolina city faced in the aftermath of Hurricane Florence.
>> Give now to help people affected by the storm.
"We've seen the force of water—what it can do, moving houses completely off their foundations, pushing right through the house, swirling and emptying out the house and pouring all the furniture out with it," said RRT chaplain coordinator Al New.
Although millions were affected by the deadly storm that made landfall Friday, September 14, New Bern in particular faced severe damage as strong winds forcefully pushed the rising river water up into homes.
"A lot of people couldn't just turn and stay with their neighbor because all their neighbors were affected the same way," New continued. "Their first thoughts were not only that we lost our home, but where do we lay our heads tonight?"
But a few days can make a big difference.
"The day we arrived they were in shock and denial," New recalled. "And now they have smiles back on their faces and know things will get better.
"They're going to get through this."
Billy Graham chaplains are there to help encourage them with emotional and spiritual care.
"We want to minister to them, come alongside loving on them, let them know they're not by themselves," New said. Over the next few weeks, the chaplains plan to continue building relationships with homeowners they've met and to make new relationships as well.
The following four short stories paint a picture of New Bern—post-Florence—including how one couple used their experience from Hurricane Katrina to help others.
First Katrina, Then Florence
It was only supposed to happen once in their lifetime, if at all.
Danny and Karri Rogers left Louisiana after facing Hurricane Katrina in 2005. They moved to New Bern in 2006, never expecting a massive hurricane would come toward them again.
"When we saw the thing coming, we were like, 'Here we go again. Why?'" Karri said. "What are the odds we'd go through it again?"
As campus pastor of multi-site Port City Community Church, Danny and his wife are now in the thick of hurricane cleanup for the second time. Their church is hosting over 100 Billy Graham Rapid Response Team chaplains and Samaritan's Purse volunteers who've come to care for the community.
This time around, though, they knew a little more what to expect.
"We were preparing for the worst-case scenario," Danny said.
"Yeah, because we'd seen it," Karri added.
"We didn't have the shock, so we were able to think more clearly and help people get mobilized," Danny said, saying they'd been like deer in headlights when Katrina hit.
After returning home from evacuating Florence, Danny and Karri weren't surprised by the town's damage, including a projectile object that had gone through their own roof, letting water in.
The couple, who had to drive two hours to get gas and groceries after Katrina and take baths in a horse trough filled with water for weeks, has been amazed at New Bern's infrastructure following Florence.
"We got back electricity on Saturday [within 48 hours]," Danny said, after living without electricity for six weeks following Katrina.
Although the couple thinks it's interesting they've been through two large natural disasters—and they aren't sure exactly why—they're continuing to serve God faithfully, knowing He's prepared the way for them.
President Trump Encourages Residents, Meets Chaplains
During New Bern Visit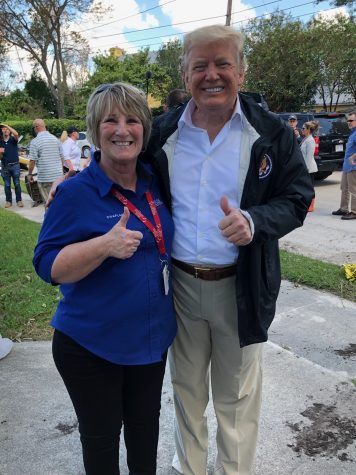 On Wednesday, Sept. 19, chaplain coordinators Al and Toni New were headed to meet with a homeowner when they saw President Trump visiting residents in the same neighborhood.
Seeing the chaplains, President Trump talked with them. He pointed at the Billy Graham insignia on Al's blue shirt, and said, "Billy Graham."
Continuing down the street, the President greeted multiple residents affected by the storm, saying help was on the way.
New, who also had the opportunity to meet North Carolina Governor Roy Cooper at the time, was appreciative of the visit.
"The people were so excited just to see the President cared enough to experience what they were experiencing, to see it firsthand," New said. "It meant a lot to the residents here in New Bern."
'You've Got an Empire, and You Don't Even Know It'
While waiting for President Trump's motorcade to pass by, Mandy* stood with her arms crossed, angry at God.
Chaplain Susan Bailey noticed the 22-year-old's frustrated look and asked if she was OK.
"No!" Mandy said. "We've lost so much. We've just lost everything."
But that wasn't the only thing.
Her little sister wouldn't come out of her bedroom because all but two of her Barbies were washed away in the storm.
"And when you're 10, that's everything," Mandy said, wanting to fix her little sister's world.
But she couldn't.
Since the storm hit, Mandy no longer has a place to work, which meant she didn't have the money to buy Barbies.
An idea popped into Susan's mind. 
Growing up, she had Barbies but couldn't afford a dream house or jeep to go along with them. Instead she creatively used shoeboxes, tissues and tissue boxes, and Q-tips to make her own Barbie world, even laying old lounge chairs on their sides to use as doors to it.
"I have some of those," Mandy said, referring to the chairs.
"Paint the shoeboxes, get some crayons," Susan instructed. "You've got an empire and you don't even know it."
Tears rolled down Mandy's cheeks as the conversation flowed from talking about cotton balls and Barbies to how Jesus loves her.
"You know," Susan said. "It's just like God's going to rebuild your world. You're going to help your little sister rebuild her world."
>> Sign a pledge to pray for those enduring the aftermath of Florence.
An Answered Prayer
The paramedics had just been called when chaplains Norma Jean and Stormy Spellmeyer arrived at a large retirement community in New Bern.
On oxygen with COPD, an elderly man named Steve* was suffering in the heat after the storm knocked out his power.
Hearing about someone in need, the chaplains went over and offered prayer to Steve and his wife, Janet,* who are in their 80s.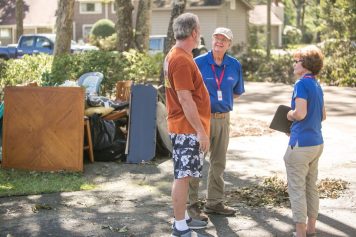 Steve refused, but Janet, who sat perspiring in a recliner, told Norma Jean a few things she'd like her to pray about.
Later on, the chaplains checked on the couple and Norma Jean prayed with Janet once again. She told Steve she'd be praying that their air-conditioning would be restored.
The next morning, the Spellmeyers returned to see Steve and Janet looking refreshed.
"Somehow, overnight, they'd got a cooling system delivered," Norma Jean explained. She was informed that it was now 64 degrees in their townhome. Her prayer for a cooler home had been answered.
As the chaplains prepared to leave, they asked the couple if they had any prayer requests.
Immediately, Steve began struggling to stand up to pray with them but was pulled down by his oxygen and equipment. Reaching out his feeble hand toward them, he tried once more to stand and requested prayer for the electricity to be turned on.
"You know, you people are helping to restore my faith in mankind," Steve said as the chaplains left.
Norma Jean and Stormy turned back around, surprised. "It's not us. It's about Him," they answered.
*Names changed for privacy.
In the midst of disaster, you can have peace. Trust in God today.