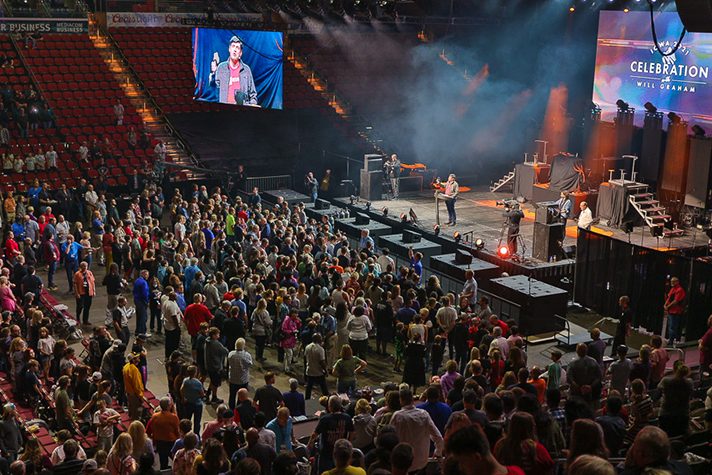 A battle raged in Des Moines, Iowa, this past weekend.
Strolling down the sunny city streets, you couldn't see the struggle with your eyes. But step inside the Wells Fargo Arena, where Will Graham proclaimed the Gospel three days in a row, and you might sense the pull between good and evil.
"God is tugging on your heart, and you can feel it. That's God speaking to you," the evangelist said Sunday. "He's chasing after you because He loves you."
The weight of the moment made his voice quiver with emotion. For his final message of the Iowa Celebration, Graham contended that every man, woman and child was created for a personal relationship with God. He then invited the 1,500 listening to accept Christ as their Lord, Savior and Friend. 
"This is our last night here, and you may never have another chance like this," the evangelist said.
God was on the move in America's Heartland all weekend, starting Friday when people who never stepped foot in church heard about God's love. On Saturday, both kids and adults drew closer to their heavenly Father.
And Sunday, God seemed to handpick the crowd.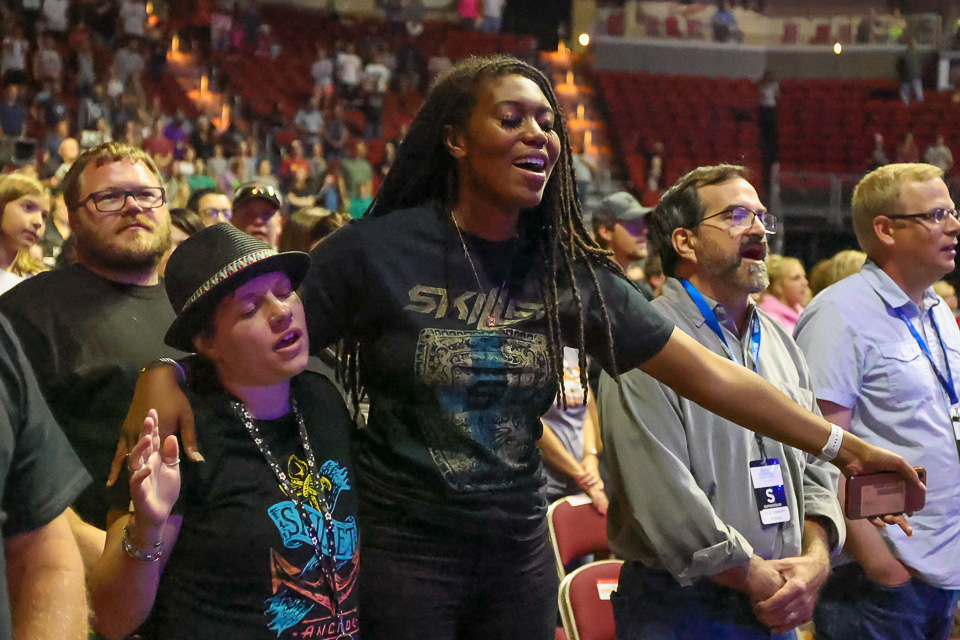 A Counselor Who Almost Turned Around
Hilary—a volunteer counselor—had a long work week and didn't think she had the energy to serve.
"When I was driving here, I almost turned around," she admitted. But on the 35-minute drive into Des Moines, she felt God telling her, "You don't have a lot left in your own gas tank, but I'm going to fill you up."
And that's just what He did. Watching people physically walk forward to accept the Gospel brought her to tears. Or, as she described it, "I bawled my eyes out."
Hilary came into the weekend thinking she would serve others, but left feeling inspired to share the Good News in the small Iowa town she calls home.
"People are really hungry for the Gospel," she said Sunday. "I pray God continues to ignite the passion in my heart to spread His Word."
A Student Who Hobbled to the Front
Another person navigating the arena bleachers Sunday night was Beata. But she did so with crutches and a clunky cast.
Just weeks ago, the teenager broke her ankle riding horses. No one would've blamed her if she chose to stay home instead of braving the high-rise seats.
She couldn't find the words to explain why she showed up. But God had a reason.
During the invitation time, she slowly made her way down the squeaky stairs to commit her life to Christ alongside the hundred-plus gathered at the front of the stage.
"I felt like the Holy Spirit was moving me to rededicate my life to Him."
Two friends came down to support her. After she finished talking with a trained counselor, one of them jokingly offered, "I can carry you back up."

A Family Whose Road Trip Got Rerouted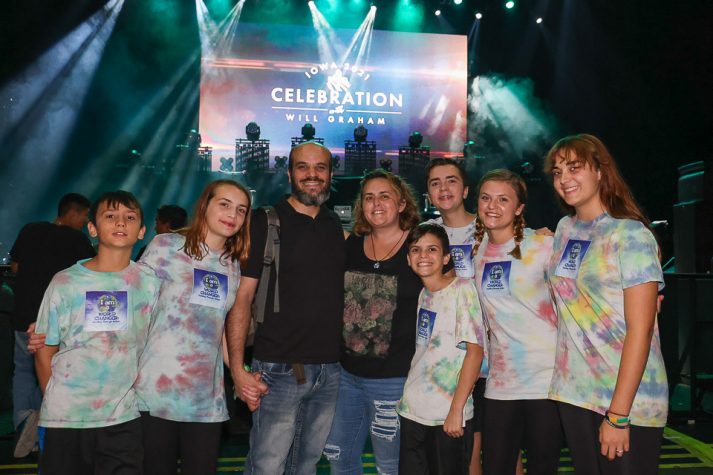 At the same time Will Graham preached in America's Heartland, his father, Franklin Graham, was taking the Gospel down the country's Main Street.
The eight-person Coleman family tried to catch one of Franklin Graham's Route 66 tour stops.
"We were always just a day or two away from every tour stop," explained Mrs. Coleman, whose family is on a road trip of their own. "We were so bummed."
But then, while driving through Iowa, an advertisement for Will Graham's Celebration popped up on her phone. 
"Isn't God good?" she said.
Please pray for God's growing family in Iowa, as they push against the forces of darkness and carry forward Christ's light.