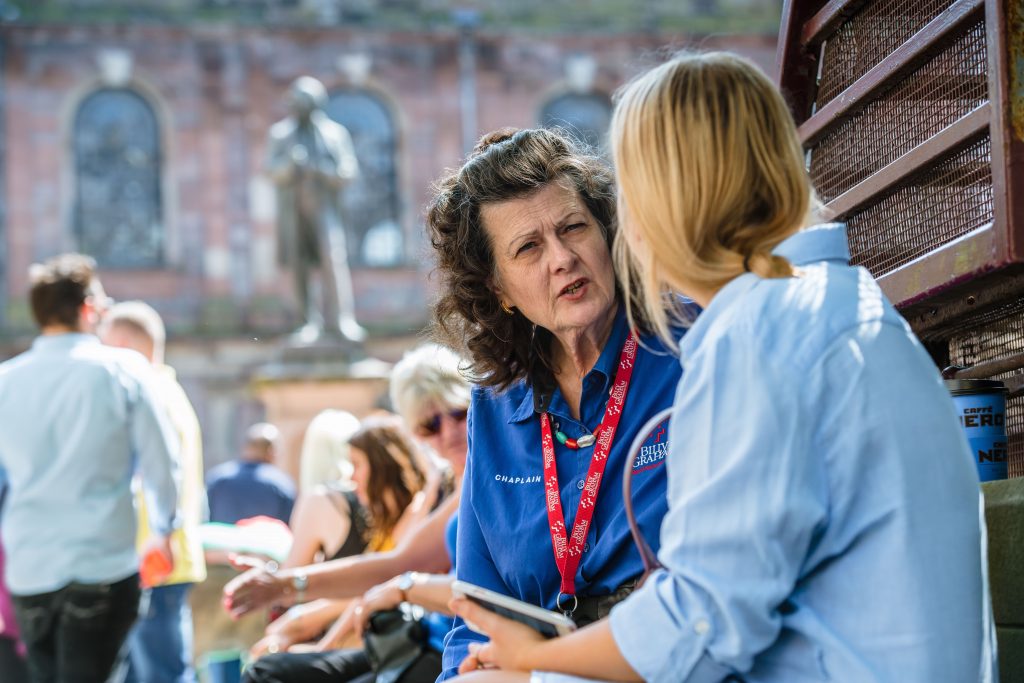 It's a moment Nigel Fawcett-Jones is not likely to forget anytime soon.
Standing in St. Ann's Square on Thursday, just a half-mile from where the deadly Manchester Arena bombing occurred earlier this week, the Billy Graham Rapid Response Team chaplain coordinator watched as hundreds of people stood in line to pay their respects. They carried colorful bouquets of flowers, balloons and personalized notes. He was touched by the outpouring.
"I've never seen such a queue of people to put flowers on a memorial," said Fawcett-Jones, who, along with a team of crisis-trained chaplains, has been offering emotional and spiritual care in the wake of the tragedy. "There must have been in excess of 300 people all waiting patiently at lunchtime to pay their respects."
>>WATCH: Standing with Manchester: How You Can Pray
Fawcett-Jones was further moved by the response the chaplains received as they interacted with people leaving the makeshift memorial.
British people, while warm and kind-hearted, are often quiet and reserved, he said. But this week, there has been a willingness to talk about deeper matters. The first question is usually "Why did this happen?"
That's the question Emma posed sitting outside the memorial. She asked a nearby chaplain, and the two began to work through the answers. Instead of focusing on the "why" question, the chaplain encouraged the young woman to examine how she should respond and Who really could help in these times of crisis. Emma grew up in church, but never had a personal relationship with Jesus Christ. She assumed her good works would get her to heaven.
Using the Steps to Peace with God booklet, the chaplain showed Emma that our sin actually separates us from God without having that relationship with Jesus. Emma recognized what sin truly was and that it alienated her from God. She decided to take a step of faith and prayed with the chaplain to accept Christ.
Many, like Emma, gladly welcomed the time of conversation and prayer with the chaplains, who are ministering alongside a local church. Some, like Tom, sought them out.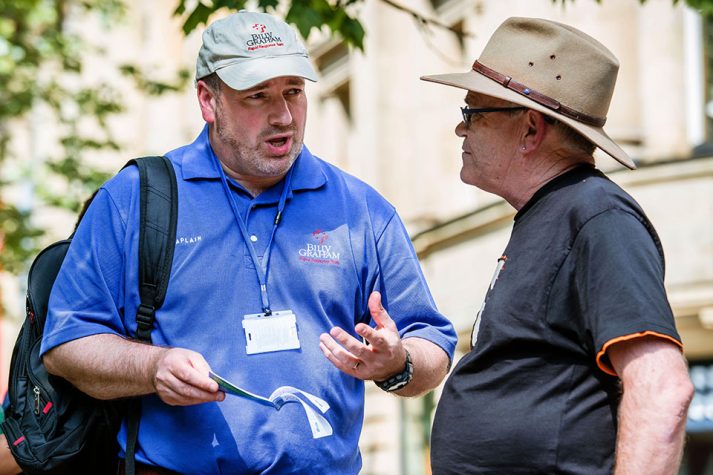 "Thanks for being here for us," Tom told the chaplains. "We need it."
Tom went on to share how his niece had attended the concert but escaped unhurt. The incident reminded him of his own trauma of losing both of his parents, and standing at the memorial, he decided he was ready to deal with that pain plus all the anger he felt from what happened to his community. The chaplains prayed with him and connected him with a local church for further support.
"We've linked in with a local church, and I'm really encouraged that they've been sending people to the Square as well," Fawcett-Jones said. "It's a great example of how the Rapid Response Team partners with a local church, helping them meet the needs of their community."
The chaplains will remain in Manchester throughout the weekend offering emotional and spiritual care. Please keep this entire community, which is still under the highest of terror alerts, in your prayers.