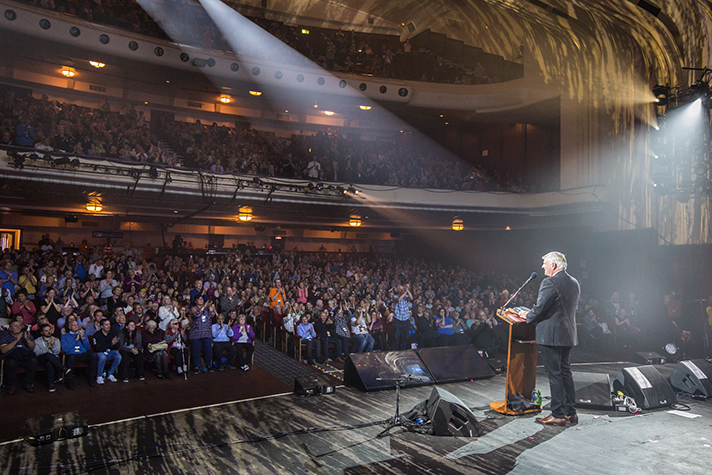 Update as of February 27: The Scottish Event Campus Limited and Glasgow City Council notified the Billy Graham Evangelistic Association (BGEA) that they intend to resist BGEA's request for judicial relief, and have been advised that they will have another seven days to file a substantive answer. BGEA will continue trying to work toward a resolution that will allow the Tour to be held at the Hydro as planned.
Below is a press release from the Billy Graham Evangelistic Association's office in the United Kingdom, regarding Franklin Graham's upcoming UK Tour. The tour has been met with pushback from protesters who disagree with Graham's Biblical stance on marriage. More than 2,000 churches are involved in the 8-city outreach, set to take place this spring.
Church leaders, Christian media and even members of Parliament have taken a stand and expressed support of the UK Tour, many citing concern over the freedom of speech and religion. 
Glasgow, February 20, 2020—A Scottish court has recognized the importance and the urgency of resolving a dispute relating to the Scottish Event Campus's cancellation of its contract with the Billy Graham Evangelistic Association by ordering expedited treatment of the case. The SEC must tell the court within seven days why it cancelled its legally-binding contract with the BGEA.
"I want to encourage the Scottish Event Campus to meet with us and discuss options for a way forward. Let's work toward a resolution," said Rev. Franklin Graham, president and CEO of the Billy Graham Evangelistic Association. "This is ultimately about whether the Scottish Event Campus will discriminate against the religious beliefs of Christians. More than 330 churches in the Glasgow area alone support this evangelistic outreach and their voices are being silenced. This case has wide-reaching ramifications for religious freedom and democracy in the UK and Europe."
As the BGEA awaits a response from the SEC, support from local churches is continuing to grow. Throughout the UK, more than 2,000 churches of various denominations are now collaborating with this historic evangelistic effort.