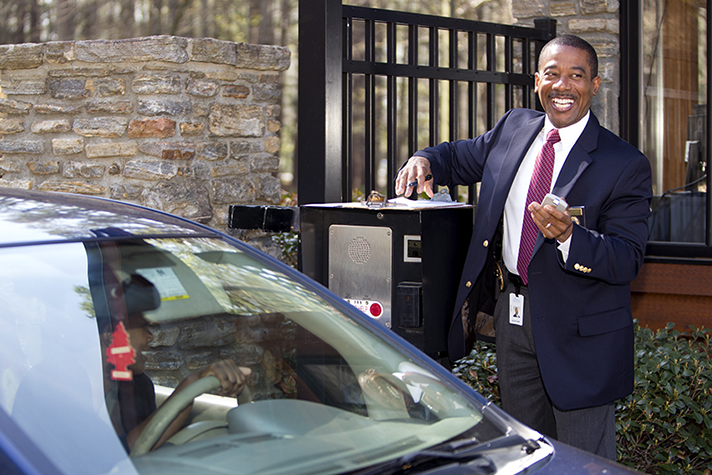 On a recent spring day, a silver sedan pulled up to the gate at 4330 Westmont Dr.
A security guard emerged from the gatehouse, grinning from ear to ear.
"First time here?" he asked.
"Yes," the couple in the car nodded.
"Praise the Lord!" the guard's voice boomed. "You know, we've been waiting for you two."
That's the usual greeting from Kevin Williams, an effervescent security officer at The Billy Graham Library in Charlotte, N.C. More often than not, his welcome is followed up by four punctuated words.
"Remember," he told the couple in the sedan. "God. Loves. YOU."
As the morning went on, Kevin shared that message each time a car pulled up to the gate. A yellow taxicab. A church van. A BMW. Everyone got the same message, yet the words were fresh each time because they came from the heart.
"God. Loves. YOU."
One driver's eyes lit up when he heard that phrase. He called out the window as he pulled through the Library gates: "What a welcome!"
Ground Zero
Before Kevin Williams ever set foot on the peaceful grounds of The Billy Graham Library, he spent 18 years working in some of New Jersey's toughest prisons.
His superiors noticed that the inmates Kevin supervised were among the best behaved in the building. And his influence went beyond the prisoners to his fellow correctional officers and supervisors, several of whom accepted Christ by the time Kevin left to pursue seminary training in North Carolina.
He was always talking about Jesus, always sharing a word of encouragement.
In the tumultuous days following the 9/11 attacks, Kevin's joyful spirit was put to the test. The New Jersey Dept. of Corrections sent officers to New York City to assist in the aftermath of the horrific strike. Hours after it happened, Kevin made his way to Ground Zero.
"You talk about grief to the maximum," he said. "It was just heavy. Heavy."
Families of the victims were given the opportunity to take a ferry to the site of the destruction in an attempt to give them a little bit of closure.
Many families decided to make the pilgrimage. Kevin rode on the ferryboats with them.
"It was laden with grief," he said. "There would be children who didn't understand. They were crying, fidgety. You just ask, 'How can I help?' and go from there."
Sometimes he talked with the families. Oftentimes he prayed with them. Once in a while he would even sing to a restless child. In everything he did, he asked for God's supernatural guidance.
"The only thing that got me through was none other than the Lord Jesus Christ."
Giving Security a New Meaning
These days, the atmosphere is a joyful one as Kevin works in a place intended to serve as an ongoing Billy Graham Crusade.
A typical workday doesn't begin until it has been dedicated to the Lord.
"He won't go to work unless we pray for him," said Dickson Skipper, the Billy Graham Evangelistic Association's Director of Security. "And he always asks for wisdom."
Next, Kevin greets and encourages every volunteer and staff member in the building.
"I like to be connected and linked to everyone," he said. "We're a body, and the body functions as one."
After seven years of service at the Library, the devoted husband and father has acquired a second family through the friendships he's built at work. When the Library team hears his voice in the hall, hands automatically start reaching for the nearest Bible.
"What's the Word?" he'll ask enthusiastically, and he expects to hear a verse of Scripture. And he's always prepared to pray for anyone who expresses even the smallest need.
"He keeps us focused on the Lord," said Jeanne Talbot, the Library's retail services coordinator. "He's an asset to this place, and we're just so thankful."
"He just gives security a new meaning," said Cherie Sims, assistant manager of the bookstore. "Secure in the Lord."
Emergency at the Library
While Kevin is always concerned about the spiritual wellbeing of all who enter the Billy Graham Library, he never forgets his duty to physically protect the staff, volunteers and guests.
"I feel safer when Kevin's here," said Melissa Ledbetter, manager of operations. "You know he's listening to the Lord. You know he's perceptive to what God wants him to do."
Back in December 2012, he had just finished praying when a member of the Library staff called for help. A visitor had collapsed in the lobby.
"I get a little bit closer and I check her," Kevin said. "She's not breathing. Sweaty. Clammy. No pulse."
He began performing CPR while someone else called 911.
"I'm doing compressions, and with all my heart I'm praying," Kevin said.
The woman's body jumped but then quickly went limp. Kevin did a second set of compressions, and the woman began to breathe again.
Once he was convinced she was conscious and alert, Kevin didn't hesitate to ask her if she was a Christ follower. He knows life is short and uncertain, so it's a question he asks often.
The Ultimate GPS
Given the Billy Graham Library's iconic namesake—known for sharing the Gospel around the world for more than 60 years—many guests arrive at the cross-shaped entryway fully expecting to hear about Jesus.
But not everybody. Kevin regularly encounters people who aren't sure exactly what the Library is all about. Some are just curious. Others pull up to the gate looking depressed, angry or worn out by life.
In those cases, Kevin relies on the Lord for discernment. He'll listen to someone's story or pray if the opportunity arises. And he's always prepared to share the hope of Christ.
"And we've had some times where salvation has come," Kevin said.
"And then we have the GPS crew," he added with a twinkle in his eye. "They're looking for a specific address, but not this address.
"I'll say, 'Well that's easily figured out,'" Kevin smiled. "'Because there's an ultimate GPS that delivered you here, and that's God. You have an appointment here.'"
"When you pull up to a gatehouse and see a guard come out, you do not expect what you get from Kevin," Dickson Skipper said. "I've never seen him down. Ever. He thinks of others before himself, and as a result of obeying God, he has more joy than anybody I know."
Passion + Calling = Joy

A couple of years ago, the Billy Graham Evangelistic Association selected Kevin for its Hallmark Award. Given to a team member who displays one of BGEA's five hallmarks—excellence, passion, unity, innovation and responsiveness—leaders had trouble choosing just one word to describe Kevin. They eventually settled on "passion."
"God gets all the glory," Kevin said about the award. "I don't want attention on myself."
But he doesn't mind sharing his view on passion—something he seeks to display whether he's at home, at work or volunteering with his South Carolina prison ministry.
"Passion and calling equals joy," Kevin said. "I truly believe this with my heart. God loves us so much, we believe He sent His Son to die for us. But then Christ gives us at least one gift, and if we take that gift and passionately use that gift as a calling, we'll realize joy and abundant life through Christ."