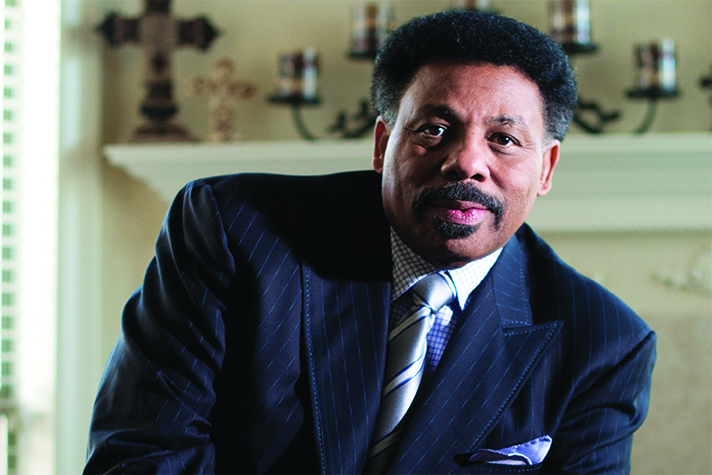 "The prayer of a righteous person is powerful and effective."
—James 5:16
The joy of communicating with our heavenly Father is often misunderstood or altogether neglected.
But Pastor Tony Evans wants you to know that your prayer life can be powerful.
In a seminar hosted by the Billy Graham Training Center at The Cove, Evans explored God's plan for prayer through "Kingdom Prayer: How the Christian Touches Heaven to Change Earth."
Will Graham, executive director of The Cove, opened the seminar on July 16 and Mark Christian led gatherers in worship. Evans gave four messages; as well the evangelical author and speaker held a Q&A time.
>>Read: Q&A With Tony Evans: Hope for a Divided Church
"Prayer has been studied, written about, talked about and preached on by countless people in countless ways. Yet it remains an elusive element to most of us," Evans wrote in his book Kingdom Prayer: Touching Heaven to Change Earth.
Evans said it is estimated that Christians pray three to five minutes a day, even in spite of our personal struggles, family issues, and our broken and divided culture. This otherwise powerful practice has become diluted to nothing more than tradition, routine or mindless recitation.
"When we come to realize, however, that prayer is the divinely authorized means to access the kingdom of Heaven and to get that kingdom to intervene in the affairs of our earthly life, it affects both our perception of and persistence in prayer," Evans insists in his book.
"God is waiting to be involved in our activities, and yet because we were given freedom, He does not force Himself on our situations," Evans continues later. "He waits for us to ask—to connect with Him in prayer."
This connection requires effort, though. Intentionality. If believers truly want to see Heaven touch earth, they need to reach out sincerely.
God is waiting on you, Evans told his congregation at Oak Cliff Bible Fellowship during a recent sermon series on Igniting Kingdom Prayer.
"There are many things that He's decided He will not bring from Heaven into history unless there is human cooperation with his desire and design," Evans said in the October 2019 message. "One of the primary mechanisms that God has established to determine much of what He does on earth and in your life and in my life is conditioned by the absence or presence of prayer."
God yearns to hear from you, His beloved creation. Learn more about His love.