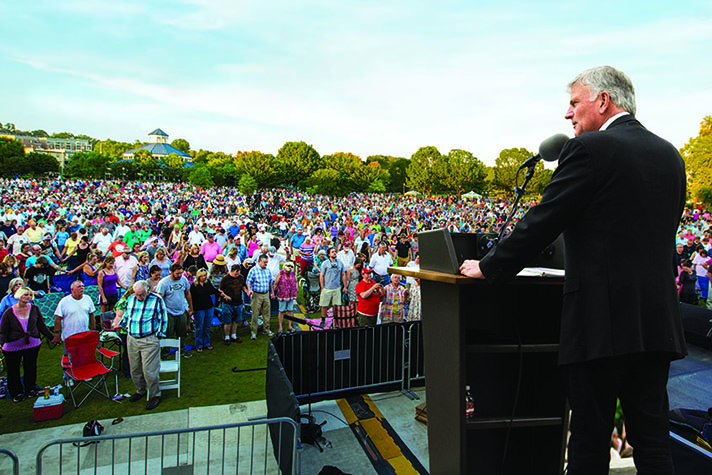 Dear Friend,
Your prayers are so important to this ministry. As I write, I am preparing to head to Florida for a six-city Decision America Tour focused on evangelism and prayer. Will you join me in praying for God to work powerfully during these events to bring people to a relationship with Jesus Christ?
Beginning Saturday, we are coming to Jacksonville Beach, Plant City, Panama City Beach, Key West, Boca Raton, and Fort Myers. If you have friends or family members in Florida, make sure they know about this tour and encourage them to attend one of the events.
Decision America Sunshine State Tour
All events are free. No tickets required.
Jacksonville Beach
Saturday, January 11
4 p.m. – Seawalk Pavilion
Plant City
Sunday, January 12
4 p.m. – Florida Strawberry Festival Soundstage
Panama City Beach
Tuesday, January 14
7 p.m. – Aaron Bessant Amphitheater
Key West
Thursday, January 16
7 p.m. – Coffee Butler Key West Amphitheatre @ Truman Waterfront Park
Boca Raton
Saturday, January 18
4 p.m. – Sunset Cove Amphitheater
Fort Myers
Sunday, January 19
4 p.m. – Hertz Arena
And if you live near any of the cities where we will be, I ask you to make plans to come, to bring your unsaved friends and family, and to urge your church to participate. Fill a bus if you can! I still believe the only hope for our country is God. I'm calling on churches and Christians to come to these events and bring the lost who need to hear the Gospel.
Like you, I want to see souls saved from sin, brokenness, and Hell. I will preach the Gospel and invite men and women to turn to Jesus Christ in repentance and faith. I will also ask Christians to pray with me, calling out to God together for the future of our country. These are not political events—they are about the hope and truth of the Gospel of Jesus Christ.
The prophet Malachi wrote, "To you who fear My name the Sun of Righteousness shall arise with healing in His wings" (Malachi 4:2, NKJV).
The Sunshine State, like America as a whole, needs a spiritual transformation that only Jesus Christ can offer. I pray that in Florida God's name will be praised—and as the Gospel of the Lord Jesus Christ is proclaimed, many will find healing and new life in Him.
More than 1,900 people across the state attended kickoff prayer events for the tour. This shows evidence of the spiritual hunger throughout Florida. Let's pray for God to do a mighty work in the hearts of people.
Florida is the 5th fastest-growing state in America with a population of over 21 million. It ranks first in the nation in higher education and second for fiscal stability. With more than 100 million visitors yearly, it is a state with much significance.
>>Get involved in the upcoming Decision America Sunshine State Tour stops.
My father, Billy Graham, always had a special place in his heart for Florida. He studied at what was then the Florida Bible Institute, and as a student he preached on the streets of Tampa. He always loved Florida's sunny climate and looked forward to every visit to the state.
The Billy Graham Evangelistic Association has always depended on the faithful prayers and giving of people like you. Thank you for helping take the Good News of the Lord to people across the state of Florida—and around the world.
May He richly bless you,

Franklin Graham
President