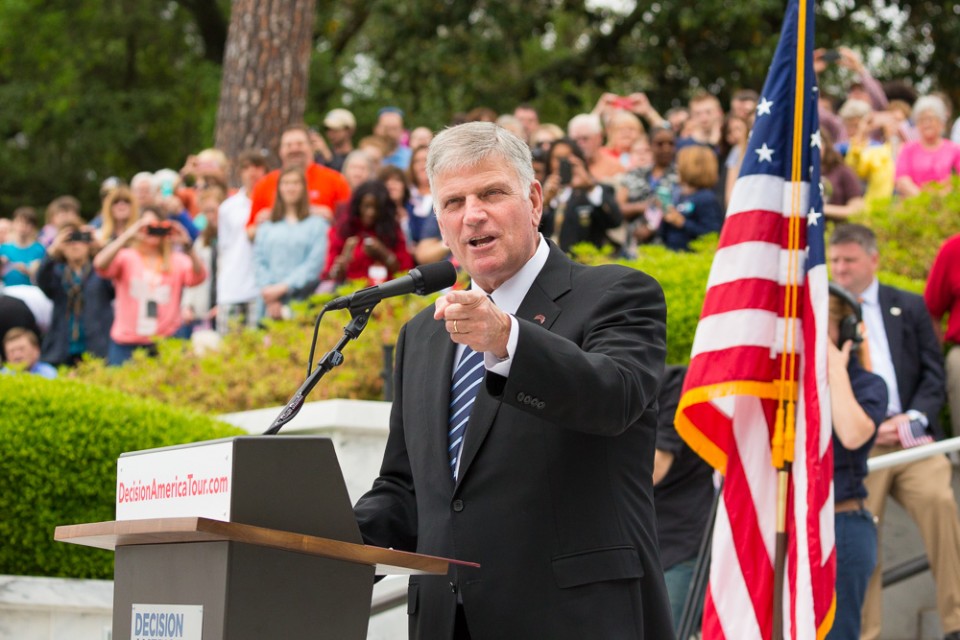 Franklin Graham calls it "the most critical election of our lifetime." And he's making an appeal to Christians nationwide:
"Make sure you vote," he said Thursday, emphasizing that last word.
Franklin has crossed the country this year on the Decision America Tour, holding prayer rallies in all 50 states to move Christians to action at a pivotal time for America. He's spent hours driving home the importance not just of prayer but of each vote cast on Nov. 8.
As Americans decide who the next president will be, along with the next wave of local and state leaders, Franklin is telling Christians they can't afford not to weigh in.
"You may be saying that you don't see a whole lot of hope on the horizon—'What can I do?'" he said at a prayer rally in Delaware last month. "I tell you what you can do, you can vote. … That's right. Vote. America needs the Christian voice."
That voice has been lacking in past elections, he said.
"In the last presidential election, it's estimated that 20 to 30 million Christians stayed home. We can't let this happen again! The future of our nation is riding on this election: religious freedom, the Supreme Court, protecting the unborn and our families, and so much more. The Christian voice needs to be heard on Nov. 8."
Franklin isn't telling people who to vote for, but encourages them to pray for God's guidance.
He's also shared with each state these words from his father, Billy Graham, back in 1952: "I think it's the duty of every individual Christian at election time to study the issues, study the candidates, then go to the polls and vote."
It's been 64 years since those words were spoken, but they're just as true today as back then, Franklin has said.
At his final Decision America stop in his home state of North Carolina on Oct. 13, he told the crowd of over 14,000 what he told every crowd before—that each vote matters.
"Your vote counts," he said in Raleigh, sharing real stories of neck-and-neck elections where a handful of votes won out.
Before casting a ballot, he urges voters to research party platforms and make informed decisions that will impact not only the next four years but generations to come.