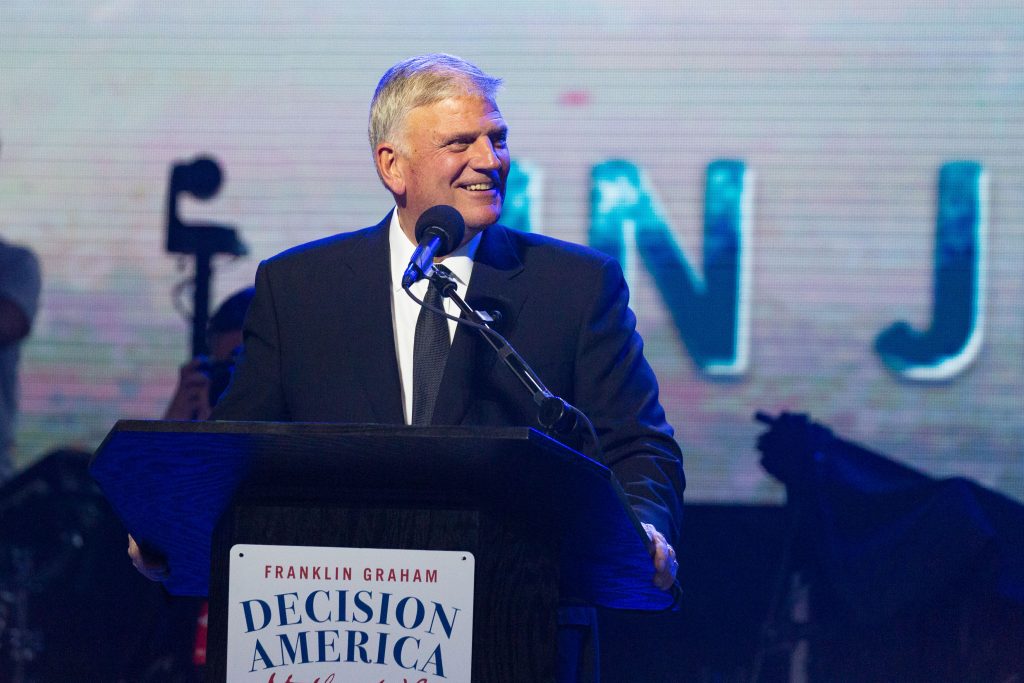 Dear Friend,
The Northeast is one of the most secular regions of our country. Many people there do not believe in God. Many more don't believe the Bible is accurate. Some even believe Jesus committed sins. Many only attend church at Christmas or Easter—if at all. It's all part of a nationwide trend in our increasingly godless society.
I just returned from preaching the Gospel of the Lord Jesus Christ in seven cities across the Northeast, from Syracuse, New York, to Portland, Maine—ranked as the single most secular city in the nation.
More than 31,000 people heard the Gospel during the Decision America Northeast Tour from May 19–30. Hundreds stood up or walked forward to indicate making a decision for Christ.
We praise the Lord for moving powerfully across New England and New York. The Northeast desperately needs to turn back to God, as does our entire country.
Recently, presidential candidate Cory Booker mocked the idea of offering prayers in response to violent crimes. He said that "thoughts and prayers" after gun violence is BS (but he didn't abbreviate!).
That couldn't be further from the truth. Cory Booker doesn't understand that at our lowest point, God puts His arms around us and brings us comfort as only He can. When people have lost loved ones, they need the comfort and strength that can only come from God. I'm sorry that some of our politicians have turned their backs on God. I'm going to continue to pray for victims of violence and their loved ones, and I'm going to continue to urge others to pray for them when these tragedies occur.
Unless our nation calls on God and we turn our hearts toward Him, violence of all types will only continue to escalate. On April 30, a gunman killed two students and injured others at the University of North Carolina at Charlotte (UNCC), in the same city as our headquarters and the Billy Graham Library. This marked the eighth school shooting to occur in the USA in 2019. Chaplains from the BGEA Rapid Response Team (RRT) responded shortly after UNCC went on lockdown. Our chaplains prayed with students, staff, and community members who were grieving and shocked in the aftermath of the shooting.
Four days later, our chaplains also responded to a community 30 miles north of Charlotte where a police officer was shot and killed.
Just a few weeks after that, a gunman in Virginia Beach opened fire inside a city building, killing 12 people. A team of RRT chaplains responded immediately after the shooting and continues to minister to hurting people in that community.
Billy Graham chaplains provide emotional and spiritual care for those affected by crisis situations throughout the country and in other parts of the world. Will you pray for God to work through these trained volunteers to bring the hope and truth of Jesus Christ to the lives of many people?
On the opposite side of our country, my son, Will Graham, and I preached at an evangelistic event in Kaua'i, Hawaii, May 3–5. This was the first time that he and I have spoken from the same platform. My father also preached—to an overflow audience— at the Kaua'i War Memorial Convention Hall in February of 1965, and we were happy to return to Kaua'i to continue offering the hope found only in Jesus Christ.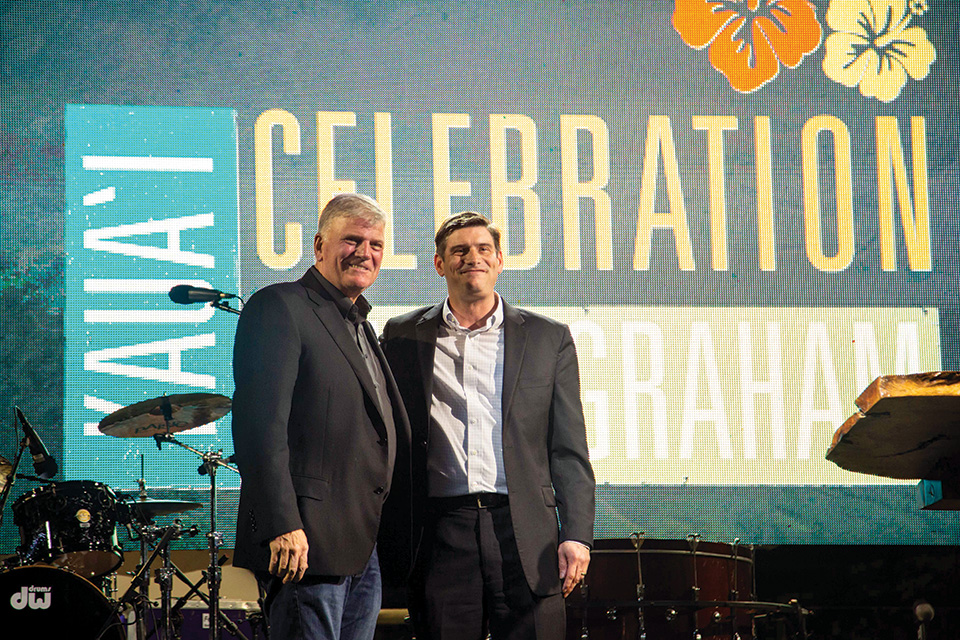 Thousands attended the Celebration, where hundreds of people made spiritual decisions for Jesus Christ. The Gospel is "the power of God for salvation to everyone who believes" (Romans 1:16, ESV), and we praise God for all those who responded to the Gospel and made the decision to put their faith in Jesus Christ as Lord and Savior.
On Easter weekend, over 90,000 people attended the Festival of Hope in Cúcuta, Colombia, a city on the border between Colombia and Venezuela. The city's General Santander Stadium was filled to capacity, and when I preached the Gospel of the Lord Jesus Christ and invited people to respond, more than 4,000 people made spiritual decisions for the Lord. Another 10,000 from 34 countries watched the events online nightly.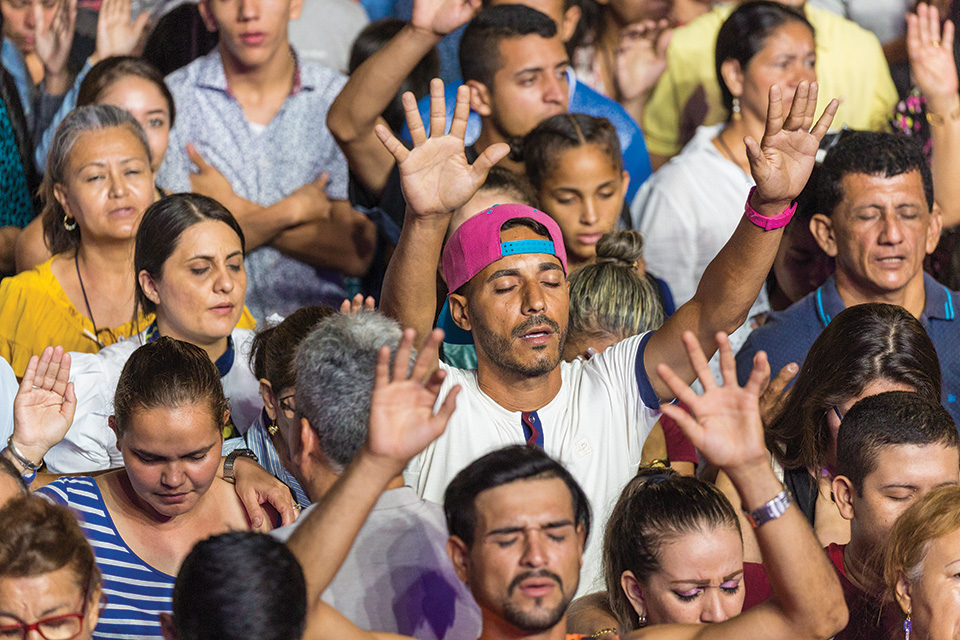 Fourteen-year-old Angie came to three events over the Festival of Hope weekend in Cúcuta. On Saturday night when I extended the invitation, she walked to the front of the stage with her family and told a prayer counselor named Glency that she was ready to begin her life with Jesus. We praise God for changing lives like Angie's. Pray with us for the churches who are following up with new believers. To God be all the glory!
We live in a culture that makes light of sin—we continue to see and hear this from many entertainers, athletes, and politicians. It is truly a battle for the soul of our nation, and believers need to pray for our country. The hope for America doesn't lie in politics, but in God. Rather than turn our back on Him, we need to look to Him for answers to the problems our nation faces.
Many people today do not take God at His Word. They want to make up a belief system to fit a secular society. This is where we get into trouble—listening to what others say instead of what God says.
In the midst of dark times for the nation of Judah, God told his prophet, "You shall say to them, 'This is the nation that did not obey the voice of the Lord their God or accept correction; truth has perished and has been cut off from their mouth' " (Jeremiah 7:28, NASB).
Christianity is defined by God's Word—not man's. For 2,000 years the church has taken its instructions from the Bible. The Bible doesn't contain God's Word—the Bible is God's Word. That is why for nearly 80 years my father often started his statements with, "The Bible says … ." He stood firm, by faith, on what the Bible says.
Sin is anything we do that is against God's commands in His Word. The Bible says that we are all guilty of sin—every person. God has put the entire human race under a death sentence because of man's sins. But God loves us and has provided a way of escape. He sent His Son, Jesus Christ, to earth to take our sins to the cross. He took our punishment on Himself, died on the cross, was buried, and by the power of Almighty God was raised to life on the third day.
It doesn't matter who you are or what you have done—we are all guilty and need God's forgiveness. God is willing to forgive our sins if we will repent (turn from those sins, leave them, and go the other direction).
The Bible shaped much of the morality and ethics of young America and her Founding Fathers. Yet the political correctness that has emerged in our culture has hurled our nation into a different realm than what previous generations would have thought possible. As freedom of speech became the highest priority of our society, pleasing God and living righteously has fallen on hard times. The more culturally sensitive we become, the easier it is to make compromises and concessions.
The prophet Jeremiah experienced this reality in his day. He wrote, "To whom shall I speak and give warning that they may hear? Behold, their ears are closed and they cannot listen. Behold, the word of the Lord has become a reproach to them; they have no delight in it" (Jeremiah 6:10, NASB).
We live in days where truth is rejected by many people. With the time God leaves me here, I am passionately committed to speaking God's Word and showing the love of Christ every opportunity I have. Will you join with me in sharing God's truth with people everywhere God opens the door?
This fall the Decision America Tour will return to my home state Oct. 1–15. The work of BGEA has deep roots in North Carolina, and I am excited to have the opportunity to preach the Gospel in cities across the Tar Heel state.
Will you join us in asking God to work by His Holy Spirit? Ask God for many lives to be changed and souls saved for eternity through the preaching of His word at each of the places He sends us. Thank you for partnering with us through your prayers and gifts. Both are vital for carrying out the tasks God has given us, and we are grateful.
May God richly bless you,
Franklin Graham
President