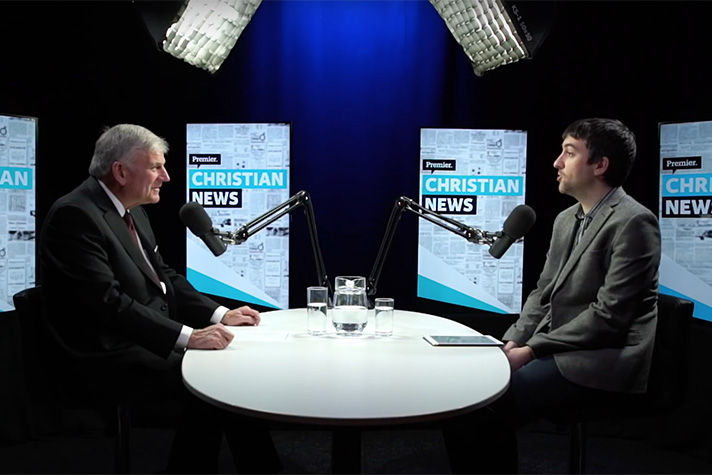 Franklin Graham spoke with Premier Christian News in London, England, on Friday regarding his upcoming evangelistic events in the United Kingdom.
Over the last two weeks, all eight venues for the multi-city Graham Tour have said they cancelled contracts, claiming the evangelist will bring divisiveness to the LGBTQ community. Several bishops call his Biblical stance on homosexuality "hate speech."
Nevertheless, Graham is pressing forward with plans to share the Gospel across the region. The outreach events are all still happening.
"Some people may think we have cancelled. We're not canceling anything. We're coming," Graham said.
When asked about ramped up opposition over the past couple of weeks, he responded, "No question, I think they have stepped up. And they certainly have the right to do that. But I think there's a real misunderstanding. We're not here to preach against anyone, but we're here to tell everyone how they can have their sins forgiven, and how they can have a relationship with God through faith in His Son, Jesus Christ."
Opposition is not new territory for Franklin Graham, who faced pushback at a three-day evangelistic event in Blackpool, England, just two years ago. His father, Billy Graham, also received negative press and public disliking throughout his England Crusades decades ago.
"I think there's a number of churches that feel that proclamation evangelism—like what we do, like my father did—is old school, old fashioned and it doesn't work in today's culture," Franklin Graham said.
"I'm here to say it does work if it's done correctly with churches praying. God will use this. Peter stood up on Pentecost and preached, and 3,000 were added to the church in one day. Paul stood on Mars Hill in Athens and preached, and people were saved. God uses all forms of evangelism."
Find out what @Franklin_Graham has to say about his UK tour, the venue cancellations and how he now wants it to be bigger than first planned. It's live now!👇https://t.co/7jvUlZVcCd pic.twitter.com/MtV5ee2y2y

— Premier Christian (@PremierRadio) February 7, 2020
Now, it's less than four months from the start of the Graham Tour in Glasgow, Scotland, and more than 2,200 U.K. churches are cooperating with the Billy Graham Evangelistic Association to further the Gospel. Despite conflict, Graham is standing firm in his faith and asking others to join him.
"I believe the Bible teaches that marriage is between a man and a woman," he said. "That's the Church of England's position. … And it's the position of the Church pretty much worldwide. This is what the Bible teaches and that's what I believe."
However, Graham recognizes that not every report of his stance against homosexuality has been correct, and he's sorry to everyone who's been hurt in the process.
"I don't know what they've heard or what they've experienced … but I would certainly apologize to anyone who feels that I am against them, or hates them," Graham said. "People who use these words like homophobic or Islamophobic—I'm not sure what those terms even are. But I would certainly apologize if there is someone who's afraid or hurt because of something that they think I have said. … I'm here to say that God loves you. God is willing to forgive sin. If we will repent and believe on the name of His Son, Jesus Christ, we will be forgiven."
In 2018 as Franklin Graham prepared to preach in Blackpool, England, he faced similar protests, but said he learned something in the process.
"Even though there is opposition, that is not a bad thing. God can use opposition," he said. Negative publicity in Blackpool ended up leading some who otherwise would not have come to the event to see what it was all about. By the end, there was an overwhelming response to Christ.
>> Watch a 4-minute recap from Franklin Graham's last U.K. event in Blackpool, England
As his team looks at other venues for the U.K. Tour, Graham expressed concern about issues of religious freedom and free speech in the U.K.—not for the sake of himself, but for local Christians.
"If a small group of people can force a cancellation of an event … where thousands of Christians are participating, I think there is no question of danger in the future to others," Graham said.
"We are at a pivotal moment as it comes to free speech—and free speech, remember, is for all of us. … It's one of our most cherished freedoms, and so I would certainly encourage people to push back and to guard and protect your right to free speech, and then also for our religious beliefs. I hold firm to my religious beliefs, and to be discriminated against because of those religious beliefs—we need to be very careful and protect what we can."
When asked what he hopes will come from the U.K. Tour, Graham's immediate response focused on the Christians there.
"I hope that this tour will ignite a fire in the churches across the U.K. to evangelize. … Don't be afraid or ashamed, but let's preach the Gospel from one end of this nation to the other, from the north to the south, from the east to the west, that Jesus Christ is Lord, He's the King of kings, and He's coming back soon."