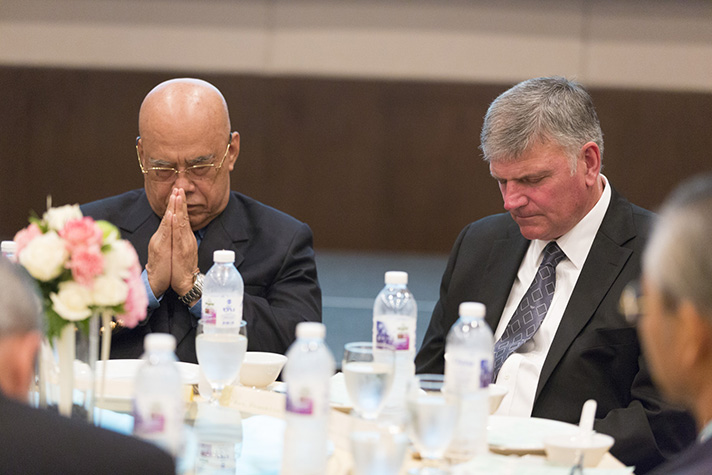 "Every one of us, at some point in our lives, has looked up at the stars in heaven," Franklin Graham told a crowd of reporters and photographers Thursday in Chiang Mai, Thailand.
"And we wonder and ask ourselves, 'Is there something—or someone—behind this universe?'"
On Nov. 22-24, as thousands of people from all over Thailand converge for the Abundant Life Festival, Thai Christians are praying their friends and neighbors will finally get an answer to that question.
For three nights, Franklin Graham will share the life-changing message of Jesus inside Chiang Mai's 700-Year Anniversary Stadium.
"I'm not coming to present to Thailand a religion," Franklin Graham said. "I'm here to talk about God and how we can have a relationship with Him, and that relationship with God can only be established one way.
"Jesus said, 'I'm the way, the truth and the life. No one comes to the Father except through me.'"
SEE MORE CHIANG MAI PHOTOS HERE
Franklin Graham first came to Thailand in 1975 and has returned several times with Samaritan's Purse, offering humanitarian aid during refugee crises and natural disasters. But this weekend's Festival marks the first time that Franklin Graham, who is president and CEO of the Billy Graham Evangelistic Association (BGEA), will preach in the country.
Just three weeks ago, his son, Will, preached the Gospel to 12,000 people in Udon Thani, in the eastern part of Thailand. More than 800 people responded to his invitation to accept Christ.
Starting Friday, the sprawling and colorful city of Chiang Mai will take the spotlight, to the delight of Thai Christians who have been praying for God to move powerfully in northern Thailand.
In fact, Thai church leaders say they've already witnessed God's power in the months leading up to the Festival. The four major Christian denominations in Chiang Mai—Independent, Baptist, Church of Christ in Thailand (CCT) and Evangelical Fellowship of Thailand (EFT)—are cooperating after years of strained relations.
"We never worked together," said Rev. Dr. Boonratna Boayen, honorary chairman of the Festival. "Sometimes, we'd fight."
Rev. Kiat Luksanasakulchai, co-executive chairman of the Festival, is part of the EFT. Thursday, he thanked and honored his friend and fellow co-chair, Rev. Somchit Huana, from CCT. It was the latest demonstration of respect and unity among the various denominations.
As he spoke to a roomful of Thai believers, Rev. Kiat reminded them of a powerful moment that happened during Festival preparation this past June, when the EFT and CCT leaders presided over a joint communion service.
"All our denominational backgrounds melted, and we became one," Rev. Kiat said.
On Thursday, he and Rev. Somchit likened the four denominations to the four rivers of northern Thailand—the Ping, Wang, Yom and Nan. The rivers originate in the north, separated from one another by many miles. As they flow south, they merge together before pouring into the Gulf of Thailand.
"Four rivers have come to be one because of this event," Rev. Kiat said. "God is working through His churches. This is God's time for Chiang Mai and the northern part of Thailand."
It may not be the biggest or the most recognizable metropolis in the country, but even a short visit to Chiang Mai reveals the friendly and lively mountainous city's unique charm. The glowing lanterns, the hills shrouded in fog, the genuine hospitality—they're just something special about it.
This weekend, with the help of churches, volunteers and musical groups from all over Asia and the U.S., Franklin Graham will tell the people of Chiang Mai that they are special, too—and deeply loved by the one true God.
Thai believers are praying the people of their country will finally get an answer to that burning question, "Is there something—or someone—behind this universe?"
"I want the people of Thailand to know God loves Thailand," Franklin Graham said. "God gave His Son, Jesus Christ, for the Thai people. The God of this great universe will forgive our sins and heal our hearts as we accept His Son, Jesus Christ, into our hearts and lives."