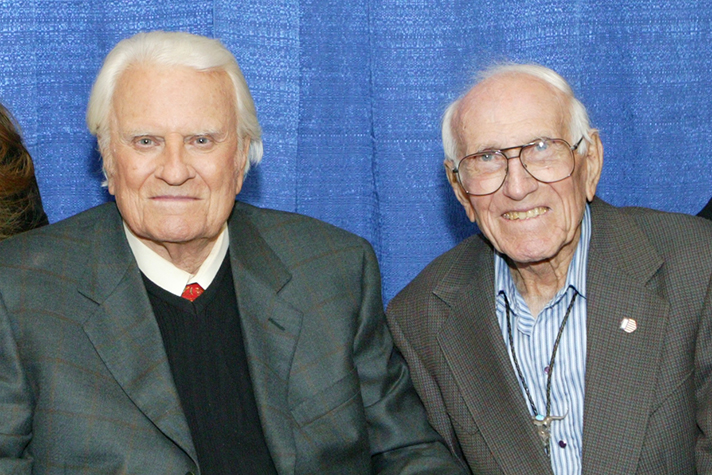 Dear Friend,
The new movie Unbroken is just out. It's based on the best-selling book about Louis Zamperini, an Olympic athlete and World War II hero, and it tells the amazing story of his courage, perseverance, valor—and miraculous survival.
But there's much more to Zamperini's extraordinary life than war hero. He himself always said that the biggest and most wonderful miracles came after the war, and that part is not included in the new Hollywood movie.
He had been brutally tortured in Japanese prison camps and, when he was finally freed, came home filled with bitterness toward life and rage toward his captors. He experienced constant nightmares, became a heavy drinker, had a violent temper, and nearly destroyed everything that mattered to him, including his marriage. His wife, who feared for her own safety and that of their little daughter, began preparing divorce papers.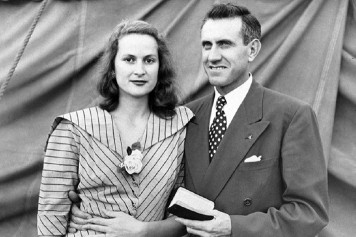 Then a neighbor invited the couple to come to nearby Los Angeles to hear a young, little-known evangelist named Billy Graham. It was 1949, and my father was preaching in a huge tent downtown at the corner of Washington and Hill streets. Louis wanted nothing to do with any evangelist, but his wife went anyway and her heart was changed by the power of the Gospel. She tore up the divorce papers and persuaded her husband to go with her a few days later. He did—then walked out during the meeting. She begged him to return another day. That time, while my father preached, Zamperini knew the Holy Spirit was working within him, and he resisted.
The moment the invitation began, he grabbed his wife's hand and headed toward the exit. But in the aisle, overwhelmed by the realization of how broken his life had become, he turned around and gave his life to Jesus Christ in repentance and faith. He left the tent with God's complete forgiveness.
From that day forward, everything changed. He started reading the Bible. His nightmares disappeared, he gave up drinking, his hatred and violent anger melted away, and he began to live for Christ.
To his own amazement, he soon found himself desiring reconciliation with his Japanese tormentors. He traveled to Japan, visited prisons that held war criminals, shared the Good News of Jesus Christ with many, and expressed forgiveness personally to any of his wartime captors that he could find. These extraordinary acts of reconciliation were widely reported in the media across Japan and the United States, and God used the stories to touch many hearts and bring the power of forgiveness and reconciliation into many more lives. Right up to his death this past July at age 97, Zamperini never tired of telling people about the Savior.
God has been changing lives during Crusade meetings since my father's earliest ministry, and we see the same miraculous results today. In 2015, we have Crusade events scheduled in more than 30 cities across North America and around the world. God uses these gatherings, and our other outreach ministries, to touch hearts and change lives for eternity.
Ferguson, Missouri: God has allowed our Billy Graham Rapid Response Team chaplains to go to this divided community to encourage reconciliation and forgiveness after the shooting death of a young man named Michael Brown Jr. and the rioting that followed. Prior to deploying, no one was sure how the Billy Graham chaplains would be received, but we felt the Lord wanted us to go and simply trust Him. The first chaplains experienced a divine appointment before they even arrived.
On their flight to Missouri, one of them began reading his Bible. Another passenger noticed and leaned over to comment. It turned out to be Michael Brown Sr.'s family pastor. He learned of their mission and later introduced them to Michael Brown Sr., who was also on that plane. The pastor urged the chaplains to attend services at his church the next day and invited them to tell the congregation what God was calling the Rapid Response Team to do. The people welcomed them.
The chaplains networked with other area churches and then got to work, listening, talking, and praying with individuals and groups all over town. At the same time, they received a warm welcome among law enforcement and first-responders. The local police department has no chaplains of its own, and doors opened at once—and keep on opening—to care for the spiritual needs of officers and their families whose lives are permeated by crises. In my next letter, I'll tell you some of the remarkable things God is doing.
One experienced chaplain said that the level of acceptance and trust the Billy Graham team has received so far from all sides in Ferguson would normally take months or longer to develop, but it began taking root almost immediately. "All this is from God, who through Christ reconciled us to himself and gave us the ministry of reconciliation" (2 Corinthians 5:18, ESV). Fear and tension remain high, the issues are complex, and one leader in the city has described the ongoing situation as hopeless. Yet God loves the people of Ferguson—all of them—and we know that only His love and the transforming power of the Gospel can bring repentance, healing, and forgiveness, leading to reconciliation. Pray for the chaplains, and pray for
the people of Ferguson.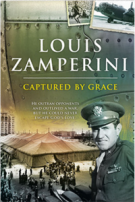 Pray also for our evangelistic efforts in 2015: People everywhere hunger for a hope that lasts, and that hope comes only through the Gospel. We count on your financial help to do this work. If you send a gift this month, we want to say thanks by sending you a DVD copy of Captured by Grace, a film that shows the rest of Louis Zamperini's amazing story.
May God richly bless you,

President
Franklin Graham
President