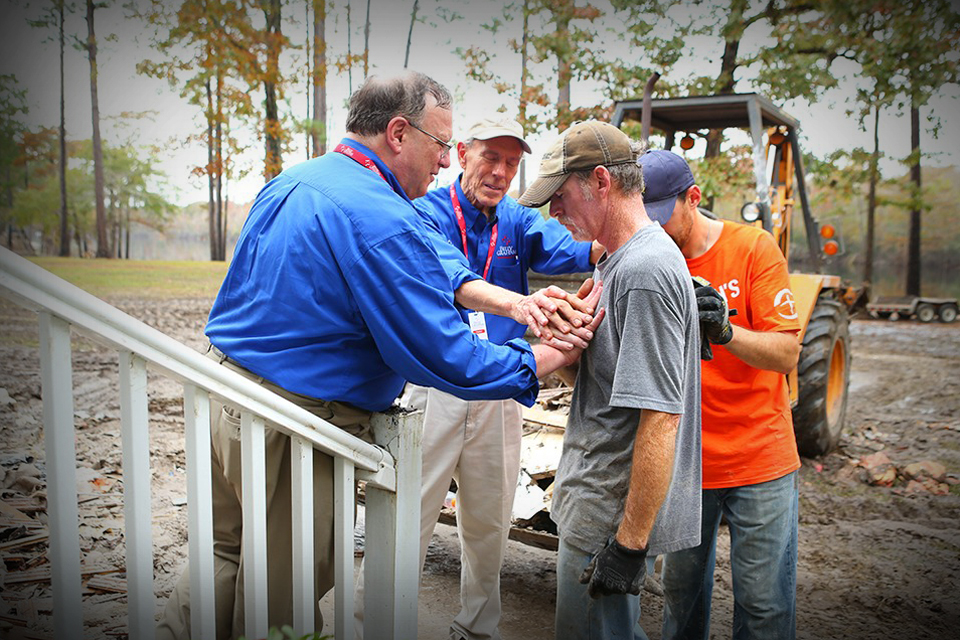 Dear Friend,
"The Lord is near to the brokenhearted and saves the crushed in spirit." —PSALM 34:18, ESV
Our Billy Graham Rapid Response Team chaplains witness the truth of this Scripture every day as they serve on the front lines of disasters. In the last few months, they have deployed in response to the devastating wildfires in California, the tragic college shooting in Oregon, and historic flooding in South Carolina.
God works through these chaplain teams to comfort the hurting and to offer hope—true hope that can only be found by trusting in Jesus Christ as Savior and Lord. It is life-changing.
In California, our chaplains met a couple who had, like many others, lost their home and everything in it to the wildfires. They were living in a tent and struggling with how to start over. When the chaplains shared the hope of the Gospel, the wife began to cry. The couple asked many questions. After discussing and examining Scriptures with the chaplains, each of them asked Christ to be their Lord and Savior, turning to Him in repentance and faith. Our team prayed with them and provided resources to help begin their walk with Christ. We will also have a local church follow up with them.
At every deployment, chaplains report story after story of God drawing lost and hurting people to Himself, and we give Him all the glory. While responding to flood victims in South Carolina, two chaplains visited with an elderly woman whose life had been hard hit by tragedy before the floods. Her son was murdered two years ago, then more recently a grandson was murdered, and just a few months ago her house burned. She was crushed and heartbroken. As she poured out her story, they learned that she and her husband were not believers. Our chaplains shared the Gospel with the couple, and both desired to accept God's offer of salvation through repentance and faith in His Son Jesus Christ. They were overjoyed!
At Umpqua Community College in Roseburg, Oregon, last month, a hate-filled young man shot nine people to death and injured many others, singling out Christians as his first victims. Only God can heal the heartbreak and emotional wounds left behind after such a tragedy. Our Rapid Response Team began arriving the next morning and set up our Mobile Ministry Center alongside the main road leading to the campus.
The team was welcomed by the community and stayed for two weeks, praying one-on-one with hundreds of people as they helped minister to emotional and spiritual needs. Douglas County sheriff's deputies repeatedly thanked them for coming and talked about what a difference their presence had made. One woman said that simply seeing chaplains from the Billy Graham Evangelistic Association in Roseburg gave her a sense of reassurance. A mother had been seeking someone she could trust to talk with her teenage daughter, who was deeply distressed by what had happened. When she saw the name "Billy Graham" on the side of the Mobile Ministry Center, she immediately brought her daughter there.
Sadly, tragedies like this have become all too frequent in our society. It is just one indication of the rapid moral and spiritual decline that is devastating this country.
Hosea, a prophet of Israel, issued a warning to his nation that could have been spoken in America today: "There is no faithfulness or steadfast love, and no knowledge of God in the land; there is swearing, lying, murder, stealing, and committing adultery; they break all bounds, and bloodshed follows bloodshed" (Hosea 4:1–2).
It is time for the followers of Jesus Christ in this country to boldly stand against the spread of wickedness and degeneracy across the nation. This is why I plan to come to each of the 50 state capitals with the Decision America Tour next year to hold a prayer rally. I firmly believe God has given us the blueprint on how to bring healing to our nation through the examples of men of faith in the Old Testament. When Nehemiah prayed, he first confessed his sins to God, and then he asked God for mercy and favor for his country (Nehemiah 1:4–11). As Christians today, we need to do the same and confess our own personal sins to God. A recent report stated that up to 45 percent of the men sitting in church pews today regularly use pornography—and that's just one example. As individuals and as the body of Christ we need to repent, and then let's ask God to heal our land.
I was recently in Fortaleza, Brazil, to hold an evangelistic Crusade. This Portuguese-speaking country is now the fifth-largest nation in the world, and Fortaleza is one of its major cities, known both as an industrial center and as a coastal resort. Bible-teaching churches in the city prayed fervently for God to work mightily through the Crusade. Thousands heard the Gospel and many made decisions for Christ. Please pray for the people who made decisions, asking that the new believers will become rooted and grow in their faith.
Later this month I will be preaching the Gospel at a Crusade in Tokyo, Japan, the largest city in the world. I ask for your prayers. Only 2-3 percent of Japan's population are Christians—will you pray that God will open hearts and change lives as a result of the preaching of His Word?
God is constantly at work healing hurting hearts and transforming lives for now and for eternity, and friends like you are a vital part of this through your prayers and gifts.
We need your continued support. Thank you for all you do.
May God richly bless you,
Franklin Graham


President