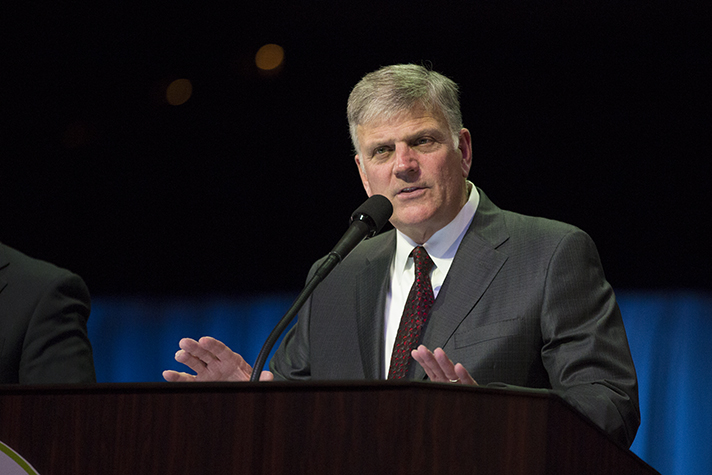 Dear Friend,
Just a couple of weeks ago I was in Japan holding a Crusade in the city of Sapporo. After preaching the Gospel the first night, I began to give an invitation for individuals to respond to Jesus Christ. I said, "If you're not sure your soul is secure in the hands of almighty God, you can be sure right now," and then I paused for the interpreter to repeat the words in Japanese.
A little to the right of the platform at the Hokkaido Sports Center, I noticed a young man who seemed to be almost trembling with anticipation, rocking in his seat as if he could barely hold himself back. Before I could finish my next sentence, asking people to get up out of their seats and come forward, the man leaped to his feet and bolted toward the open area directly in front of the podium. He stood there alone, quietly looking straight up at me while I finished the invitation.
I learned later that his name is Masaharu and he is 25 years old. He and a friend drove four hours to the Crusade because the friend loves Gospel music and wanted to hear the Brooklyn Tabernacle Singers. When the group sang one of their best-known songs, "Redeemed," about Christ's redemptive work on the cross, Masaharu felt deep inside that he desperately wanted to be redeemed. But he was not sure how.
Then, as he heard me explain the Gospel, the Holy Spirit worked in his heart and he became convicted that he was a sinner in need of forgiveness. Once the invitation started, he didn't hesitate. When one of the prayer counselors came over to him, he said that his desire was to be redeemed and forgiven, and he prayed to accept Christ as his Lord and Savior. Many others responded as well, but he was ahead of them all. This is the amazing power of the Gospel at work, and we thank God that we are privileged to witness it over and over again in tens of thousands of lives around the world.
Less than 2 percent of Japan's people are Christians, the Name of Jesus is not widely known in the nation, and churches are few and mostly small. Yet we know that "our God is the God of salvation" (Psalm 68:20, NKJV). Believers in Japan and around the world—perhaps including you—prayed, and God answered.
At a ladies luncheon on the first day of the Crusade, our team was initially expecting around 300 to attend, but nearly 900 came. After a Japanese pastor gave his testimony and the Gospel was clearly presented, 366 of the women made decisions for Christ. Later, at the main Crusade meeting that night, one Japanese prayer counselor said her heart overflowed with both amazement and gratitude to God as she watched people respond during the invitation. "The Holy Spirit filled this place," she said afterward. "I've never seen this kind of scene in our country. So many came forward to receive Christ."
A Japanese woman living in the United States has long prayed for her brother-in-law, a Shinto priest in northern Japan. When she learned about the Crusade in Sapporo, she flew to Japan to take him to hear the Gospel. On the final day of the Crusade, in the final moments of the invitation, he stepped out and walked to the front, telling a counselor that he had been convicted in his heart of sin and of his need for the Savior. "This was the Lord's doing; it is marvelous in our eyes" (Psalm 118:23, NKJV). Pray for all those who responded to the Gospel in Sapporo.
In early June I will be in Eastern Europe for a Crusade in Tbilisi, the capital of Georgia, and then another in Warsaw, Poland. Christianity has ancient roots in Georgia, traditionally traced back to the Apostle Andrew in the first century A.D. Today 85 percent of Georgians consider the Georgian Orthodox Church to be part of their national culture and identity, but most have little or no knowledge of the "grace of God that brings salvation" (Titus 2:11). And in Poland, nearly 90 percent of the people identify themselves as Catholic, though for most it is a religion of heritage rather than of personal faith.
Pray for both countries, asking God to do a mighty work there as we proclaim the glorious message of the Gospel that can change lives and even nations. And as you pray for Georgia and Poland, remember one of the nations that lies between them—Ukraine. In the midst of continuing and widespread turmoil and uncertainty, Ukrainian believers have been gathering in public places in city after city to pray for peace and for revival. We can join our prayers to theirs. God says, "Ask of Me, and I will give You the nations for your inheritance" (Psalm 2:8). Would you ask Him for these three nations?
After Eastern Europe, I will lead a Crusade back here in the United States, in Pittsburgh. My son Will has just returned from a Crusade in Broken Hill, Australia, where God blessed the preaching of the Gospel, lost people were saved, and the churches were strengthened. His next Crusade is in Papua New Guinea this summer.
Your partnership with us is crucial. We would not be able to go to these cities—and others as the year continues—if it were not for your prayers and financial support.
May God bless you,


Franklin Graham
President
P.S. If you don't already receive Decision magazine, I encourage you to subscribe now. We have changed our format and coverage to focus on issues we face as Christians in today's culture. Subscribe, renew, or send it as a gift by visiting BillyGraham.org/subscribe or calling 1-877-247-2426.