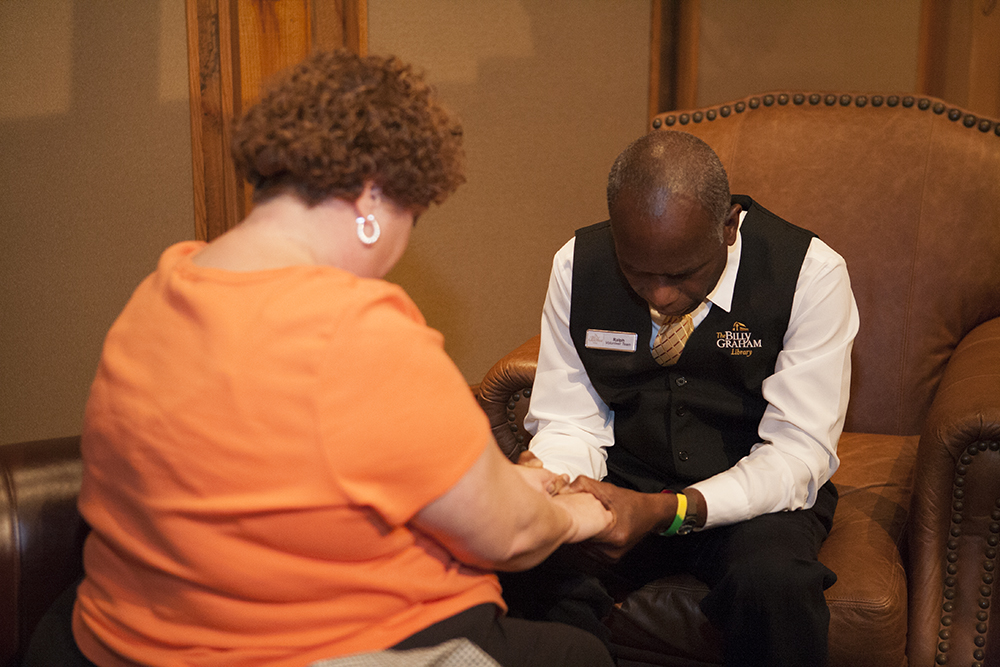 Dear Friend,
This month we celebrate the 12th anniversary of the opening of the Billy Graham Library. Praise God for all of the changed lives since then.
Over the past 12 months, God has provided the opportunity to minister to more than 193,000 people at the Library in Charlotte, North Carolina. Without you, this would not have been possible.
Three of those visitors were Chinese students from the University of South Carolina. While researching area attractions, they discovered that TripAdvisor rates the Library as the number one place to visit in Charlotte and decided to come.
They went through The Journey of Faith tour and then stopped by the prayer room at the end. A volunteer guided them through "Steps to Peace With God," and with great excitement all three students prayed to receive Jesus Christ as their Lord and Savior.
On another day, a mother and her young son approached a volunteer as they came out of the final theater. The mother said that her son, Graham, wanted to hear more about Jesus.
The volunteer took them both into the prayer room and explained the Gospel using our "Steps to Peace" children's booklet. He immediately said, "I want to pray!" He began praying on his own, and at the end prayed, "Jesus, I open my heart real wide for you to come in!"
The vision for the Library is to be an ongoing Crusade, sharing the Gospel and inviting people to repent of their sins and give their hearts to Jesus Christ. During the past year, over 1,800 people made decisions for Christ as a result of what God did in their hearts while visiting the Library. To Him be the glory!
Thank you for your prayers and gifts. I pray that the stories below are an encouragement to you.
May God richly bless you,
Franklin Graham
President
The Holy Spirit at Work
A couple from Tennessee visited the Billy Graham Library recently to celebrate the anniversary of what God did on a visit there four years earlier. When they came the first time, they thoroughly enjoyed the experience. But during their tour, Jim began to feel the Holy Spirit at work in his heart. Although he had long considered himself a Christian, now he was starting to realize that he may have been overlooking the true meaning of the Gospel. In the tour's final theater, visitors see a powerful video of Billy Graham explaining the Good News of salvation in simple and clear terms and then inviting people—as he did throughout his decades of ministry—to make a decision. Jim exited the theater weeping.
In the prayer room, he prayed with a volunteer to repent of his sins and invite Jesus Christ into his life as his Lord and Savior. Now, four years later, the couple returned to the Library to mark his spiritual birthday and to share with our team "what great things Jesus had done for him" (Luke 8:39, NKJV).
Later this spring, an 18-year-old young man named George* visited the Library. Our volunteers enjoy striking up conversations with guests, and many times those conversations lead to spiritual discussions. George shared with one of the volunteers how he hopes to study business administration and then open a homeless shelter. He desired to serve God with his life, but like Jim, hadn't yet fully understood what that meant. After experiencing The Journey of Faith tour, he went into the prayer room and talked with one of our prayer counselors, who said it was obvious that the Holy Spirit was at work in his life. George prayed with the counselor to open his heart up to Jesus Christ and begin a new life in Him. Pray for people like Jim and George, and pray that God will draw many more seeking hearts to Himself at the Library.
*Name changed
The Word Was Alive
A couple visited the Library this spring and took The Journey of Faith tour. When they finished the tour, a volunteer standing nearby named Ann noticed tears running down the woman's face. Ann approached and quietly offered to pray with her. The woman accepted immediately and the two went into the prayer room. She shared that since she was a child, when she heard Scripture read in church, it always just seemed like "words on a page."
Recently, however, while attending her husband's church, she felt as though the Word was alive to her. She sensed the same reality at the Library and wanted that for herself. When Ann talked about Jesus as the Word and shared the Gospel with her, the woman felt a deep hunger in her heart. She eagerly prayed to give her life to Jesus Christ that day, turning to Him in repentance and faith.
Meanwhile, her husband was chatting outside the prayer room with another volunteer. He said he had been praying for his wife to come to know the Lord for over 30 years! To God be the glory for transforming lives and answering prayers. When that couple went home, they left with great joy and with the Word of God alive in both of their lives.
Bucket List
Mr. Billy, as everyone calls him, dreamed of visiting the Library for years. In fact, it was the top of his personal bucket list, but a few months ago the Marine Corps veteran entered hospice care. Then a nonprofit organization, dedicated to helping individuals in elder care as they live out their last days, offered to make the visit possible. They reached out to the Library on his behalf, and our staff and volunteers were happy to help. Mr. Billy and his son arrived one Tuesday earlier this year, and our team cared for and loved them every step of the way, as they do daily with visitors.
During his tour of The Journey of Faith, the 80-year-old Marine was visibly moved. "This place has been such an inspiration," he said. "If I should live to be 100, I'll not forget this day." And like many of our visitors, he left with renewed energy in his walk with Jesus Christ. "Now, I'm going to do more praying and more listening to His Word," he continued. "I want to do something to not just shine in this world, but to shine in His eyes."
>> Read more of Mr. Billy's story.
A Tough Cookie
Lucy*, 92 years old, recently visited the Library when she was visiting from Germany. Patty, her daughter, was saved during Christmas at the Library last year, and she brought her mom in hopes that the Lord would work in her life. Patty had been burdened for her mom and shared with a volunteer that Lucy was very stubborn—a real "tough cookie."
A Library volunteer spoke with Lucy about her eternity and where she stood with the Lord. They talked about life after death and how Lucy could know with certainty that one day she would be in heaven. That afternoon, Lucy prayed with the volunteer to invite Jesus Christ into her life to become her Lord and Savior.
When she left the Library that day, she left knowing where she stood with Jesus.
*Name changed