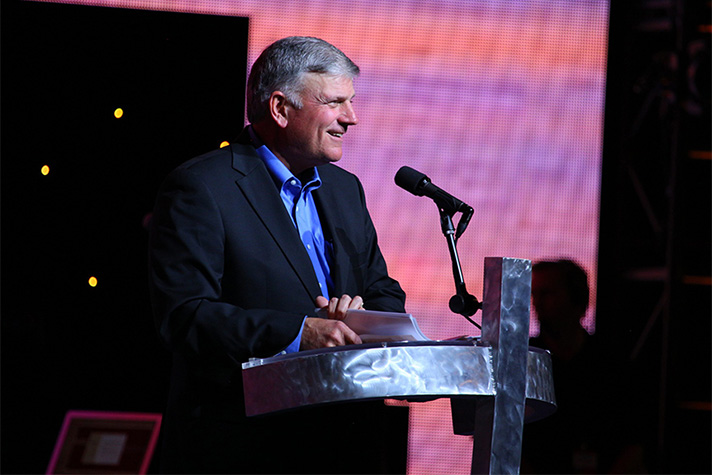 Dear Friend,
Ebola and ISIS have been dominating the news. Though these two scourges are very different, both bring death. In West Africa we have seen entire families wiped out by Ebola. For many of the people diagnosed with the virus in that part of the world, there is no hope.
Sin is like that—it infects every human who has ever lived, and sinners have no hope outside of Jesus Christ. Sin produces death, but with Christ we have life. As we come to this Thanksgiving season, we should be most grateful to God that "Christ Jesus came into the world to save sinners" (1 Timothy 1:15, ESV). He loved us enough to come and die on the cross in order to save us from the penalty of sin. This salvation is available for all who repent and put their faith in Him.
As ISIS spreads terror in Syria and Iraq, we are hearing of more and more Muslims coming to faith in Jesus Christ. These are not isolated stories, but thousands of lives. Because of this reign of terror, some who have followed Muhammad their whole lives are turning to faith in Christ. The Holy Spirit is at work even in times of trouble. Many are using their cell phones or a computer to actively explore the truths of the Gospel through our Search for Jesus Internet outreach. We are supporting churches and Christians in this part of the world. They need our prayers and our help.
The Prophet Isaiah speaks of God's "abundance of salvation" (Isaiah 33:6), and we see that abundance everywhere we proclaim the Gospel. We thank God that already this year, well over a million people from across America and around the world have told us they made life-changing decisions for Christ as a result of BGEA's ministry, and we receive reports of more every day. We give Him all the glory.
A few weeks ago, I led an evangelistic outreach, called Rock the Lakes, in Erie, Pennsylvania. One 16-year-old girl with a troubled life was persuaded by friends to attend. She loved the energetic music and had fun in the upbeat crowd. But when I began to explain God's love, His offer of forgiveness, and the life-changing power of the Gospel, she became quiet and serious. She knew that sin had wrecked her life, and the Holy Spirit touched her heart. She joined a surge of people who came forward at the invitation to give their hearts to Christ in repentance and faith.
Within days, the 16-year-old went to a church in Erie with her friends and talked to the pastor. Two Sundays later she was baptized. She gave her testimony, sharing how she had tried everything—drugs, sex, alcohol, and anything that seemed attractive. She had become pregnant and now has a 4-month-old daughter. She remembers looking at her daughter and thinking, "What can I do to make her life better than mine has been?" It was then that her friends invited her to Rock the Lakes, where God changed her. She told the church that she has Jesus now and is asking God to make her life and her daughter's life totally different because of Him.
Stories like this of God's transforming power are repeated wherever God takes us to share the Good News. We know that it "is the Lord's doing; it is marvelous in our eyes" (Psalm 118:23).
The Erie event was broadcast live over the Internet, and there were people all over the world, including nations in the Middle East, who logged on to watch and listen. Nearly 14,000 from the Erie area crowded the arena in person, and at least twice that many, from 138 different countries, participated online. Those who responded on the Internet were invited to connect with online counselors for prayer and personal follow-up and then encouraged—wherever possible—to locate a church in their area. All told, thousands made decisions for Christ as a result of this evangelistic outreach.
We have been praying and preparing all year for November, and we are excited that My Hope 2014 with Billy Graham is now underway—a major national outreach in partnership with thousands of local churches and individual Christians all over America. It will continue throughout November and beyond, and it's not at all too late for your church, or you individually, to participate. Pray for this countrywide effort, and pray for specific people you know who need Jesus Christ. You or your pastor can visit MyHopeWithBillyGraham.org to request a free DVD copy of our powerful new 30-minute evangelistic film, Heaven, or download it immediately from the website and then work out ways to get unsaved friends and loved ones to watch it with you. They will see compelling, real-life stories of people changed by the Gospel, hear a clear and loving presentation of the Good News, and be invited to respond to Jesus. We believe that God will draw many people to Himself.
Our hearts overflow with gratitude to God for all He has done and is doing, and we are eager to keep pressing forward as He continues to open doors. We are also deeply grateful to you this Thanksgiving season for your part in making this work possible. We rely on your prayers and gifts "so that as grace extends to more and more people it may increase thanksgiving, to the glory of God" (2 Corinthians 4:15). Thank you for all you do to serve Christ and advance His kingdom.
May God richly bless you,
Franklin Graham

President