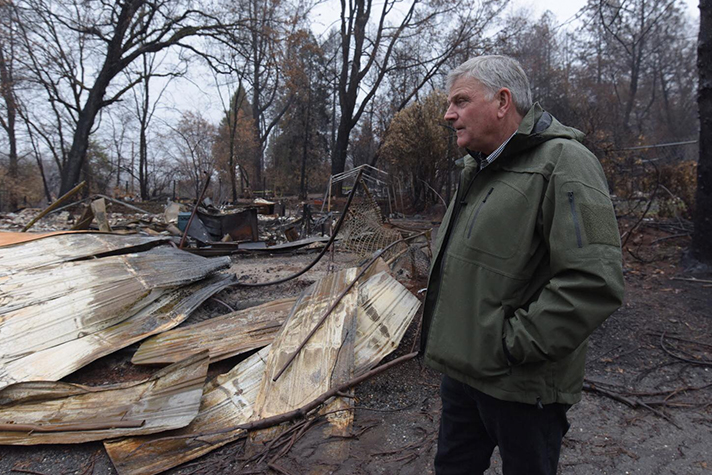 Dear Friend,
For many people 2019 begins with excitement and a great sense of hope—and I pray that this is true for you now. But for many families in California, the year is starting out in ruins and ashes. Two months ago, the state's deadliest wildfire destroyed the town of Paradise, killed more than 80 people, and left tens of thousands homeless.
Two days after the fires started, we deployed chaplains with the Billy Graham Rapid Response Team (RRT) to California to comfort and pray with survivors and first responders. So far, we've encouraged and prayed with more than 3,200 people, and we plan to be there for months. The stories we are hearing are heartbreaking—but we are seeing God move in amazing ways.

A 36-year-old man told our chaplains about his harrowing escape. On his way to rescue his mother and escape the fire, his car broke down.
He hopped in another man's car and raced to pick up his mother at home. He made it safely there before this car broke down as well. The two were stranded as the flames roared closer. They watched helplessly as trees, vehicles, and homes were consumed. For three hours they were alone, and in desperation he told his mother, "I will put you on my back, if I have to. I will carry you out of this place." Praise God, some of his friends showed up before it was too late and drove them to safety.
This man struggled as he shared the details. When asked about his relationship with God, he simply said, "I've been away from church." Our chaplain explained the Gospel and spoke of the hope of Jesus Christ, going through our "Steps to Peace With God" booklet. In the midst of his brokenness, he prayed in repentance and faith to surrender what was left of his life to the Lord Jesus Christ.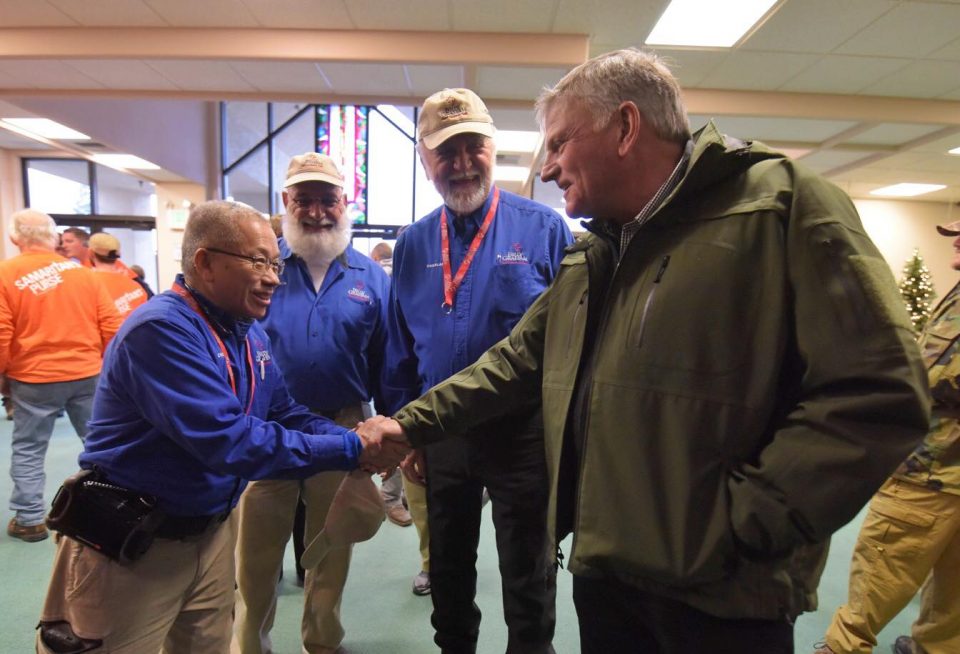 Another chaplain met a homeowner at one of the disaster resource centers when she came in search of assistance for her burned out house. After some discussion and prayer, the chaplain asked the woman if she knew Jesus. She didn't know much, and the chaplain shared the Good News, telling about His death and resurrection. The homeowner said she couldn't accept that because she believed in science. But when the chaplain explained that God made science and the two were not opposed to each other, she agreed. She quickly admitted she was ready to confess her sins and accept Christ in faith. They prayed together, and the homeowner exclaimed that Jesus was now living in her heart.
We thank God for these lives He rescued literally from the flames and for the many more He is reaching in California. Around the world there are countless more who are lost apart from Christ. While they may not be surrounded by the devastation of a wildfire, their situation is just as dire. They are hopeless without the life-changing power of the Gospel, and our mission is urgent. The Apostle Paul said, "One thing I do, forgetting those things which are behind and reaching forward to those things which are ahead, I press toward the goal … of the upward call of God in Christ Jesus" (Philippians 3:13–14, NKJV). That is once again our prayer for the new year, to single-mindedly press toward the goal of seeing as many people as possible come to saving faith in Jesus Christ.
Thailand: Churches in Bangkok, the capital of Thailand, have invited me to come preach the Gospel at a Crusade a few weeks from now. Bangkok is a thriving city with a population of more than 8 million. Out of every 100 people who live there, 94 are Buddhist, four are Muslim, and less than two are Christians.
Evangelism is challenging in an overwhelmingly Buddhist nation, but the churches in Bangkok, though mostly small, are not passive. Thailand has full freedom of religion, and Christians are praying for unsaved friends and loved ones as they actively invite them to come and hear the Good News that can change their lives forever. Our evangelistic Crusade will be held January 19–20 in Bangkok's International Trade and Exhibition Centre.
My message will be about Jesus Christ, whose birth we just celebrated. He is the Son of God, sent to earth to be born in human flesh so that He could rescue us from the darkness and bondage of sin and death. He took our sins with Him to the cross, died in our place, was buried, and on the third day was raised back to life. He now reigns from Heaven and will come to earth once again. Until He does, all who repent of sin and open their hearts to Jesus as Lord and Savior are promised the free gift of eternal life. Will you pray that many in Bangkok will be drawn to "Him who loves us and has set us free from our sins by His blood" (Revelation 1:5, HCSB).
God is at work in Thailand. My son Will Graham was just there, in the Andaman region 500 miles south of Bangkok, to preach the Gospel at a weeklong series of evangelistic events in December. Fifteen thousand people heard the Gospel during the outreach, and more than 900 shared with us that they made life-changing decisions for Christ. To God be all the glory!
Australia: In 1959, God enabled my father to have a major impact in Australia as he spent six months preaching across the country. That was 60 years ago, and now I'm going back this February on a six-city tour across the continent. Today in Australia, as in many increasingly secularized Western nations, large numbers of people claim to have given up on religion. That does not mean, however, that their hearts do not long for real and lasting hope. Pray that God will fill that longing.
Hundreds of people across Australia have enrolled in our Christian Life and Witness classes. In Sydney alone, interest is so high that there are 50 active classes. It's a short course on Christian discipleship, including the basics of the Christian life, growing in the Lord, and sharing the Gospel. Through the years, millions of people all over the world have completed this Billy Graham Evangelistic Association course. Ask God to move powerfully in the lives of Australian believers who take the training. And ask Him to draw many lost souls to Himself during the evangelistic tour February 9–24.
At about the same time that I am in Australia, my son Will plans to lead a Crusade event in Manila, the capital of the Philippines, and another in Lingayen, a city three hours north of Manila. Ask God to do a mighty work in both cities.
We are moving into one of the most aggressive three-year plans for evangelistic events in our ministry's 70 year history, including the continent-wide Australia tour and a Decision America Tour of Northeast cities this year, a tour of multiple cities across the United Kingdom in 2020, and an east-west tour of cities on both sides of our nation's border with Mexico in 2021. There is urgency to take the life-changing message of the Gospel to as many people as possible, using every means we can, while doors of opportunity remain open to us. The Bible warns that "the night is coming when no one can work" (John 9:4, NKJV).
We are deeply grateful for your prayers and gifts—we could not carry out this work without you. Thank you for all you do in serving Christ and His Kingdom.
May God richly bless you,


Franklin Graham
President