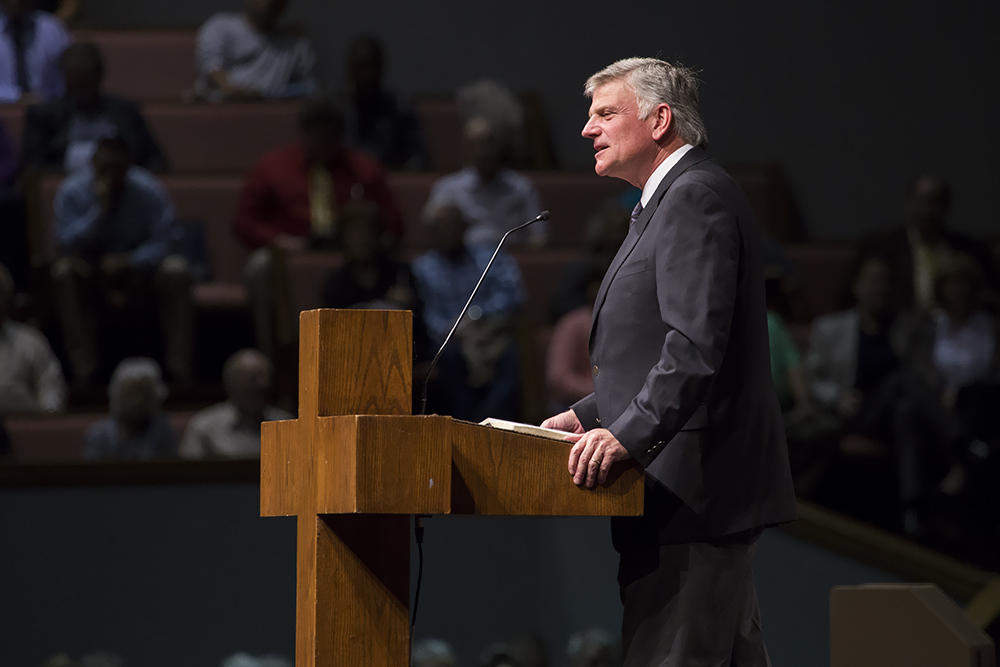 Times have changed. And no politician or political party can save us.
That's what Franklin Graham told an Oklahoma City crowd Monday night at the Oklahoma State Evangelism Conference.
Talking about the forces of secular humanism that have taken root in the United States, Franklin Graham called on Christ followers to take an active interest in politics—from local school board races to Washington.
"Now I'm not talking about Baptists or Republicans and the Tea Party," he said. "I have no confidence that any of these politicians or any party is going to turn this country around. The only hope for this country is for men and women of God to stand up and take a stand."
"Well, you say, 'Now Franklin, your father wouldn't get onto these subjects,'" Franklin Graham said, addressing the need to stand up to secularism.
"Wait a second. My father, when he was going to school, they had a Bible in school," he continued. "When he was going to school, they had the Ten Commandments on the wall. When he was going to school, you could pray in school, and the teachers would lead in those prayers.
"Our country has changed. And we've got to take a stand."
Talking about growing up in the 50s and 60s under the Red Threat, Franklin Graham recalled that communism was seen as the ultimate enemy of freedom.
"When the Berlin Wall came down, everybody said we won," he said. "And secularism came. And secularism and communism are the same thing. They're godless. They're anti Christ."
The message was strong and challenging. But a thread of hope ran through it, from start to finish.
"There is only one who can save," Franklin Graham said. "Only one. Jesus Christ."
Pulling from Matthew chapter 8, where Jesus calmed the storm that had his disciples fearing for their lives, Franklin reminded the crowd that we aren't very different from the people who were with Jesus 2,000 years ago.
"There are storms that are coming," he said. "And we find ourselves in these storms, and many times we as a church, we run and we run to the wrong place.
"You see, Jesus is in the boat. All we have to do is call Him, call on His name."
Sometimes that will mean facing ridicule from a secular world, Franklin Graham continued. But the people of God have to stay strong.
"The secularists and the humanists, you mention the name of Christ, they jump all over you," he said. "I get jumped on all the time. I don't care. I really don't.
"I gave my life to Christ. He died for me; He shed his blood for me. I'm not going to back up, and I'm not going to run."