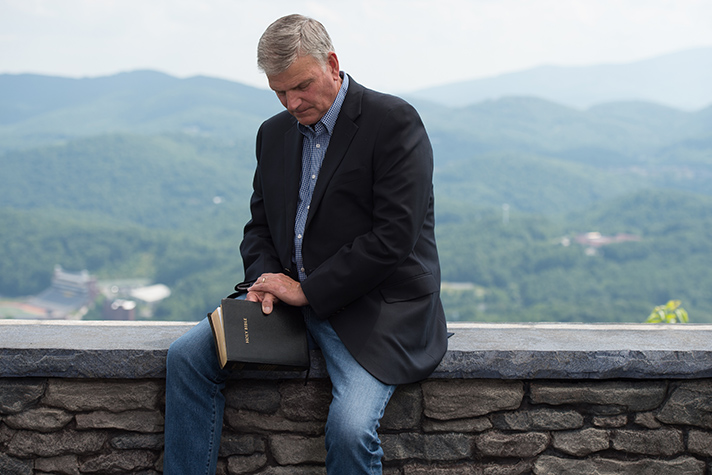 Dear Friend,
The Bible says, "There is joy in the presence of the angels of God over one sinner who repents" (Luke 15:10, NKJV).
Thank you for praying that God would do a mighty work during the recent Decision America Tar Heel State Tour across North Carolina. The Lord wonderfully answered your prayers! More than 4,500 people in person—plus more by internet livestream—told us they made decisions for Jesus Christ, and Heaven is rejoicing over the new souls that entered into the kingdom of God. To Him be the glory!
>> Read stories and see photos from each stop on the Tar Heel State Tour.
We started the tour in Fayetteville with a crowd that included many military families gathered at Festival Park. More than 9,000 people heard about the most courageous person who has ever lived—Jesus Christ. One church in Fayetteville livestreamed the event at their church for senior adults who could not physically go to the park. Over 300 seniors and some persons with disabilities came. One lady on oxygen indicated her desire to repent of her sins and invite Jesus Christ into her life as her Lord and Savior. She had attended the church for several months but had not yet given her life to the Lord. Now she is asking for follow-up from the church to help her get established in her faith.
In Greenville, considered a medical hub in the Coastal Plain region, I shared how one human soul is more valuable than all the wealth in the world. Before I preached, Dennis Agajanian and Jeremy Camp led the crowd of nearly 14,000 people in worship. We thank God that hundreds of people made decisions for Jesus Christ that night.
The city of Wilmington is nicknamed the Port City, known for its beautiful downtown riverfront and miles of nearby beaches. In a stadium filled to capacity, several hundred souls made the life-changing decision to put their faith and trust in the Lord, and we praise Him for each one. It was an honor to have Lt. Gov. Dan Forest and his daughter Haley join us as we prayed for our leaders and our nation—just as we did at every stop of the tour.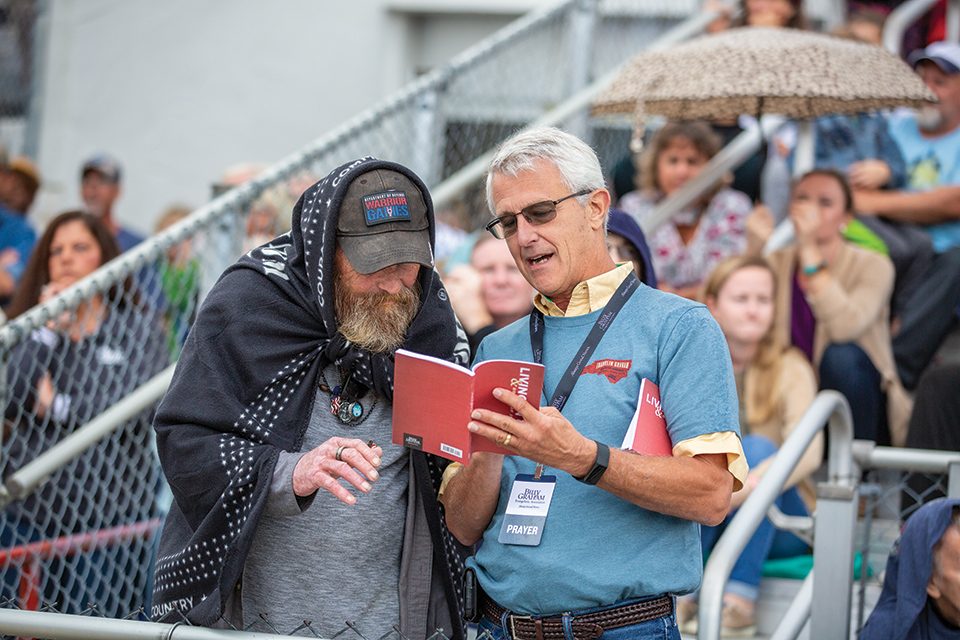 The fourth stop on our tour was in Raleigh, the capital city. I preached a message from God's Word about His love, His judgment, and His offer of forgiveness and salvation. Almost 600 people indicated decisions for the Lord that afternoon. We rejoice and give God the glory for each person who repented of their sin and put their faith in Him. Their lives are changed—for eternity!
From there we traveled to Greensboro, where thousands packed the White Oak Amphitheatre for the fifth stop of the tour. I shared with the crowd that God is a God of second chances. We praise Him that almost 700 people that night made decisions for Christ.
Alyson served as a volunteer in Greensboro. She was so excited after that experience, she asked if she could continue as a prayer counselor for more of the tour. Over the next several days, she drove to Hickory and Charlotte to serve at both events. In those three cities, Alyson prayed with five different people who made decisions for Christ, including a woman in her 50s who recently lost her son to suicide and had turned to alcohol to cope.
On October 10, more than 9,000 people gathered inside and outside the L.P. Frans Stadium in Hickory, not too far from my home. The baseball stadium seats 5,000, and cars were lined for miles waiting to get a parking spot. I shared my testimony of becoming a Christian at age 22 and asked the crowd, "Maybe some of you here tonight asked the question: Will God forgive me for what I've done?" As I shared from God's Word, a man named Ray thought about the sins that had affected much of his life. Drug addiction kept him running from the Lord for many years. Ray said he cried during the entire event. He knew God was speaking to him about his own need for forgiveness and surrender, and he responded to the invitation.
I shared the Gospel at the PNC Music Pavilion on the seventh stop of our tour in Charlotte, home of the Billy Graham Evangelistic Association and the Billy Graham Library. Lynne, one of our prayer counselors, prayed with a lady from China named Chen. She attended a church several times but had never given her life to Jesus Christ. At the invitation, Chen expressed her excitement to hear the Gospel, and she prayed with Lynn to receive the Lord and follow Jesus with her life.
Kathy's mother came to know the Lord through my father's ministry years ago, and she led most of her family to the Lord at that time. When Kathy heard about the Decision America Tour, she said she knew she wanted to be a part of it and wanted the legacy that started with her mother to continue on. She and her husband attended the prayer counselor training, and Kathy asked God to connect her with at least one person who needed Him. A woman sitting nearby, who had noticed Kathy's prayer counselor badge, reached out and grasped her arm during the invitation. Kathy had the opportunity of talking and praying with her as she came to faith in the Lord Jesus Christ.
On the final stop of the tour in the mountain city of Asheville, I told the crowd the Good News that with every mountain you're facing, there's nothing that God can't help you through. It was incredible to see all those who stood in that arena saying they wanted to confess their sins, ask God to forgive them, and trust Jesus Christ as their Savior and Lord! Asheville is very near my parents' home in Montreat where I grew up, so it felt very familiar.
Sandy brought her 21-year-old son Mark along with her to the Asheville event hoping the experience would help him get on the right track. Covered in tattoos, her son had been heavily involved in drugs and knew something was missing in his life—he just wasn't sure what. When I gave the invitation to accept Christ as Lord and Savior, Mark stood up. A counselor prayed with him while another counselor approached Sandy.
The counselor asked Sandy, "Have you ever known Jesus as your personal Savior?" Sandy answered, "No, but I wanted my son to." After walking her through the Living in Christ book, the counselor prayed with Sandy to welcome Jesus into her heart. Both mother and son received the Lord that afternoon. Before she left, Sandy told the counselor, "I thought I came for my son, but turns out, I really came for myself."
We're once again overwhelmed with the faithfulness of God. The Gospel still changes lives. And I'm thankful for the churches, staff, and many volunteers whose involvement made this eight-city tour possible. We held many training events across North Carolina to help train Christians and equip churches, and hundreds of believers were praying that God would open people's hearts and minds to God's life-changing  grace and truth. Will you join me in praying that these new Christians will connect with local Bible-believing churches to help them grow in the Lord and become His disciples?
As we approach Thanksgiving, we pause and give thanks in special ways. I'm thankful for all that God did for me and you by sending His Son on a rescue mission to die for our sins.
I'm also thankful for the freedoms we still enjoy in our country. Our Founding Fathers valued freedom of speech, freedom of religion, and the importance of a government by the people and for the people. Though many of those founding values are under attack in our nation, I thank God for these liberties that allow us to preach the Gospel freely so that people can hear the truth and be saved.
And I thank God for you. As you continue to pray for and support the ministry of the Billy Graham Evangelistic Association (BGEA), the Lord opens doors for us to share the love and truth of Jesus Christ in many places both here and around the world.
I am preparing to preach the Gospel in Phnom Penh, Cambodia, December 7–8, and we are also planning for the Decision America Sunshine State Tour in Florida during the month of January. Join with us in asking God to draw thousands to Himself through these evangelistic events.
May God richly bless you and your family during this Thanksgiving season.
Sincerely,
Franklin Graham
President