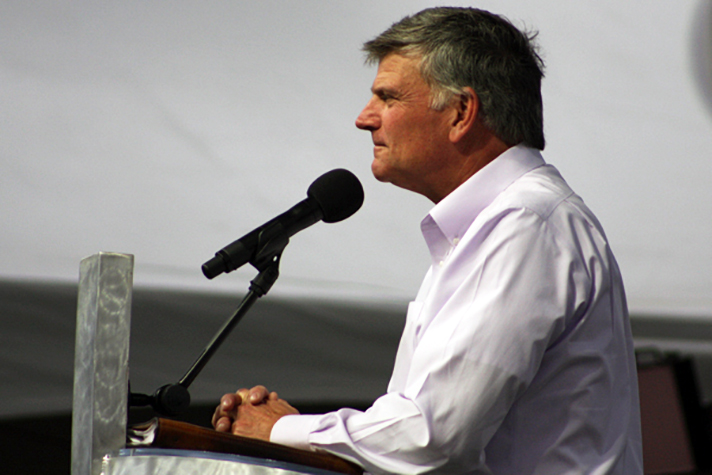 Dear Friend,
Incidents of racial tension are rising in the United States. When a race-infused conflict makes the news, many people find it all too easy to choose which side to blame and then, like an armchair quarterback, do nothing more. But doing nothing is not a biblical response. Racism is a sin that divides people. The Bible says that "God … has reconciled us to Himself through Jesus Christ, and has given us the ministry of reconciliation" (2 Corinthians 5:18, NKJV). The Bible commands Christians to take action: "Pursue the things which make for peace" (Romans 14:19).
The city of Ferguson, Missouri, has become synonymous with racial conflict since a teenager named Michael Brown Jr. was killed in a police shooting last August. Tensions escalated in late November, when riots broke out in the town of 21,000 after a grand jury declined to bring charges against the police officer. Two days later, crisis-trained chaplains from our Billy Graham Rapid Response Team deployed to Ferguson, near St. Louis, to begin a mission of compassion and reconciliation, bringing the love of Jesus Christ and the power of the Gospel in ministry to people throughout the divided community.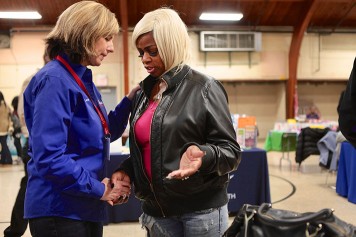 From the very outset, it was clear that God had His hand on this mission. A police organization in Missouri asked us to come help care for the emotional and spiritual needs of law enforcement personnel and their families, who were under severe stress due to the long crisis. When the first chaplains headed to Ferguson in response to that urgent invitation, they did not have any firm idea how they might connect with other parts of the community that were also in need of crisis ministry. But God made the arrangements—the chaplains found themselves seated on the plane next to the pastor of the church where Michael Brown Sr., the teen's father, is an active member. The pastor was himself under severe stress—he had received dozens of racially charged death threats, and his church building was attacked by arsonists. Our chaplains ministered to him on the flight.
Early the next day, a Sunday, the chaplains were introduced to hundreds of heavily armed police officers at shift change and invited to pray for them as they headed to their posts around Ferguson. An hour or two later in a different part of town, the same chaplains were introduced and warmly welcomed at Michael Brown's family's church. During the next six weeks, more than 80 Rapid Response Team chaplains talked, listened, encouraged, and prayed with over 1,500 people as God opened many doors—on both sides of the community's divide. We praise God that nearly a hundred people made decisions for Christ. During the deployment we had opportunity to minister personally to the parents, stepparents, 
and other family members of Michael Brown Jr.
We took our Rapid Response Team mobile command truck to Ferguson to use as a ministry center, stationing it daily in a parking lot right on the street where the rioting had occurred. The large vehicle creates a visible presence and is outfitted with a meeting area where people could come inside for prayer or to talk. It also provided a neutral setting for private meetings that brought together people considered to be on opposite sides of the tension.
For the first day or two, local people stopped at the truck to ask what we were giving away. Chaplains answered, in a paraphrase of Acts 3:6, "Gold and silver we do not have, but what we have we will give you—prayer and the love of Jesus." Many in the community received this response well, and as word spread, people from the neighborhoods began coming to talk about the tension in the city as well as about personal concerns, and especially to ask for prayer.
A young resident of Canfield Green, an urban housing project with a reputation for poverty and drugs, came to talk. The next morning when chaplains arrived back at the same place in the RRT mobile command center, a small pickup was blocking the spot. It was the young man, waiting for them. He moved his vehicle and then went inside the truck and told chaplains that people in his gang-infested housing complex were talking about them, saying they were "for real" and not just "here today and gone tomorrow." He said he had thought a great deal about their conversation the day before and about the prayer they had prayed for him, and he wanted to know more. God touched his heart, and he joyfully accepted Christ as his Savior.
He immediately went home, got his girlfriend, and brought her to meet the chaplains because he wanted her to experience the same newfound joy he felt. She was plainly skeptical, questioning their motives and why they were in Ferguson. But as they explained the mission of Billy Graham chaplains and told her about God's love and His offer of salvation, her skepticism gave way to a longing in her heart, and she turned to Jesus Christ in repentance and faith. Chaplains began discipling them and worked on connecting them with a local church.
In addition to praying with a constant stream of people who came to the ministry truck—including armed gang members—teams of chaplains walked the nearby streets every day, talking and praying with business owners, restaurant managers, residents, and even passers-by. An 8-year-old boy, waiting for his mom at a beauty salon, asked a chaplain to pray for him. The child explained softly that his father was not really part of his life and that he was fearful over what had happened in his hometown. The chaplain sat down on the floor with the boy to listen and talk. When he shared the Gospel in an age-appropriate way, the boy responded through tears. The chaplain gave him a children's Bible as his very own, and the boy could barely contain his excitement as the chaplain showed him how to use it.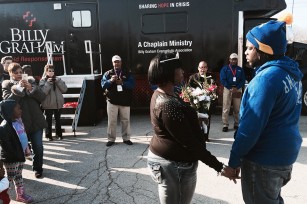 Chaplains spent time with an unmarried couple and their five children after they lost almost everything in a devastating fire. The man and woman made life-changing decisions for Christ. The very next day, they told chaplains they knew they should be married. They didn't have a pastor or church, so the couple asked if they could marry at the RRT ministry truck. A pastor from the area agreed to counsel them and officiate. Three days later, there was a simple, Christ-centered wedding out in front of the truck, witnessed by a crowd on the street and several chaplains.
A few days after the team deployed to Ferguson, a woman came to the ministry truck because her sisters, who had already been there, told her she could get a booklet about life and death. The recent events in her community had caused her to think a lot about eternity. The chaplains gave her a copy of the "Steps to Peace With God" booklet and began explaining its message of salvation. Soon the woman's young adult daughter, who had been waiting in the car, came in to hurry her mom along. But as she listened to the chaplains answering her mother's deep questions, her impatience disappeared. Both women made decisions for Christ and then opened up about other concerns and hurts in their lives. Afterward, the daughter said, "I'm so glad my wise mother made me stop here."
A high school senior poured out his heart to a chaplain. He has plans to go to college and become an electrician, but due to the drugs and gangs around him, along with the tension he sees between his neighborhood and police, he feared he might get killed first. He wanted an anchor for his life. The chaplain explained that the Gospel is "the power of God to salvation for everyone who believes" (Romans 1:16). The young man was ready, and he accepted Jesus Christ as his Lord and Savior.
Throughout their weeks in Ferguson, chaplains were regularly invited to pray with local law enforcement groups and individual police officers. During the height of the tension, many officers and their families received threats, and many have been living under a strong sense of alienation and fear. The police department does not have its own chaplains and welcomed the love and care brought by our Billy Graham chaplains.
It is not possible to solve a community's deep-rooted problems with a team of chaplains deployed for six weeks, and we knew that before we started. But God used the chaplains to touch many hearts and to plant fruitful seeds in the community. The Bible says, "The fruit of righteousness is sown in peace by those who make peace" (James 3:18). Toward the end of the RRT Ferguson deployment, a restaurant staffer approached one of the chaplains and said, "I just want to praise God. You people in blue shirts have brought the aroma of Jesus to this place. Thank you for being here." We praise the Lord for what He did through these men and women who deployed, and we give Him all the glory.
Thank you for your prayers and financial support. Pray that the hearts God changed and the seeds He allowed us to plant will bear lasting fruit. We wouldn't be able to respond in a crisis like this if you were not standing with us financially. May God richly bless you,
Franklin Graham

President
FOLLOW FRANKLIN GRAHAM ON FACEBOOK FOR DAILY UPDATES