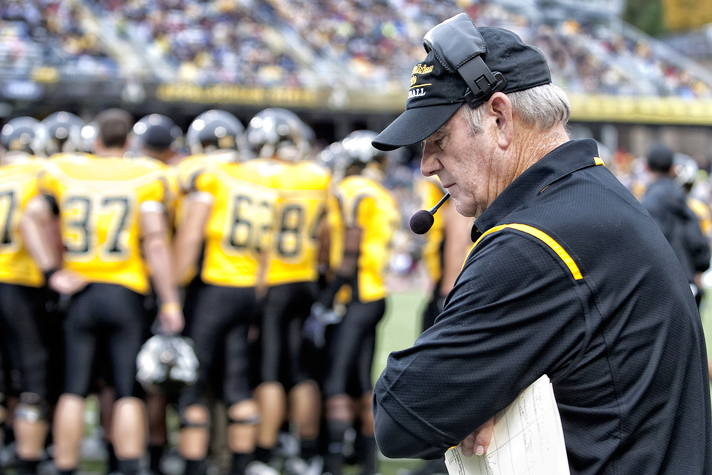 A popular college football coach recently returned to campus with a My Hope video in hand to share his faith and encourage the team not to play with eternity.
Jerry Moore coached football at Appalachian State University for 24 years. His team won 10 Southern Conference titles and brought home three consecutive national championships from 2005 to 2007. By the time Moore ended his run with the Mountaineers last December, he had a 215-87 record and bragging rights to "the win" over Michigan in 2007, one of the biggest upsets in college football history.
But for the 74-year-old Moore, success has little to do with wins and losses and shiny national title trophies. It has everything to do with pouring his heart and soul into the players. A couple of weeks ago, he revisited the Boone, N.C., campus to tell the players what Jesus means to his life and how they, too, can know true success by living a life dedicated to Him.
For Moore, following Christ gives him a greater love and concern for others.
"Sometimes coaches are seen as hard-nosed," Moore said. "That might be partially right," he admits, but also feels that when coaches show compassion for their players, the players play harder and respect the coaches.
He spoke to about 60 players, along with coaches and support staff, and showed "The Cross," a short film about how God's love was expressed in the cross of Christ. The film features present-day Billy Graham and two 30-somethings who share their stories of faith. "The Cross" is the flagship program of My Hope America, a nationwide grassroots effort to tell people about Christ.
Appalachian State chaplain Reggie Hunt helped organize the gathering in the football meeting room. He told players that Moore would be there, and they were all excited to see him.
"He's been a good spiritual leader, as well as a great coach," Hunt said. "He's a father figure to a lot of the guys."
Appalachian's current coach, Scott Satterfield, who played football under Moore, also attended the gathering.
Moore shared his story before the film, saying he grew up a "good guy" who "didn't mess around." He was always in church and knew plenty about Christ, "but I never really made a real commitment." Then around 1960, he was riding in a car with a fellow Baylor football player when they got into an accident. The car made a complete 360-degree spin.
That's when Moore started questioning what would have happened if he had died that night. Would he have gone to heaven? He wasn't sure, and it changed everything for him.
Before playing "The Cross," Moore told the guys about Billy Graham — how he "dedicated his life to Jesus Christ" — and how the evangelist was about to turn 95.
"The Cross," Moore said, is "so simple. [Billy Graham] is so articulate about every phase of 'The Cross.'"
The idea to show the film at the university started when a friend told Moore the coaches should see it. But Moore's idea extended beyond just coaches.
"Those players need to see this," he said.
Football player Logan Hallock, who leads the team's Bible study, was thinking the same thing. A couple of weeks earlier, he showed about 20 guys "Defining Moments," another My Hope film featuring former NFL player David Tyree. A couple of guys talked to Hallock about the video afterwards.
Hallock stresses how important it is for college athletes to let Christ "be No. 1." He remembers as a freshman being discipled by senior Blake Elder, who at the time led the team Bible study.
The pair met regularly, prayed for each other and their teammates, encouraged each other to "stay in the Word" and served as accountability partners. That helped Hallock grow in his faith, he said, and he wants to see the same thing happen for his teammates.
During "The Cross," Chaplain Hunt said, "no one was texting. Everyone was real attentive." The players really connected with the people in the film: rapper Lecrae and singer Lacey Sturm. Lecrae talked about getting sucked into a culture of drugs, gangs and lots of women. Lacey shared about her deep depression and anger toward God.
Hunt, who also serves as a local pastor, led a prayer after "The Cross." He asked anyone who prayed to accept Christ or rededicate their lives to Him to raise their hands. As he spoke, Moore quietly got on his knees to pray in one inconspicuous spot of the room.
About 25 players responded to "The Cross" that night. Hunt ran out of response cards for them to fill out and had some of them jot down their decisions on index cards instead.
"I've been praying for those guys and wanting the Lord to do a work in their lives," Hallock said. Last week, he saw five new players in his Bible study and has talked to several guys about God since they saw "The Cross."
"I've seen more guys start to change their ways and think more about the Lord," he said.
Some players came to App State with no reference of faith at all, Hunt said. Others grew up in church but lack an actual one-on-one connection with Christ. As student athletes, they face a lot of temptation with alcohol, drugs and in their relationships.
"They're under a lot of scrutiny because they're pretty visible," Hunt said, but added, "You don't have to be the victim of your circumstances."
The team's prayer every Saturday for those who participate in pre-game devotions is that Christ would transform their lives on and off the field. Only Christ can offer forgiveness, power to overcome obstacles, true purpose and hope for eternity.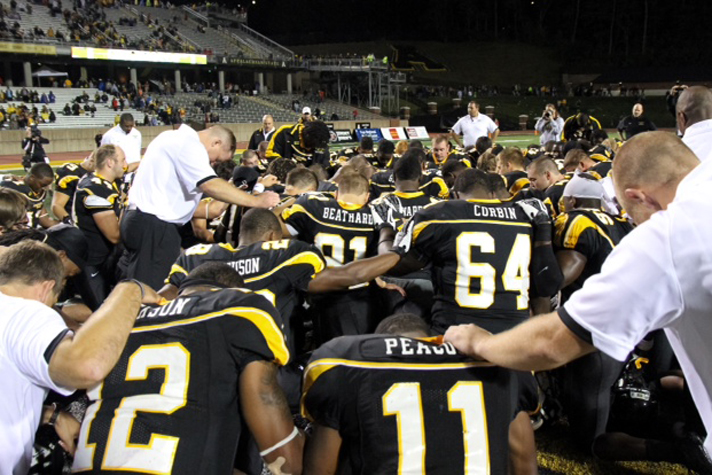 In 2006, Moore began a monthly prayer of his own. It was that year that he invited R.V. Brown, a BGEA associate evangelist and founder of Outreach to America's Youth, to speak to the players. Fifty-six of them made decisions for Christ that night, and Moore wrote down every single name. That day was the 16th of the month, and every 16th since then, he has prayed for those players.
He has also prayed with players, he said in a previous interview with BGEA. They aren't just guys on a team, but young men who were entrusted to his care as a coach and as an example.
Sept. 1, 2007, is remembered at App State as the day the football team went to the Big House and defeated Michigan, which was then ranked fifth in the nation. The next day, Moore started his morning like any other, reading five Psalms and one chapter of Proverbs. Then he went to church.
"I believe that if Christ is not at the center of all we are doing, then all we've done is a failure," he told BGEA, adding that "God doesn't care who won the ASU-Michigan game."
When current players watched "The Cross" a couple of weeks ago, those who wanted a Bible were given one, and many took a BGEA Living in Christ Bible study booklet. They also received a book of Psalms and a book of Proverbs.
To find out more about My Hope America with Billy Graham, click here.