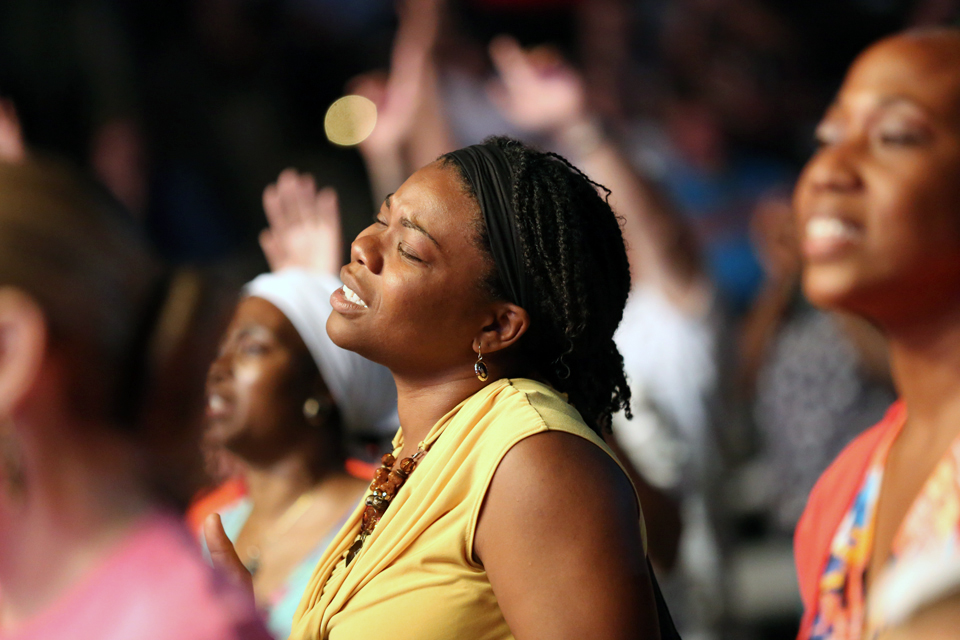 To say this weekend's Festival of Hope with Franklin Graham was simply for the Greater Jacksonville area is like saying the power of the Gospel only works in one region or one country.
Yes, there were more than 18,000 who heard the Good News at Jacksonville's Veteran's Memorial Arena over the three-day outreach. But that's just the beginning of how God worked from May 29-31.
Online, the Festival of Hope turned into a global Crusade with more than 43,000 visitors watching from over 100 countries.
On desktops, tablets, laptops and mobile phones—God worked in mighty ways through the worldwide web as well as inside the venue.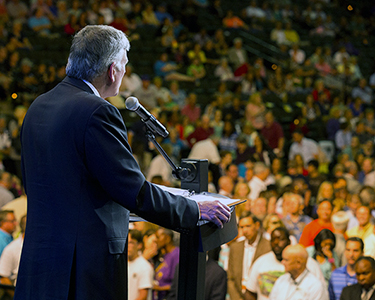 "It's always amazing to see what God does in the lives of people," said Festival director Eric Boutieller. "Here in Jacksonville, there have been lives that have been radically changed for eternity."
Ditto that, around the world.
From Sao Luis, Brazil, to Nova Scotia to Northboro, Massachusetts, a diverse audience commented about the impact of virtually joining this Festival of Hope.
"Watching Franklin Graham Festival live from Europe," Regine from Berlin, Germany, posted on Facebook.
Locally, God was busy using a couple from Savannah, Georgia, to counsel a woman from St. Augustine, Florida. They met in the middle on Sunday in Jacksonville.
Phyllis and Tom Sanford—10-year volunteers for the Billy Graham Evangelistic Association at a TVTM call center in a Savannah chiropractic office—drove the 2-plus hours to Jacksonville. They were ready and waiting as Franklin Graham gave a powerful message and call to turn to God.
"Do you have the guts to take a stance for Christ?" Franklin Graham asked Sunday evening. "God will forgive your sins. He'll heal your heart. But you have to make him Lord of your life."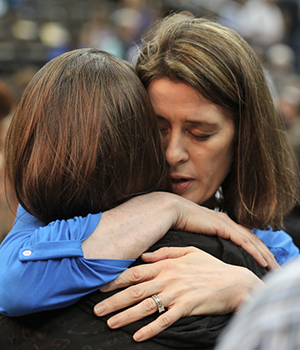 At Franklin's invitation, Deborah, who said she had been "struggling" with her faith, came forward, where she ran into Phyllis.
"She was crying," Phyllis said. "But I think it was tears of joy."
Deborah's husband had committed his life to Christ at a Billy Graham Crusade in South Florida. Now it was Franklin Graham's encouraging words that brought her back into the fold on Sunday.
"She had been drifting from God," Phyllis said. "She wanted to get her life on the right track and rededicate her life.
"I told her she needed to find a place where God is at work and move into it, if you want to find peace and joy."
Rodney, 42, was also looking for that same peace and joy. He said he was more or less a member of the Christmas and Easter club at his church but decided to come to the Festival and finally make a firm decision to follow Christ and get involved in His work.
"I've seen Billy Graham on TV," Rodney told his counselor. "And I came today to get saved."
Life-changing decisions were happening all over the arena—and the world—over the three-day Festival. More than 600 made decisions in Jacksonville, while another 1,000-plus indicated a decision for Christ watching online.
"Generations have been impacted," Boutieller said. "And we thank God for that."