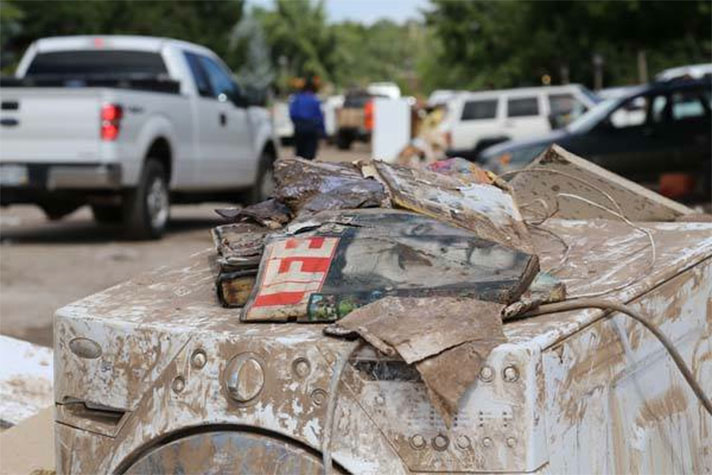 The scene in Colorado, where rains continue to relentlessly hammer the northeast part of the state, is marked by confusion, chaos and uncontainable water.
News reports say at least eight haved died because of the flooding, more than 1,600 homes destroyed, nearly 18,000 homes damaged and over 11,000 Colorado evacuated because of torrential rain that the National Weather Services described as "biblical."
The Billy Graham Rapid Response Team, deploying alongside Samaritan's Purse, is on the ground, assessing the devastation and ministering to flood victims who are struggling with how to cope with the raging waters, which in some cases have overtaken their homes or businesses.
RRT chaplains will be in Colorado for the foreseeable future, helping give hope to the suddenly homeless, providing emotional and spiritual care to those in need.
"People don't know what they should do," said Rapid Response Team's Toni New, who, along with her husband, Al New, has been in Colorado since Saturday.  "A lot of people can't even get into their homes. They're lost on what their next step is."
Local TV reports say the flooded area is the size of Connecticut, and Toni, driving through rain hard enough to cause standing water on Sunday afternoon, cannot disagree.
According to reports, the town of Frederick, about 30 miles north of Denver, is seeing 7 inches of rain an hour. In both Frederick and Jamestown, roughly an hour west, residents are not allowed back into town.
"They're still having to use helicopters to rescue people," Toni said. "In some areas, helicopters can't get there so they're having to use 4-wheelers."
Dozens of roads are still closed and mudslides have caused additional damage on top of the massive flooding.
"We drove in a community yesterday that had mud everywhere on the street," Toni said.  "People are saying they have a lot of mud inside. Landslides are running into their homes."
Toni has witnessed high levels of emotion and stress as both she and Al have shared with homeowners and business owners who have lost everything.
"We prayed with some people this morning who were very emotional," she said. "A gentleman who had a business that was insured, but doesn't know how much the insurance is going to cover and it's a very large warehouse. He was very emotional."
Two Rapid Response Team chaplain coordinators have arrived in Colorado with at least a half dozen crisis-trained RRT chaplains on the ground possibly by week's end, depending on how quickly the flood waters subside.
"I think it's going to take a long time to get everything cleaned out and rebuilt," Toni said. "There are still people unaccounted for. They don't know if they're alive or just in their homes and don't have a way of getting in touch with family.
For those wanting to pray specifically, here are a few areas Toni spotlighted:
The people of Colorado, who have lost everything and don't know where to turn.
The emergency workers who are still rescuing people trapped.
Churches who are reaching out to the community.
To financially support the Rapid Response Team's relief efforts, click here to donate.