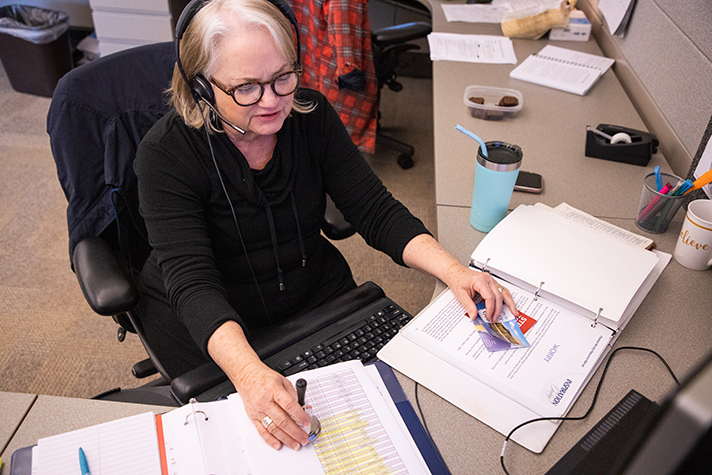 In the middle of the coronavirus panic, "there is solid ground," Franklin Graham recently assured followers on Facebook. "You just have to know where to find it."
The president of the Billy Graham Evangelistic Association (BGEA) shared how God is our solid rock and our stronghold. "He is not surprised by what is going on in the world or in our lives," Graham said.
But God doesn't want us to suffer in silence. He wants us to come to Him through prayer. That's why the BGEA opened a 24-hour prayer line. Since March 17, more than 18,000 people have connected with trained team members. Many have prayer requests; others just want to talk or be encouraged.
>>Call the BGEA Prayer Line 24/7 at 888-388-2683.
To compare, BGEA typically receives between 10,000 to 12,000 calls a month. During a recent 24-hour period, they answered more than 11,000 calls on March 27 alone. Many are calling in response to ads on the radio and TV advertising the prayer line.
The team members they're reaching are "wonderful people who love God, whose lives have been changed by God," said Tom Phillips, vice president of BGEA's Donor Ministries. "[They] are humble and they would love to pray with callers." The prayer line has staff from the BGEA Christian Response team, Samaritan's Purse ministry and volunteers.
"We're called [by God] to do it, and it's a service to others," said Phillips.
Rick Davis, a director of BGEA regional managers, has taken calls and said it's not always easy. "You have some irate callers and they don't want to listen to anything you want to say. They want to get across their point."
But God can work on any heart.
Rick answered a call from Heath*, who started off with an aggressive tone. "Why are you not home with your family?" Heath asked.
"Well I came into the office today so I could take your call and pray for you," Rick answered, noticing how Heath got fairly quiet.
"How can I pray for you or with you?" asked Rick.
"Well, it won't do any good. I'm agnostic. … There might be a God out there; I just don't know who He is and don't believe in Him."
The pair talked about Heath's sons and how he and his family were stir-crazy staying home. Heath saw a TV ad for the prayer line and called out of boredom.
"Do you love your boys?" Rick asked. Heath answered yes. "I'm sure you enjoy spending time with them," Rick said, and told him that's how God feels about us. "God loves you and He wants to spend time with you. But there' a problem—you're separated by sin."
Heath listened—no longer antagonistic, even agreeing with some of the points Rick made.
After a while, Rick explained how to have a personal relationship with Jesus Christ, and asked if Heath wanted to pray to do this.
"No I don't believe," Heath said. But when Rick asked if he could pray for him and his family, Heath said, "Certainly."
Afterward, Heath was open to receiving follow-up materials. "Sure, I'd read that," he said. Rick planned to include a personal note as well as a Steps to Peace with God booklet.
"He went from being an irate agnostic to being open to the Gospel," said Rick.
Ring, Ring
Some who call the BGEA Prayer Line end up making eternal decisions. After hearing the Gospel, many pray to surrender their hearts and lives to follow Christ.
"It's been quite dramatic," said Brian Cleland, who manages BGEA's Christian Response team. "It's amazing and wonderful. It makes every moment all worth it."
After a caller receives Christ and hangs up, the Christian Response team member rings a small bell to let others know.
"The bells are just ringing and ringing and ringing," Cleland shared. "It's awesome. It's just so touching to hear it all day long."
Most callers are worried about the increasing spread of COVID-19. They're scared about contracting the virus, and about their loved ones falling ill.
>>Share these resources with anxious friends and family
Cleland said many are desperate to find peace and understanding.
They're also concerned about their finances, he explained, and how to survive being laid off from work. Others are frightened about the economy.
While no one can predict the future, staff members and volunteers taking calls know one truth that doesn't fluctuate with the stock market.
"[We're] offering prayer, we're sharing Scripture, we're sharing the plan of salvation," Cleland said.
"There's quite a lot of God's Word being shared and [the Bible says] it does not come back void. So, there's a great deal of response.
"Whether they accept it and make a decision or not, His Word's being given to them."
*Name changed for privacy
What does a decision for Christ mean? Start here.
Need to pray with someone? Call the BGEA Prayer Line anytime at 888-388-2683.