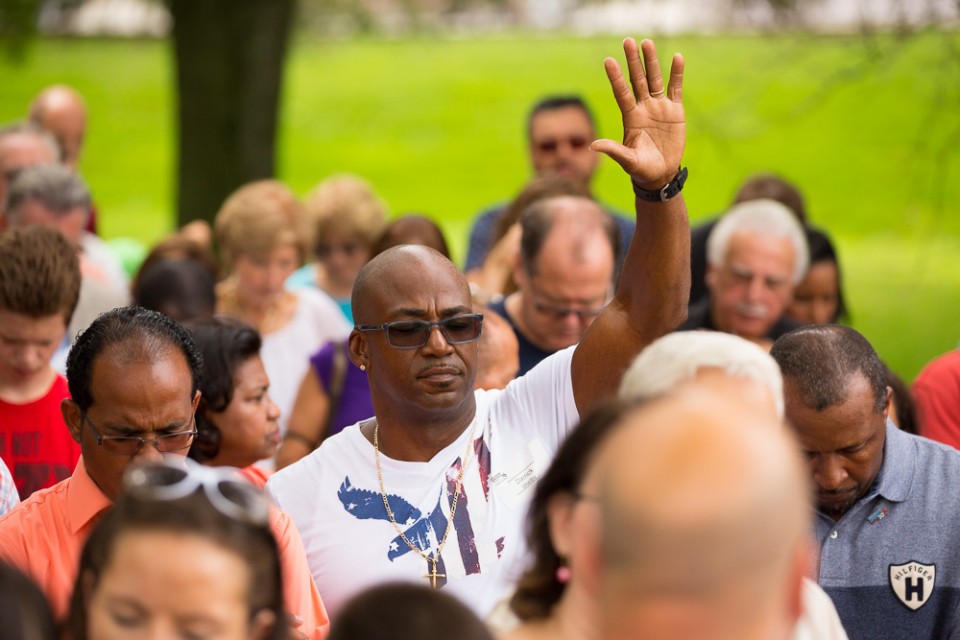 "I am the light of the world. Whoever follows me will not walk in darkness, but will have the light of life."
—John 8:12
At night, light shines up through the darkness to illuminate each cutout letter in the 2,983 names inscribed at Ground Zero.
Names from the day America will never forget—September 11, 2001, as well as the 1993 bombing of the World Trade Center.
This year marks the 15th anniversary of the terrorist attacks on New York City's Twin Towers, the Pentagon, and aboard a jetliner that went down in a Pennsylvania field.
Fathers, mothers, children, sisters, brothers, grandparents and friends died in the historic tragedy. Amid the bleakness that fell upon America in the days following, Billy Graham addressed a solemn audience at Washington's National Cathedral about finding hope in despair.
"We've seen so much that brings tears to our eyes," he said. "But God can be trusted, even when life seems at its darkest."
The entire nation mourned and searched for answers. Churches across America overflowed with new and returning attendees.
But it seems that hunger for God didn't last. According to research by the Barna Group, within a few months, people's spiritual lives returned to the same as before.
Ten years later, Billy Graham responded to a question about the attack in his 'My Answer' column. "The tragedy on 9/11 caused many people to stop and realize their need of God. … Perhaps for the first time in their lives they faced their spiritual emptiness.
"Have we forgotten our need for God's protection and strength?" he continued. "Have we turned once again to our own wisdom and resources, instead of trusting God's wisdom and guidance?"
Pray and Remember
As we reflect on the horrific events of 9/11, it's important to remember how God heard our prayers and carried the nation through a time of unfathomable pain.
Franklin Graham often talks about the power of prayer.
Quoting Ephesians 6:12, he once said, "There should be a sense of urgency in our prayer life—an understanding that we do not wrestle against flesh and blood, but against principalities, against powers, against the rulers of the darkness of this age, against spiritual hosts of wickedness in the heavenly places.
"The prince of darkness is grimly and powerfully at work in world affairs," Franklin Graham added. "And prayer is a great battlefield, especially as we pray for those in leadership."
Here are some things you can pray for on this 9/11 anniversary:
For families and friends who lost loved ones
For first responders who still carry memories of the tragedy
For military personnel and law enforcement officers who protect and serve
For the current and future president, along with local, state and national government leaders to submit to God's authority
For God to protect this nation from future terrorist attacks
Bold and Unified in Faith
Just as members of Congress linked arms on the steps of the U.S. Capitol and sang "God Bless America" after 9/11, this year Christians around the nation have united in prayer with Franklin Graham as part of the Decision America Tour. The purpose: to get America back to truly being one nation under God.
The 50-state tour is close to its end, drawing more than 170,000 people at prayer rallies in 41 states so far. Efforts like this can remind America of the biblical principles this nation was founded on, and the power of prayer in times of great need.
>> Read stories and see photos from the Decision America Tour.
Never Forget
As you remember 9/11, also take time to involve the next generation. Talk to kids in your life about what happened—in a child-friendly way—and include them in prayers for our nation.
This can also serve as a history lesson to teach children about God's sovereignty and goodness (2 Chronicles 20:6).
Most importantly, it lets young people know that, because of Jesus, there is hope for the future after tragedy. He is the light that shines through the darkness.
"For God, who said, 'Let light shine out of darkness,' has shone in our hearts to give the light of the knowledge of the glory of God in the face of Jesus Christ." —2 Corinthians 4:6