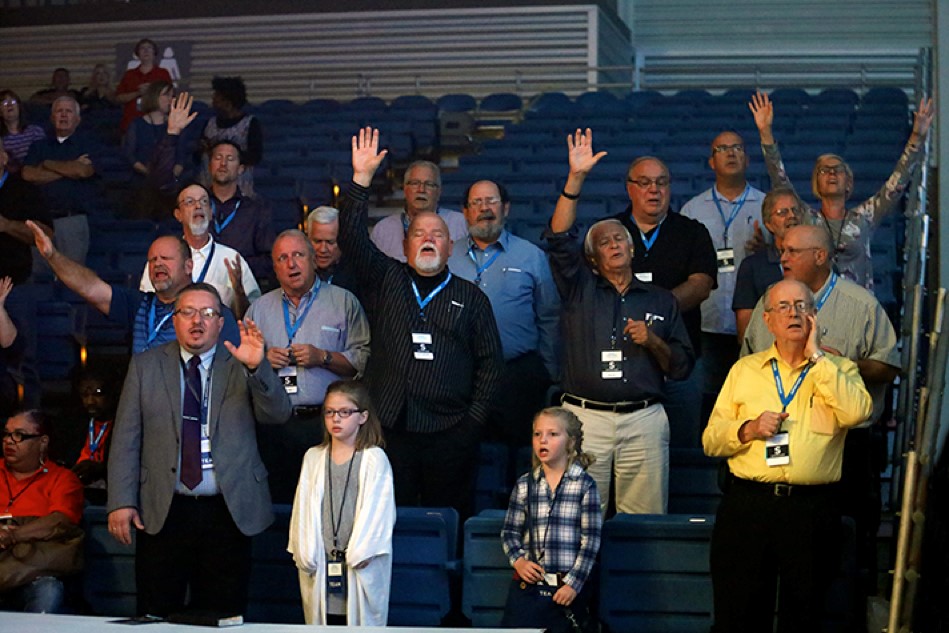 A remnant.
The word may bring to mind sci-fi movies featuring a small group of survivors left on earth after a catastrophe destroyed nearly the entire human race.
But there is a true-to-life remnant in the Greater Fort Wayne, Indiana, region that you won't find cast in movies. This small group of Christ-followers have long been committed to sharing the Gospel through the three-day Greater Fort Wayne Celebration with Will Graham.
The event wrapped up Sunday with more than 4,400 people attending and another 46,000 from 62 countries watching online.
The body of Christ came together for the Celebration; hundreds of churches representing many denominations.
The Bible says that when Christ comes back, there'll be just a faithful remnant of true Christ-followers. Will Graham spoke bluntly to those gathered Sunday, saying that many people who call themselves Christian will be deceived that final day.
"There's some of you who have been going to church your whole lives. God's been your genie. You believe God is here to serve you," he said. "You've been wrong all this time. That's what Satan wants you to believe."
Celebration director Sam Hardy talked about the burden among the body of Christ in the Greater Fort Wayne region who carry the mantle of evangelism and discipleship. They're "brokenhearted for those they know that don't know Christ (and the countless others around them)," he explained.
But many churches have their own agendas and have lost their way, says Rev. Donovan Coley, Sr., co-director of The Greater Fort Wayne Celebration.
"Instead of focusing on who Jesus is, they talk a lot about Jesus and about the good things that Jesus did," he explained. "We're busy focusing on a lot of great causes, but we lose sight of the fact that the One Who is at the very heart of the movement is Jesus.
"That's Who we need to be following."
Coley does recognize, however, the quality of true believers in his city and surrounding areas.
"The remnant also produces the quality that God uses," he said. "The incredible response of people responding to the Gospel [is] because God is honoring the faithfulness of His remnant.
One of these is Debby Miller, who served as a Celebration counselor.
Even as a child, she's always felt drawn to be a missionary but says God hasn't opened the door yet. When Miller heard about the Celebration, she thought of it as a mission field—a chance to share the Good News in her own town.
"That's what I believe is most important in life: to bring people to Christ," she said. "This is how I can be a part of God's mission.
"I've always been kind of quiet, so it's kind of odd that He would choose me, but He can do anything through anybody."
Getting emotional, Miller said people have to either follow Christ or not. "It's an everlasting decision, one way or another."
Will Graham offered hope this weekend to so many trying to find freedom—freedom to do their own thing, which could cost them their salvation.
"You can regain that freedom. It's not moving away from God. It's coming back to God," Will said. "God is our Creator. He is the One Who gives us purpose."
Talking to both the crowd in Fort Wayne and those watching online, Will encouraged them to join the remnant of true believers who have a personal relationship with Christ.
"Experience freedom in Christ," he said, "to have a new beginning and a fresh start in life."