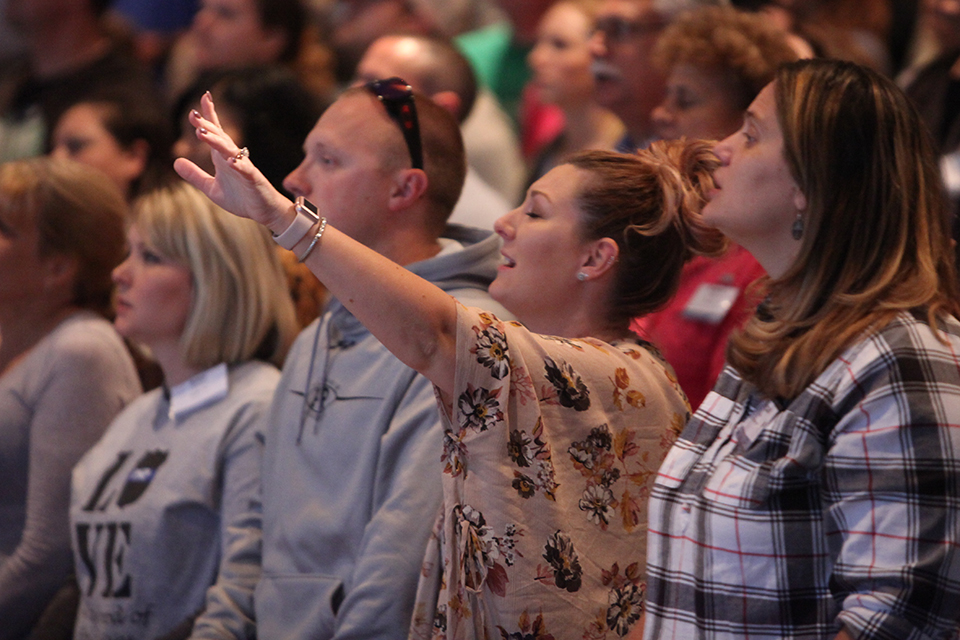 When you pass through the waters, I will be with you;
And through the rivers, they shall not overflow you.
When you walk through the fire, you shall not be burned,
Nor shall the flame scorch you.
For I am the LORD your God.
—Isaiah 43:2-3
One morning, about four weeks ago, Charlotte-Mecklenburg Police officer Joe Pendergrast woke up. He felt rested. He felt peace.
It was new territory for the officer, who just this summer was sidelined with post-traumatic stress disorder after two decades of patrol work in Florida and North Carolina had caught up with him. Attending the Billy Graham Rapid Response Team's National Law Enforcement Retreat at the Billy Graham Training Center at The Cove was just another step in his overall healing process.
Two decades—that's 20 years—of responding to things people just aren't built to see or hear. Some traumas might seem obvious, like being the first to the scene of a suicide. But that pain was even further compounded when he would spend the hours that followed trying to comfort the victim's grieving mother.
Traumatic memories affect all law enforcement officials—whether they're fielding 911 calls or responding in person, and whether they realize it or not. It can be haunting, and speaker Michael J. McSellers, a Virginia State Trooper, encouraged the 275 people in attendance to remember two things.
"One, God's sovereign," McSellers said. "And two, you don't have to carry the weight anymore. God has it."
This place—The Cove—is a safe place, McSellers stressed, echoing a sentiment repeated often by Jeff Naber, an RRT chaplain manager and former police officer who oversaw the retreat.
Slowly, about half the room spilled forward for a time of prayer. Law enforcement officials and their spouses cried, hugged and prayed with one another and Rapid Response Team chaplains.
Pendergrast and his wife Nancy stood just two rows back from the front. They prayed where they were. Pendergrast vividly remembers crying out to God on his own. He said he soaked through T-shirts and emptied tissue boxes, just begging God to take the pain away.
And one day, the dark cloud lifted. Pendergrast woke up rested.
"Through it all, the one thing God told me more than anything is He is in the details," Pendergrast said. "The little things He has covered."
The three-day retreat gave law enforcement officials a chance not only to deepen their faith and strengthen their marriages; it also gave them an opportunity to talk with one another, to find mentors and new friends.
Brad Burek, a patrol officer from Colorado, swallowed back tears when he talked about how grateful he was to gain insight from a veteran officer. Burek also was thankful for the time he was able to spend with his wife Rachel. She agreed the busyness of life just has a way of taking over, particularly when juggling shifts and raising two children under age 4.
"The biggest thing I'm taking away from this retreat right now is for us together, where is God in this for us?" said Rachel, who worked in dispatch before taking an administrative position. "Where have we been putting Him? It's becoming so clear we're putting Him on the backburner.
"It's really convicting, really good, really eye-opening, and I think we have a lot to confront. A lot to admit not just to each other but to God."
Getting real with God was critical for Siler City (North Carolina) Police officer Dominique York, who attended the three-day retreat with her mother Rhonda. About four years ago, Dominique said she rededicated her life to Christ. She wanted to bring her mother to the conference to show her another aspect of her profession.
"I pray for my daughter every day, that God will always watch over her and that her life can change other lives," said Rhonda, who attended a Billy Graham Crusade in New York. Every day, Rhonda and her sister pray for Dominique.
Dominique, still young on the force, works hard not only to see the good in people but also to encourage them. Recently, she urged a 21-year-old heading to jail to spend the time in his cell in prayer.
"I saw his father at a revival at church about a month later," Dominique said. "He said, 'I don't know what you told my son, but thank you. His whole spirit has changed.'"
Total transformation is exactly what Kirsti Luz prayed for her husband, Royal Canadian Mounted Police officer Robert. Involved in a non-fatal shooting in 2013, Robert's stress reached an all-time high in the years to come. He voluntarily took a year off before diving back into his job 100 percent. He distanced himself from his family—even choosing to live somewhere else for a while—as he sank deep into depression.
It was a horrible time, and Kirsti said God used a cancer scare for her to help prepare her to battle for her marriage and her family. After attending church with her cousin, she started to learn more about God and drew nearer to Him. She prayed fiercely for her husband, who she decided she couldn't call Robert anymore, even though that was his given name. She just didn't recognize this man who had fathered their three children so she decided to use the name Richard instead of Robert. And that's what she called him during this dark period of their lives.
Robert didn't recognize himself, either, particularly when he had an affair.
"I didn't feel anything for anybody," Robert said. "And I didn't feel guilty about that."
When Robert finally realized he didn't even feel anything for his children, he agreed to join Kirsti for a church event. He said the Lord moved in his heart that night.
"He had a Holy Spirit encounter," Kirsti said.
"It was like Jesus was waiting for me," he shared.
Change didn't happen overnight, but the Robert that Kirsti knew returned. He was rediagnosed with post-traumatic stress disorder and major depressive disorder. Over time he started to feel again, and sitting in the lobby of The Cove, he wore an expression of peace as he shared his story of redemption with his wife by his side. They were grateful a pair of friends—including a fellow police officer—thought to invite them to the Retreat for even more healing.
"I'm just amazed at how God can fix things," Robert said.