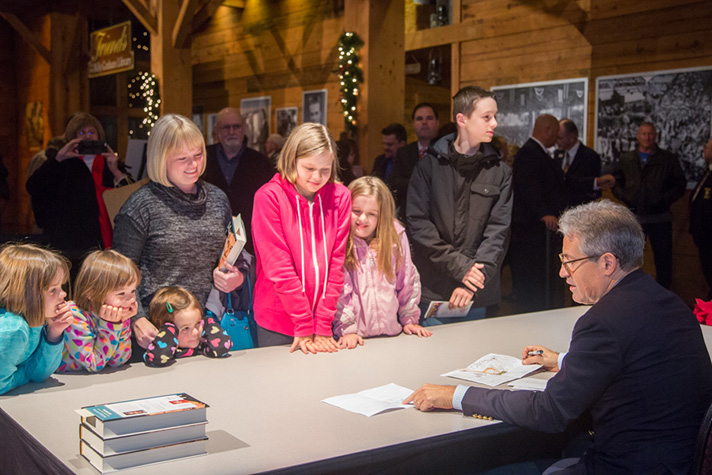 "I'm just so happy to be here, I could bust!"
No. 1 New York Times bestselling author Eric Metaxas addressed the crowd before his book signing of Martin Luther at the Billy Graham Library on Thursday.
Many in line held Metaxas' most recent book, Martin Luther, released in October—the same month as the 500th anniversary of the Protestant Reformation—tight to their chests, excited to read the book themselves or give as Christmas gifts to loved ones.
"The Gospel is woven all through this book," Metaxas said of the biography, which portrays the true story of a monk who influenced the world by breaking the chains of legalism.
>> Hear how Eric Metaxas came to know Christ.
Metaxas writes books for both believers and nonbelievers, using history to introduce people to the Church. The worldwide author is also a speaker, commentator and hosts The Eric Metaxas Show on the radio.
Mantle Nance, pastor of Ballantyne Presbyterian Church in South Charlotte, and his family often listen to his podcasts.
"He's able to engage unbelievers in a disarming way. He uses humor to open the doors to the Gospel. He doesn't take himself too seriously, which is refreshing, but he takes the Gospel very seriously," Mantle commented.
Among others waiting were Bob and Doris Davis, who were first drawn to Metaxas' book, Bonhoeffer, based in Germany during World War II.
"That got our attention because we lived five years in Germany," Doris said. Bob, who was wearing an American flag pin on his suit jacket, worked in Armed Forces Radio and Television there.
Since then, Metaxas' work has reinforced this family's faith in Christ. They think of him as "an extraordinary, different evangelist."
Further down in line, Alison Eddings and her daughters, Piper, 12, and Porter, 10, waited to meet Metaxas. They were no strangers to the Library or Metaxas' work.
Alison and her girls listened to Metaxas' books, Seven Women and Seven Men, this past summer together, but were affected by his work before that.
"Another homeschool mom I look up to suggested reading Bonhoeffer together as a family and I fell in love with it," Alison said. "The way he framed the issues going on in Germany and World War II made me think of our country and the human holocaust we have here."
Alison was so inspired by Metaxas' book that she began to work in pro-life ministry at Caleb Ministries and Cities for Life. Just Friday, she was out supporting life and three women decided to keep their babies.
"God shows up," Alison said.
The Eddings continuously come to the Library, where Alison's son accepted Christ, always making sure to attend this time of year during Christmas at the Library.