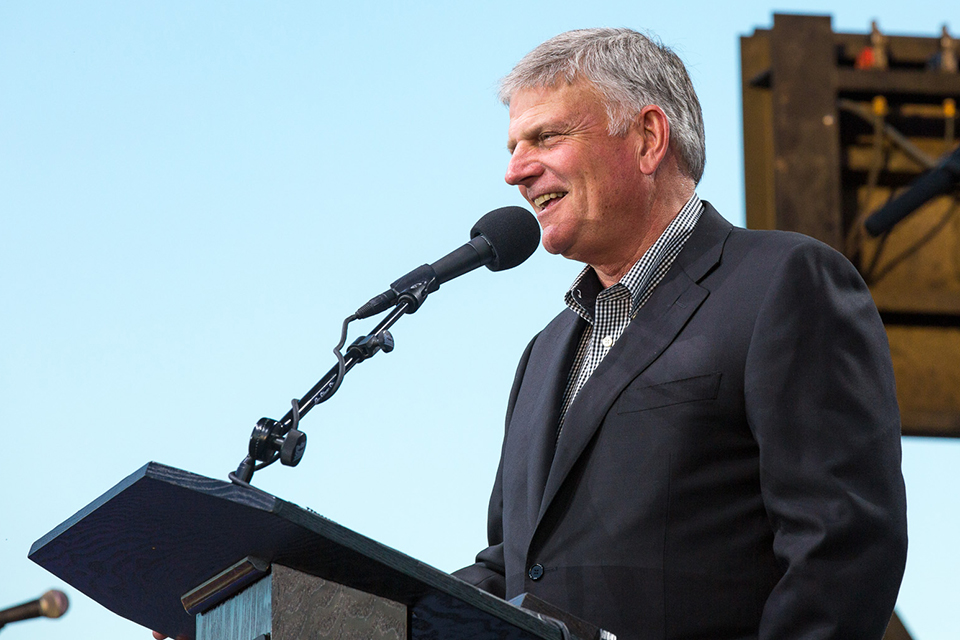 Sharing the hope of Christ in America's Northeast is no easy feat. So before Franklin Graham begins the Decision America Northeast Tour next week, the Billy Graham Evangelistic Association (BGEA) is asking Christians across the world to lift the events up to God.
"The most critical thing you can do is pray, pray, pray," implored Franklin Graham, president of the BGEA. "The intercession of God's people is crucial if we are to see a return to the Biblical faith of our fathers, the faith that has guided and sustained our country for so long."
Franklin Graham will share the hope of the Gospel in New England and New York through one-day evangelistic prayer events in seven cities, May 19-30.
Decision America Northeast Tour Stops
Sunday, May 19
Portland, ME
Tuesday, May 21
Burlington, VT
Thursday, May 23
Manchester, NH
Saturday, May 25
Springfield, MA
Sunday, May 26
East Providence, RI
Tuesday, May 28
Bridgeport, CT
Thursday, May 30
Syracuse, NY
The tour will stop in Portland, Maine; Burlington, Vermont; Manchester, New Hampshire; Springfield, Massachusetts; East Providence, Rhode Island; Bridgeport, Connecticut; and Syracuse, New York.
A 2017 Barna survey polled individuals across America about their belief in God, the Bible and more. Based on the research, eight of the top 10 most "post-Christian" cities are located in New England or the Northeast. "Post-Christian" means individuals meet at least nine of the 16 criteria that point to, as Barna puts it, "a lack of Christian identity, belief and practice."
The Decision America Northeast Tour will stop in or near five of the top six cities listed in the Barna report.
"There are significant reasons why these areas topped the list," said Steve Rhoads, vice president of BGEA's church ministry team. Many of the residents "lack knowledge of God," he added. "They have a skewed or inaccurate view of who Jesus is; they don't believe in prayer."
When there's a high concentration of people who don't believe in God, it's often reflected in societal problems, according to Rhoads. As in communities across America, this holds true in the country's Northeastern region, which has a high concentration of opioid abuse, fractured families and poverty.
Each new generation is seeing further disintegration of morality nationwide.
"People have lost a moral compass," Rhoads said. "There's a breakdown of society because people don't believe there's anything beyond this life.
"That's why the message of hope is so important," Rhoads explained. "To tell [people] that 'the path you're on is not your only option. You have choices.' The tour is intended to give people a spiritual choice."
Christians around the Northeast have been praying for the tour and will continue asking God to intervene in each state over coming weeks—and beyond.
Franklin Graham issued invitations to receive Christ in all 50 states on the 2016 Decision America Tour. In 2017, he preached the Gospel in multiple Tennessee and Texas cities; and last year's Pacific Northwest and California stops included 17 cities along the West Coast.
The free community events feature live music, a Gospel message, prayer for each city and state, our nation and those who don't know Christ.
In partnership with local churches, the Billy Graham Evangelistic Association offers free evangelism training in the weeks leading up to the tour. The Christian Life and Witness Course is designed to help people strengthen their faith and equip them to share it with others. On the first night of classes in New England and New York, over 700 people participated.
'A Great God Who Loves Them'
Taking the hope of God's love to the Northeast offers people a different way of thinking and sheds light on something they might not know they're missing.
"Most people are looking for real meaning and significance, relationships. They're looking for love. They're looking for something that makes sense," Rhoads said.
Without a personal relationship with God, there's an emptiness, a gaping hole in people's hearts. God wants to be our friend, now and for eternity. As 2 Peter 3:9 says, God wants to take as many people to heaven as possible: "The Lord is not slow to fulfill his promise as some count slowness, but is patient toward you, not wishing that any should perish, but that all should reach repentance."
This is good news that urgently needs to be shared.
"God is real. [Some] people aren't aware of that," Rhoads said. "God knows you and wants you to know Him.
"The Decision America Tour is a great opportunity to have people's eyes light up and open up to the fact that there's a great God out there who loves them."