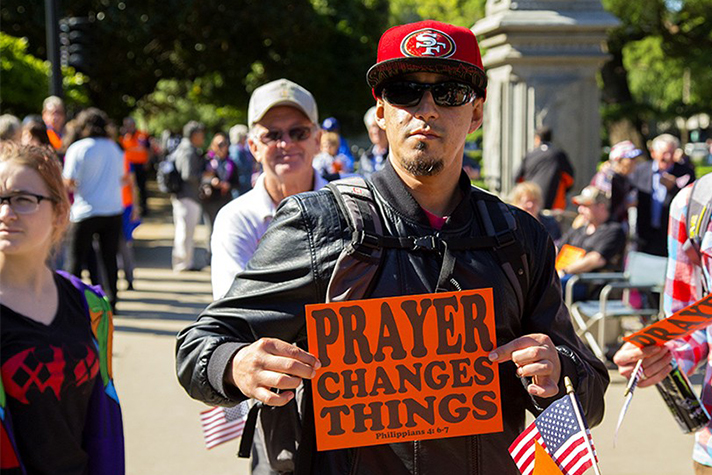 From the avocado groves of Escondido in the south to the valley city of Redding in the north, California's Christians are praying.
They're praying and thanking God for what He'll do through Franklin Graham's 10-stop Decision America California Tour that starts May 20. These one-day prayer events will feature live music from Jeremy Camp and a Gospel message from Franklin Graham.
>> See how you can get involved today.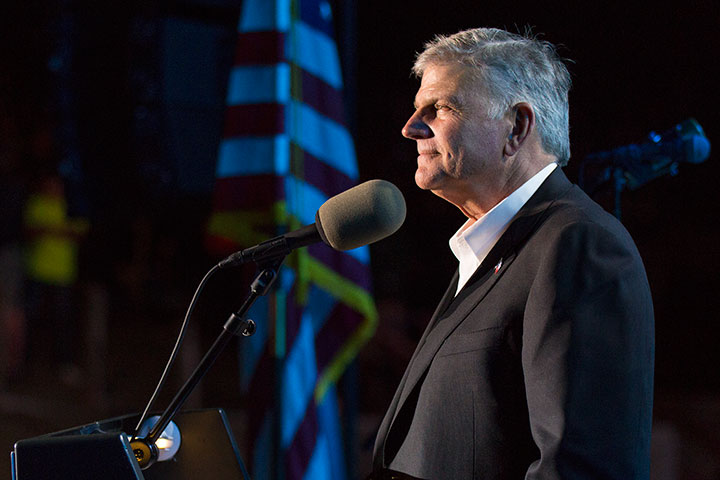 In March, the Billy Graham Evangelistic Association began community-wide prayer meetings in each city where the tour will stop. In all, more than 2,000 people have attended the pre-tour prayer events to worship and pray for our nation and the lost—asking God to change hearts.
For one Modesto, California, man, the Decision America California Tour is an answer to prayer. For 10 years he asked God to send Franklin Graham to Modesto, and now his prayers are coming to fruition. Many pastors in this Central Valley city are eager to serve alongside their members as prayer volunteers.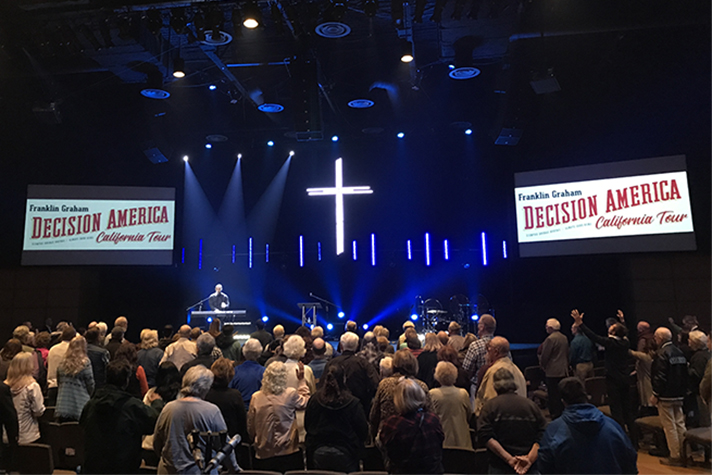 In a packed Bakersfield church, the meeting began with powerful worship as people sang loudly and lifted their hands in praise. Afterward, 50 people from a local rescue mission joined in prayer with area church members—many holding hands in unity.
This isn't the first time Franklin Graham has held an event in this south-central city. In 2004, he shared the Gospel with nearly 60,000 people during the Kern County Festival at Bakersfield College. More than 3,400 people responded to his invitation to commit their lives to Jesus Christ.
In Redding, churches are uniting with a common goal of sharing the Good News. At a prayer meeting, attendees asked God to continue unifying the hearts of Christians in their city.
Further south in Chico, unity among pastors is especially strong. One man, sensing God's leading to bring together pastors for the common goal of sharing Christ, formed Chico Pastors Together. Over time the group has grown and now has between 60 and 80 members.
The final prayer meeting for the Decision America California Tour wrapped up April 23 in Pasadena.
>> Join others in praying ahead of the Decision America California Tour.
Decision America California Tour
All events begin at 7:30 p.m. PDT.
Sunday, May 20 — Escondido
Monday, May 21 — Pasadena
Wednesday, May 23 — Oxnard
Friday, May 25 — Bakersfield
Monday, May 28 — Fresno
Tuesday, May 29 — Modesto
Thursday, May 31 — Santa Clara
Friday, June 1 — Berkeley
Sunday, June 3 — Chico
Tuesday, June 5 — Redding
Help get the word out. Share the Decision America California Tour on Facebook and Twitter.
This August, Franklin Graham will return to the West Coast for the Decision America Pacific Northwest Tour. Learn more.